It's Friday, so I'm linking up with Running on Happy and Fairytales and Fitness for the new Friday Five 2.0. July is a "free" month, so I'm going to share five sweet treats to try and share. You may recall that I went to the NCA Chicago Sweets & Snacks Show in May. As a blogger, a bunch of awesome companies reached out to me and sent me samples to try. I tried a bunch of great treats – all of these have natural ingredients and/or are gluten free. I'm sharing some of each with one lucky reader!
1. Daelman's Stroopwafels – If you've flown on United in the morning recently, you may have tried a Caramel Stroopwafel. They give them out now on morning flights. These thin wafer cookies have a caramel center. You can heat them on top of your morning coffee or tea or eat them at room temperature. Either way they're very tasty. They're also made with all natural ingredients and contain no artificial flavors or colors, no preservatives or transfats. They're available in four varieties – caramel, honey, maple and now chocolate-caramel.
You can find them on United Airlines, at a variety of stores and specialty shops and online. You can also follow Daelman's on Facebook, Instagram and Twitter.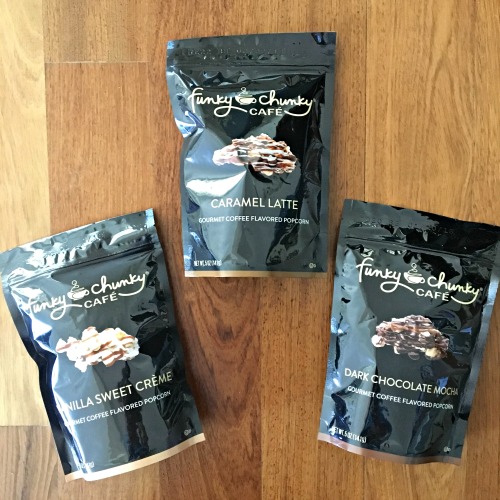 2. Funky Chunky Cafe Popcorn – You may have tried Funky Chunky popcorn. It's a gourmet snack featuring caramel popcorn drizzled with different types of chocolate with added combinations of pretzels and nuts. They recently introduced Funky Chunky Café, a gourmet coffee flavored popcorn. It comes in three specialty coffee flavors: Caramel Latte, Vanilla Sweet Crème and Dark Chocolate Mocha.  I tried Dark Chocolate Mocha and it was delicious. It was a sweet treat that was fresh and delicious and hard to put down.
You can find Funky Chunky at fine retailers and online. You can also follow Funky Chunky on Facebook and Twitter.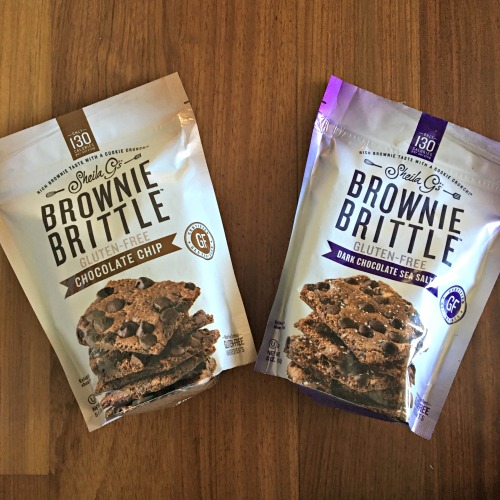 3. Sheila G's GF Brownie Brittle – Brownie Brittle is an addictive snack that made to emulate the crispy brownie edges that people love. Sheila G's Brownie Brittle recently developed two gluten free flavors – Traditional Chocolate Chip and Dark Chocolate Sea Salt. They say, "both flavors have the same rich, chocolate taste with the unmistakable crunch that Brownie Brittle fans have come to love – all made with gluten free ingredients." It's also less that 150 calories per serving! I enjoyed the Chocolate Chip. It's rich and delicious and one serving is enough to satisfy my mean sweet tooth.
You can find Brownie Brittle at these stores and online. You can also follow Brownie Brittle on Facebook, Instagram and Twitter.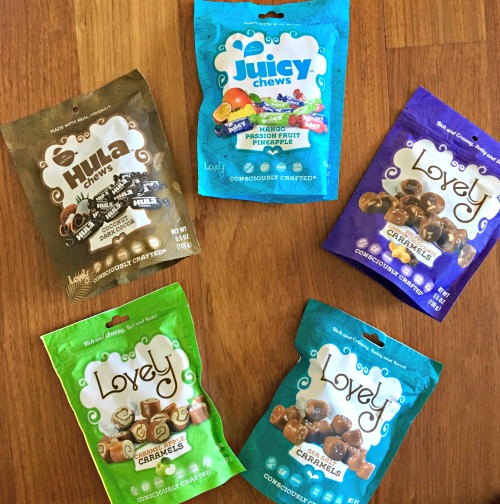 4. Lovely Candy Co.'s Caramels and Chews – I met The Lovely Candy Co. at Sweets & Snacks in 2014 and did a review of their yummy caramels afterwards. The Lovely Candy Company makes delicious, "consciously crafted" candy. All Lovely Candy products are non-gmo, gluten free and kosher. They contain no high fructose corn syrup, soy, trans fats, artificial colors, artificial ingredients or RBST.  If you're going to eat candy, this is the way to do it! This year at Sweets & Snacks they debuted yummy, honey gummy bears and I tried Hula Chews + Juicy Chews, too. Good stuff!
Lovely Candy is available at Target, other retailers listed on their website and online (get 20% off with code ERICAFINDS). You can follow on Facebook,  Instagram and Twitter, too.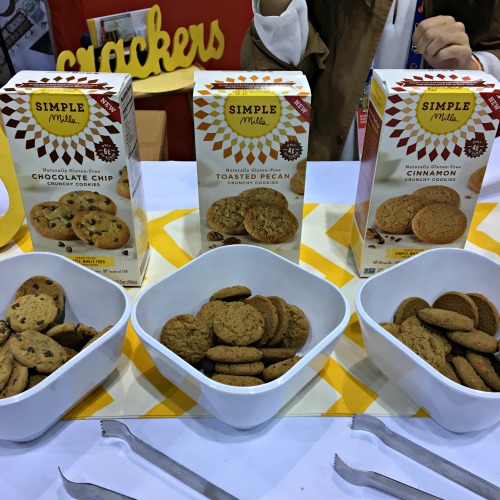 5. Simple Mills GF Crunchy Cookies – You may remember Simple Mills from my rave review of their gluten free crackers in 2016. This Chicago company started out making gluten free baking mixes and then added crackers, organic frosting, new sprouted seed crackers and crunchy cookies. The cookies were showcased at Sweets & Snacks. They come in Chocolate Chip, Toasted Pecan and Cinnamon. All of the flavors are tasty, but Cinnamon is my favorite.
You can find Simple Mills on the web and at many stores and now at Whole Foods! You can keep up with Simple Mills on Facebook, Twitter and Instagram.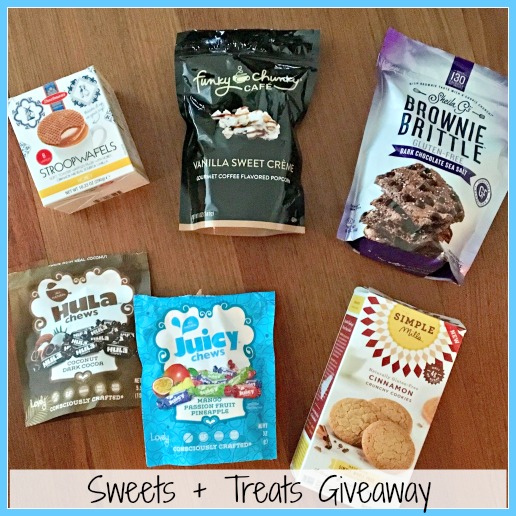 I have some extra sweets and treats to share! One lucky reader will receive a box of Daelman's Honey Stroopwafels, a bag of Funky Chunky Cafe Vanilla Sweet Creme popcorn, a bag of Sheila G's Brownie Brittle in Dark Chocolate Sea Salt, a bag of Lovely Candy Co.'s Hula Chews and a bag of Juicy Chews and three Simple Mills coupons (each coupon can be redeemed for 1 product up to $9.99 through 12/31/17).
Want to enter to win? Please use the Rafflecopter below to enter. The winner must be a US resident, 18 years of age or older and the offer is void where prohibited. The giveaway ends July 30th. A winner will be selected and notified on July 31st.
Please note: I was provided all of these products at no cost in exchange for editorial consideration. I was not otherwise compensated for this post. All opinions are my own.