As a member of the New Hope Blogger Co-Op, I receive a quarterly "Blogger Box." The New Hope Network hosts Natural Products Expo West and Expo East. These massive trade shows showcase the best in the natural products industry. I've been going to both for the last few years. That's where I've met so many great companies that I've showcased here throughout the years.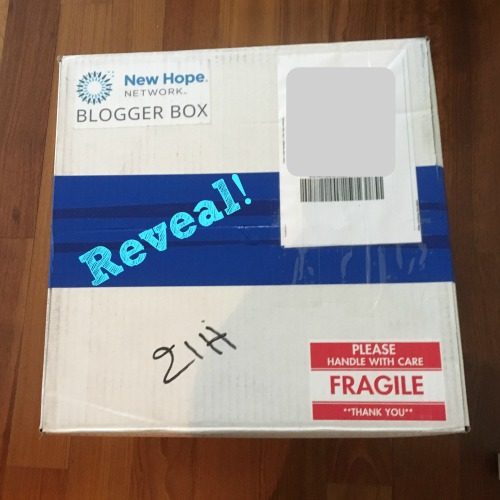 This season's Blogger Box arrived in December. Christmas came early at my house! They sent "standout natural products from 20 trusted and innovative brands."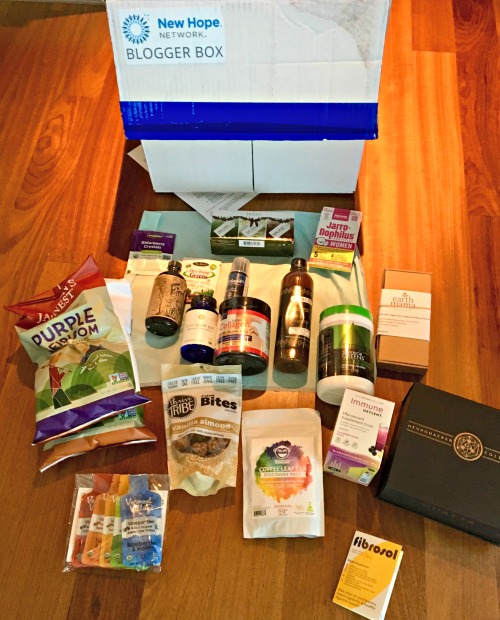 The products were a mix of brands I know and new-to-me brands. I was excited to see so many full sized products. I shared the Earth Mama Organics deodorants with a friend who's expecting. She loved it.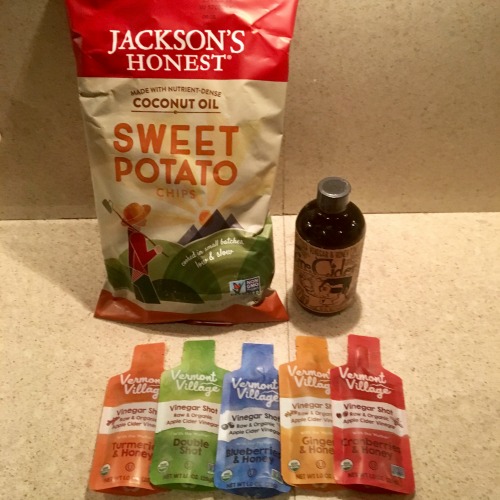 I was excited to see some of my faves from Expo East this year. There was a sampler of Vermont Village Vinegar Shots (full review and giveaway coming soon) and a full-sized Fire Cider Apple Cider Vinegar and Honey Tonic (Amazon link). I love (and use) both of these products. There were also chips from Jackson's Honest. The Husband loves these and I love their Sweet Potato Chips, too.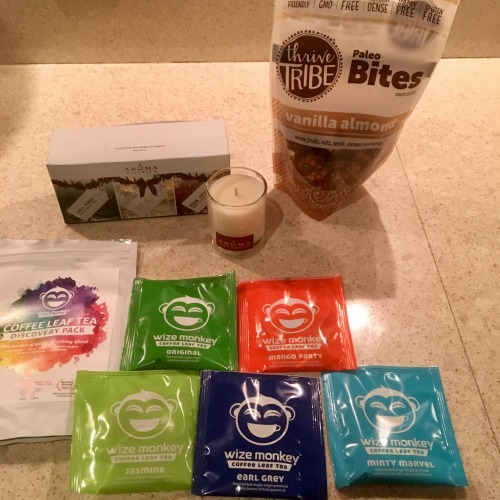 There were a bunch of new to me products, but I had a few faves. They were Wize Monkey Coffee Leaf Tea, Thrive Tribe Bites and Aroma Naturals Holiday 2017 Aromatherapy Votive Candle 3 pack. Wize Monkey teas are made with arabica coffee leaves. They have low caffeine and are rich in antioxidants. The flavors are light and pleasant. The Thrive Tribe Bites are delicious Paleo snack bites. I can't wait to try more flavors. The Aroma Naturals candles come in Fresh Forest, Cool Wish and Warm Spice. They are made of soy and are allergy friendly. They make the house smell amazing!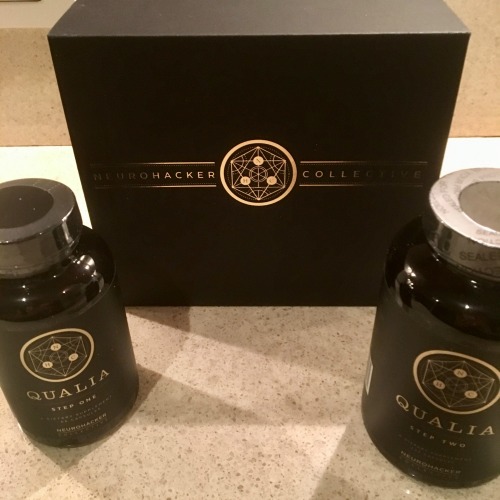 The most intriguing product was Neuro Hacker Collective Qualia Supplements. These are a "Premium Nootropic" for mental clarity, focus and performance. It's a Brain Booster Supplement. This product retails for $149 on Amazon! I've tried a few nootropics before. I haven't noticed much effect. I did read an interesting article on Well + Good that made me curious. What do you think? Would you try this?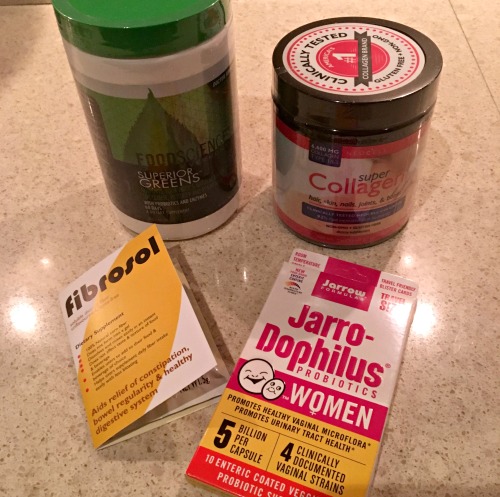 There are a few products that I like but currently use other brands. I'm going to give away the Food Science of Vermont Superior Greens ($21.94 on Amazon), Neocell Super Collagen ($42.08 on Amazon), Jarrow Formulas Jarrow-Dophilus Probiotics Travel Pack and a sample of Fibrosol from Advagen. I don't want these products to go to unused.
Want to enter to win? The winner is Alana (Comment #63.)

Please leave a comment on this post and tell me where you learn about and or buy new natural products.
Extra entry: Check out the Neuro Hacker Collective Qualia Supplements
Extra entry: Follow one or more of the brands mentioned on Instagram or Facebook and leave a separate comment with which brand and channel.
The giveaway closes on January 12. I will select a winner using comment number in random.org on January 13. The winner must be a US resident, 18 years of age or older and the offer is void where prohibited.
Which of these products are you most interested in trying?
Please note: I received all of these products at no cost due to my relationship with the New Hope Network. I was not otherwise compensated for this post. All opinions are my own.