My running goal for 2017 was to get my mojo back. After a tough 2016, 2017 started off OK. In January, I went to an awesome winter running retreat with Lululemon and met some great folks. Like last year, I had my best run of the year in March at the NYC Half. I'm not going to lie, the rest of the year was pretty much a slog for me running-wise. Despite some rough times, I'm super grateful for all of my miles this year and had a lot of fun with my running buddies, as always.
You can see my quarterly reviews for race summaries and products I loved (Q1, Q2, Q3).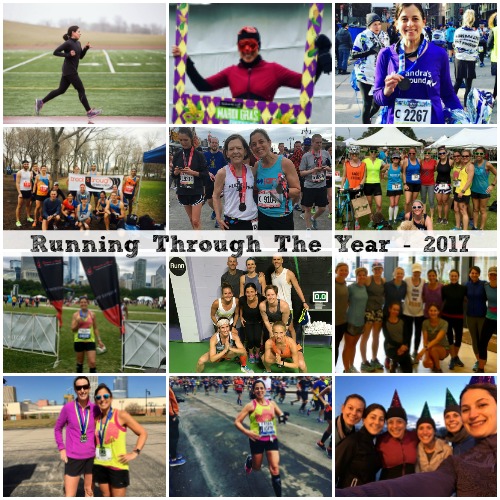 Here is my 2017 running year in review:

# of Miles Run – 2114. Average 5.8 miles/day and 40.6/week. [Note: I don't run every day.]
# of Races Run– 17 – 3 less than last year! New to the line up this year were the a half and a full marathon in Milwaukee with Jen. 17 races – marathons (2), half marathons (5), 8k (1), 10k (4) and 5k (4). I also did a 10K fun run and a 5K fun run (untimed races). This is more than I though because I only ran 2 in Q3 and 3 in Q4.
# of Miles Run in Races –160- 37.9 miles less than last year.
# of Age Group Awards– 4 5 – got on on 12/31 at New Year's Eve 5K. My times were much slower this year than the last few. I still managed 4 5 AG awards in my new age group (45-49).
Fun Race Destinations– NYC (3) and Milwaukee (2)
Coolest Non-Race Runs: – The Grand Canyon, Berlin and San Francisco.
Best Race– NYC Half. This was the only race this year that I felt really strong and hit my goal time.
Worst Race– North Shore Half! It was unexpectedly hot and humid and there was NO SHADE for most of the race. Oh, and to add insult to injury, I tripped and fell at mile 8. Awful! [Sorry, Amanda! I'm still happy that I went with you.]
Personal Records (PRs)- 0. Should have run that 12K or 50K or something I have never done. Maybe next year!
Star Sightings: I met (and ran with) Olympians Nick Willis and Jemma Simpson at Expo East. I ran into (and took a selfie with) Eliud Kipchoge the day before the NYC Marathon!
Ambassadorships: I added Honey Stingers to my Ambassador positions! I still work with Fitfluential, a Sweat Life, Run Gum and Redd Bar Janji Corps, CEP Compression and SOS Rehydrate.
Number of Sidelining Injuries– 0. Other than serious lack of mojo, I had a pretty mean case of plantar fasciitis this summer. I was still able to run and race thanks to to the fine care I got at Airrosti.
Best Running Advice I Received This Year: Rest and give yourself a break!
Best New Running Product I Tried: This is SO tough – like picking a favorite child, friend or pet. The list is long and I recommend you check out all of the awesome products I checked out this year! Go to giveaways and check out my reviews.
Popular Running Posts:
For a blogging runner, that's a lot of running blogging! I'm hoping to find my mojo and feel good in my runs and races in '18. I'm running the NYC Half (new course) and the NYC Marathon again. I'm going on another running adventure with Lauren and Russ. I hope to get to the start of CIM with my run crew in December. I'll keep you posted on anything else I hatch. Let me know if you have any ideas for me, too!
How was your year in running?? Please tell me about it in the comments.
Here's to a healthy, speedy and happy 2018!