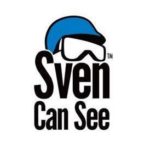 Have you ever had your glasses or sunglasses fog up when you're outdoors in cold or heat? I usually wear contacts but have had this issue with goggles and sunglasses.
Some hard core hikers met on a trail and were commiserating about this very issue and a product idea was born. They set out to create a product that would prevent frost/freezing of glasses and be useful to battle heat related fogging, as well.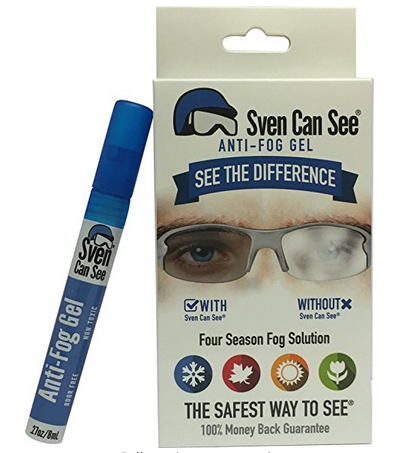 Sven Can See is "the safest, smartest and most effective way to keep your eye wear and mirrors uncompromised by fog." It provides safe, instant anti-fog/frost relief in all temperatures. Their new product, "Spray, Wipe n' Go!," comes in a pen-like, pocket-friendly applicator. You spray the solution into lenses, goggles or masks, wipe and you're "good to go" for the rest of the day. The formula is coconut-based, biodegradable, kid-friendly and can be used year round. It's safe on all types of lenses including prescription and anti-glare lenses. They also have a product for extreme cold conditions and a lens cleaner.
Sven Can See was recently recommended in Backpacker Magazine's Gear Guide. It's easy to carry. It's the size of a marker. One small tube ($10.95) is good for 50 uses. Each use lasts an entire day! That's less than $.25/use. All products have a 100% satisfaction guarantee within 60 days of purchase (some restrictions apply).
In the spirit of full disclosure, I was provided a sample and didn't have a chance to try it. I'm going to give my sample away to one lucky reader.
Want to win?  The winner is Steph #7.

Comment below on what activities you'd use the product for/what you'd do with it.
For an extra entry, follow Sven Can See on Twitter, Facebook or Instagram. Leave a separate comment with where you followed and your user name.
The contest runs through 11/20. Winner will be selected and notified on 11/21. Winner must be 18 years of age or older, a US resident (or have a US postal intermediary) and the contest is void where prohibited.
I'm adding this to The Husband and my Father-In-Law's holiday stockings for their ski trips. It's a great stocking stuffer for all of the winter sport enthusiasts (and avid outdoor folks, too!) You can get Sven Can See online and via Amazon. You can also keep up with them on Twitter, Facebook and Instagram.
Please note: I was provided a sample in exchange for a honest review. I was not otherwise compensated for this post. All opinions are my own. This post contains an affiliate link for Amazon. If you use this link, I'll receive a small commission.