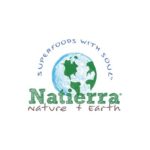 At Expo East, I met a lot of great new (and new to me) companies. I was especially excited to chat with Natierra Foods. Their team invited me to come by to check out their all natural and organic food/snack line and to learn about their Feed a Soul Project.
Natierra started out with Himalayan Sea Salt and Himalayan Goji Berries. Next, they added Fair Trade and organic freeze-dried fruit snacks. In 2014, they launched the Natierra brand. Inspired by world travel, Natierra "fuses the spirit of adventure and the celebration of health and community to bring conscious consumers unique superfoods, gourmet salts and on-the-go snacks." They say, "with an extensive array of nutrient-rich ingredients, and a dedication to corporate responsibility, Natierra celebrates life journey, life travel and life discovery through meaningful partnerships, worldwide philanthropy and healthy food options." What a great philosophy!
Natierra sent me an awesome gift pack of products to try and a cheche. The Cacao Powder and Dark Chocolate Goji Berries are part of their superfood line. The Freeze-Dried Nature's All Strawberries and Bananas are organic, non-GMO, gluten free, raw and vegan. They contain exactly one ingredient each. The Himalayan Fine Pink Salt is all natural, unrefined and has no additives.  It's packed with natural minerals. The glass jar is reusable, too! The superfood and salt pages have some great recipes. I'm excited to try some with the Cacao Powder and Himalayan Salt.

I tried the Dark Chocolate Goji Berries and the Freeze-Dried Bananas together. What a great combo! Both items are great alone or mixed. They're a great school or office snack and can be added to cereal, baking or trail mixes.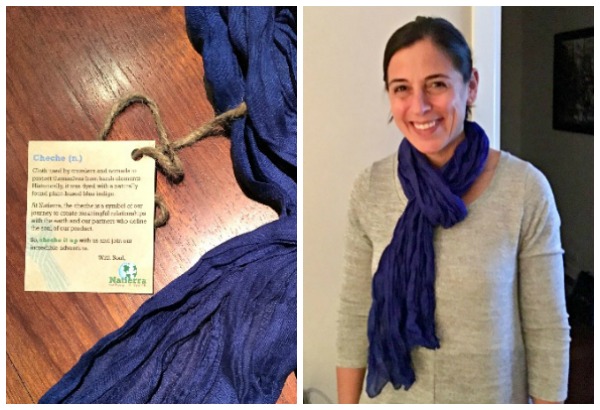 I hadn't heard of a cheche before. The cheche is "a cloth used by travelers and nomads to protect themselves from harsh elements. Historically, it's dyed with naturally occuring indigo." They say, "At Natierra, the cheche is a symbol of our journey to create meaningful relationships with the earth and our partners who define the soul of our product." I'm excited to take my cheche on some of my travels!

Natierra shared a great program that you need to know about. With the Feed a Soul Project, they donate a meal to a child in Haiti through Convoy of Hope for each bag/shaker of the superfood line sold. Their goal is to give 1 million meals by 2018! How awesome is that? The superfood line includes goji berries, cacao, chia and hemp. Please look for these when you're buying these products in Whole Foods and other markets. Your purchase will make a difference and the price points are good, too!
The nice folks at Natierra will send a product sampler to one lucky winner. The prize includes an 8 oz bag of Cacao Powder, 2.5 oz bag of Nature's All Bananas, 2.5 oz bag of Nature's All Strawberries and a 10 oz. jar of Himalayan Pink Sea Salt. Please use the Rafflecopter below to enter. Winners must be US residents, 18 years of age or older and the offer is void where prohibited. The giveaway runs through November 1. Winner will be selected and notified on November 2.
In the mean time, you can get Natierra at a variety of markets including Whole Foods and on Amazon. You can keep up with them on Facebook, Twitter and Instagram.
Please note: I was provided samples in exchange for a honest review. I was not otherwise compensated for this post. All opinions are my own. This post contains an Amazon affiliate link. If you use the Amazon link, I'll receive a small commission.