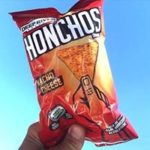 The nice folks from Deep River messaged me on Facebook to see if I wanted to try their new Honchos Organic Tortilla Chips. These chips look like Doritos and come in similar flavors – Nacho Cheese, Ranch and Peach Habanero. But unlike traditional chips, these are USDA Organic, gluten free and contain no GMOs. They also contain no dyes or artificial flavors and have no MSG. [Did you know that over half a million kids in the US suffer adverse behavioral reactions from synthetic dyes?!]
Honchos offer all the taste of "other 'itos'" with only real ingredients. These chips have "all of the flavor and none of the fake." Another difference is that they're selling Honchos as a subscription service with 10% of proceeds going to charity. That's a win-win.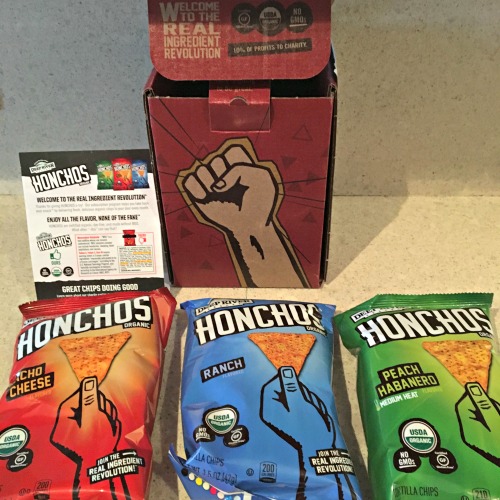 When I was offered this sample, I knew that The Husband would be thrilled. He's a fan of the traditional flavored tortilla chips. Of course, I love the opportunity to serve him something healthier that he likes.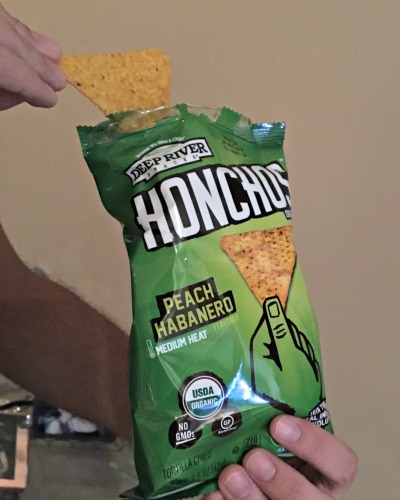 The Husband tried all three varieties – and I got to try Peach Habanero. He liked them but questioned what the market was for "healthier junk food." On the contrary, I know there is a huge market for, and interest in, healthier snacks. Since we don't have children, The Husband may not realize how many families try to eat organic. Also, many parents look for snacks with no dyes, GMOs or MSG.
Honchos are Husband approved (and I like them, too!) You don't have to take our word for it. The nice folks at Honchos have offered to send a sampler of Honchos like we received to one lucky reader. Please use the Rafflecopter below to enter. The winner must be a US resident, 18 years of age or older and the offer is void where prohibited. The giveaway runs through 10/25. A winner will be selected and notified on 10/26.
You can get Honchos HERE. They have a trial option (You receive a sampler like I received and you just pay the shipping.) Then, they have a subscription offer. You can also find Honchos in stores. I saw them at Newark Airport recently. You can also follow Honchos on Facebook, Instagram and Twitter.
Please note: I was offered product in exchange for an honest review. I was not otherwise compensated for this post. All opinions are my own and those of my husband.