I always say that I am more of a "blogging runner" than a running blogger. I do like to write about running, races and tips/tricks for running but that is not enough to call this a running blog. That said here is my running recap of the third quarter of 2017. As I mentioned in yesterday's Runfessions, I didn't run many races this quarter. In fact, I only ran two in July. This is the smallest number of races I've run in any quarter since I started blogging in 2012. I enjoyed the break!
# of Races Run this Quarter– 2 -a half marathon and a 10K both in July. This is strange for many reasons. I don't like running in the heat and I love running in the fall. I'll provide brief recaps and photos below!
Rave Run Location: Berlin! I loved running in the Tiergarten.
Miles Run This Quarter: 523.1 which is avg. of 5.7 per day. 19.3 miles were in races.
Falls: None that I can think of! Woot!
Personal Records (PRs): 0 – no surprises here.
Toughest Conditions: Hands down, the 85 degree/78% humidity 20 miler with Kelli after standing and walking around at Expo East for 2 days straight. That was a tough one!
Celeb Sightings and Cool Meet Ups: I met 2 time Olympic medalist Nick Willis and the team from SOS Rehydrate at Expo East. I got to run with Lauren and Lauren, too!
New Running Goodies that I tried: Can't think of any! What!? Planning to try Zoom HRV!
Popular Running Posts:
Races Planned for Q4: Milwaukee Lake Front Marathon and NYC Marathon. My crew for CIM is sidelined this year, so I'm going to pass on it and cross it off my bucket list another time. I'm also a Women's Health Hero and will be a pacer at Run10Feed10 on 10/28. Join me and get $5 off with code R10HERO24.

Brief Race Reports – I included a few "how I did" postscripts on posts that I wrote on race days. Here is a brief recap of the races I ran this quarter: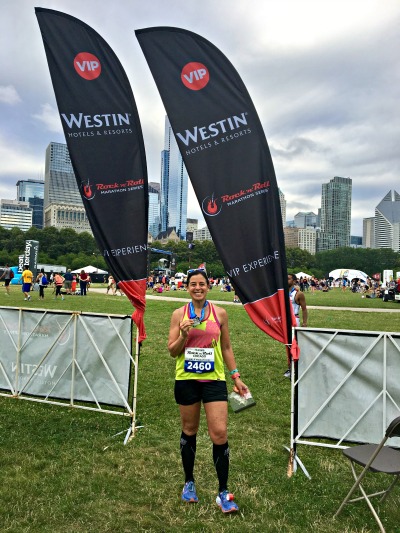 1. Rock n' Roll Chicago Half Marathon – July 16, 2017
I typically steer clear of this race because mid-July is too hot for this runner. I got a free entry and VIP pass, so I decided to go for it. It turned out to be a pretty mild day. I got super lucky when I ran into Cait and Stephanie and their friend Arielle. They were all recovering from a wedding the night before and were planning for ~8 minute miles. We ran the whole way together and had a great time catching up. I loved every minute of it. Sometimes low expectations are the best kind!
Results: Net time – 1:46:35 (8:08/mile) Place – Overall – 882 of 9,837. Female 227 of 5,756. Female 45-49 – 14 of 534.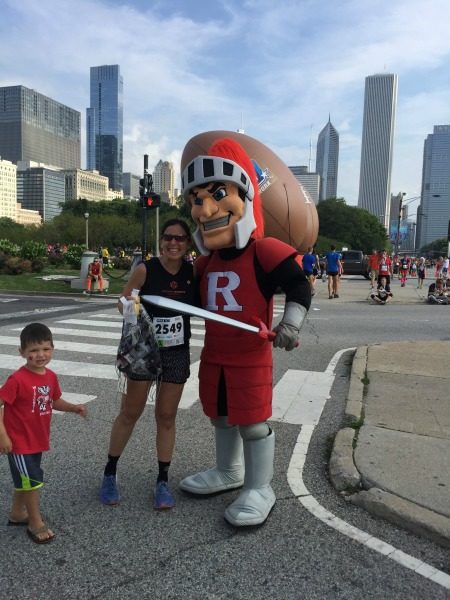 2. Big 10K – July 23, 2017
I didn't fare as well with the weather at the Big10K! It was oppressively humid and pretty awful. I signed up to run with my friend, Amy. Well, at the same time, because she's super fast! I enjoyed catching up with friends at the start. I ran pretty well the first 5K, but the heat beat me. I ran my slowest 10K in ages. I did get an awesome pic with Big Will and the Scarlet Knight so that's a win!
Results: Net time – 49:22 (7:57/mile) Place – Overall – 498 of 5,946. Female 98 of 3,203. Female 45-49 – 5 of 138.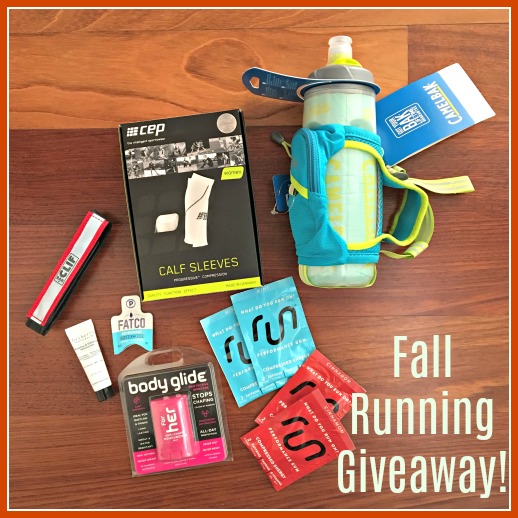 Fall running takes some effort, I'm going to share some of my fave running helpers. The prize includes Run Gum, Body Glide (for her but it works for dude's, too!), a Camelbak water bottle, CEP sleeves (White Women's size III only), a reflector and more!
The giveaway has ended. The winner is Hannah Stevenson! To enter, please leave a comment here telling me about your Q3 running. Extra entry – follow me on Instagram or follow my blog Facebook Page. Please leave a separate comment telling me your Instagram or Facebook name. Winners must be US residents, 18 years of age or older and the offer is void where prohibited. A winner will be selected and notified on October 8th.
How was your third quarter in running? Please tell me about it in the comments!
Please note: The products in the giveaway were purchased by me or given to me to sample. This giveaway is not sponsored by or affiliated with any of the companies included.