You may have seen my rave review of  PRE Brands' Grassfed Beef in May. As one of the few Whole30 approved grass fed beef brands, all PRE Brands' products adhere to the highest quality standards. They're not finished with grain, hay or treated with antibiotics or added growth hormones. This Chicagoland company also gives back to the local community.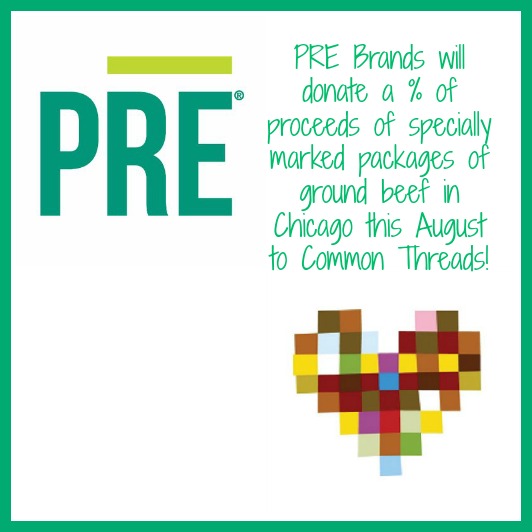 This August, PRE Brands will donate a portion of proceeds for every package of ground beef sold in the Chicago area to Common Threads. The funds will bring the nonprofit organization's practical cooking and nutrition programming to underserved Chicago youths. Founded by Chef Art Smith, preventing childhood obesity by getting America's kids cooking for life through culturally-relevant cooking and nutrition curriculum.
Funds will bring culturally-relevant cooking and nutrition curriculum to more local kids that results in lifelong healthy eating habits. After completing the program, children are more likely to eat 3 servings of fruits veggies and whole grains, show a favorable attitude about vegetable, become confident in their cooking and identify the components of a healthy meal. How awesome is that?!
Here's a great video on what Common Threads has been up to lately:
About Common Threads from PRE Brands on Vimeo.
In addition, PRE Brands' Culinary Manager Sarah Russo developed an array of meals for families of four, under $15. These simple recipes and ingredients are designed for the whole family to join in on. Recipes are available on PRE's website and social media channels. Local youths were also invited into the PRE kitchen to cook with Russo and further fuel their inspiration to turn their passions into careers.
Don't want to wait? You can find stores that carry PRE Brands' meats here. Get the specially marked ground beef at Chicagoland Mariano's, Meijer, Heinen's and Treasure Island stores. You can also follow PRE Brands on Twitter, Facebook and Instagram. You can also follow Common Threads on Twitter, Facebook and Instagram.

Please note: I was not compensated for this post. I think this is a great brand and they're doing good things!