As you may have seen, The Husband and I spent a long weekend in Berlin. Check out my July Coffee Date post for some photos and stories. We had a great time!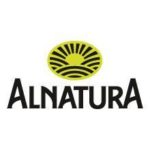 We always take public transportation and the Berlin system is easy, convenient and inexpensive. The U-Bahn, the subway/el train system, stop closest to our hotel (Nollenderfplatz) was near an awesome health food store. The Alnatura store had an awesome selection of natural foods, prepared foods, produce and vitamins/supplements.
On the last day, I went in and grabbed some energy bars and a few treats. I got two of each item – one for me and one to send to a lucky reader.
I got several store brand products (24/7 Bio and Alnatura) and a few other bars and treats. Here's what I'm trying (and sharing):
Raw Bite – The packaging on the Raw Bite Bars reminded me of Lara Bars. These organic fruit and nut bars (from Denmark) were created to provide healthy, on-the-go snacks. They come in 8 flavors. I bought three to try. I'm super intrigued by Spicy Lime.
Lifefood Coconut Bar–  Lifefood is another raw, vegan, fruit and nut bar (from Czechoslovakia). It's all natural, gluten-free, soy-free, dairy free, starch free and non-GMO. They say, it's a "natural energy booster for vibrant life."
Terra Sana All Natural Licorice "Stones" -These amazing stones are actually

delicious, soft, organic sweet licorice

drops. They are free of all common allergens and they taste amazing.
Albio Veggie-Herzen – Gummies are everywhere in Germany – even in health food stores. These heart shaped candies are vegan, organic, gluten free and also taste amazing!
24/7 Bio Nut Bars and Alnatura Amaranth Bar – I grabbed a few store brand bars, too.
As you may have noticed, I tried the candies (and wish I bought MORE!) I'm excited to try the energy bars next.
As I mentioned, I'll send one lucky reader all of the items in the photo to try. Please use the Rafflecopter below to enter. Winner must be a US resident, 18 years of age or older and the offer is void where prohibited. The giveaway runs through Thursday, July 13. A winner will be selected and notified on July 14.
What would you try first? Do you check out new foods when you travel?

Please note: This post is not affiliated with or sponsored by any of these brands. I purchased these products in Berlin and am sending some to a winner at my own expense.