If you've been around here, you know I'm pretty well caffeinated most of the time. I got an email from the folks at PureLYFT asking if I was "looking for a quick boost of energy without the extra sugar and calories found in frappuccinos, lattes and energy drinks." They went on to say that "studies show that drinking sugary, sweetened beverages that are high in calories can lead to weight gain and obesity." To the former, I said "of course!" They sent me samples of each of the four flavors to try.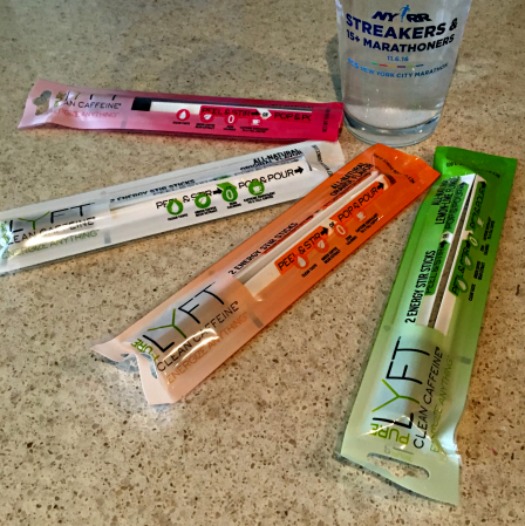 PureLYFT is an all-natural energy stir stick made from green coffee beans.  Each stir stick provides the same amount of caffeine in a tall coffee. PureLYFT's green coffee bean extract is also fortified with Vitamins A and B complex. The easy to use stir sticks can be mixed with water or any beverage before, during or after a workout (or any time!) The packaging lets you stir or pour PureLYFT into your drinks.
PureLYFT is available in four all-natural flavors – lemon-lime, mixed berry, orange and original (unflavored). It has zero calories and is sweetened with a small amount of stevia. PureLYFT is recommended for fitness enthusiasts, travelers, moms, students and more.
So how does it taste? I tried the mixed berry first and was pleasantly surprised. The water had a nice taste and the flavor was not too sweet. I added some to my seltzer and that worked very well, too. We brought some PureLYFT on our trip to Berlin. The European coffees were strong, but small and I was pretty tired from traveling. The lemon-lime added to my water bottle gave me just the extra pick me up I needed. My favorite flavor is mixed berry.
Want to check out PureLYFT? I'll send one lucky reader the 6 pack of his/her choice of flavor. Please use the Rafflecopter below. The winner must be a US resident, 18 or over and the offer is void where prohibited. The giveaway runs through July 19. A winner will be selected and notified on July 20.
Don't want to wait? Like PureLYFT on Facebook and give them your address and they'll send you a sample. Get 25% off and free shipping online with code getLYFTed25. Also, you can order PureLYFT on Amazon (Prime eligible). You can keep up with PureLyft on Twitter, Facebook and Instagram.
Please note: I was sent samples of this product at no cost in exchange for editorial consideration. I was not otherwise compensated for this post. All opinions are my own. This post contains an Amazon affiliate link. If you buy with this link, I will receive a small commission.