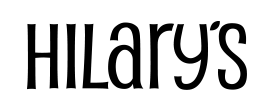 After some of my Expo West reviews, I was approached about trying Hilary's products. I'd heard of the brand, but had not tried it.  I learned that they make convenient, great tasting, allergen free foods. Of course, I said "Yes! Send them over!"
Hilary's creates delicious, convenient foods that are free of common allergens. This means they are gluten free, egg free, soy free, corn free, dairy free and nut free. They're also vegetarian (many are vegan), Paleo and many are great for kids. Each of their products has to meet 5 standards: convenient, clean (made with "real food, minimally processed ingredients"), free-from common allergens, sustainable and "yummy." Hilary's is a B Corporation certified food manufacturing company "dedicated to nourishing our bodies and the environment." They're all about "eating well made easy."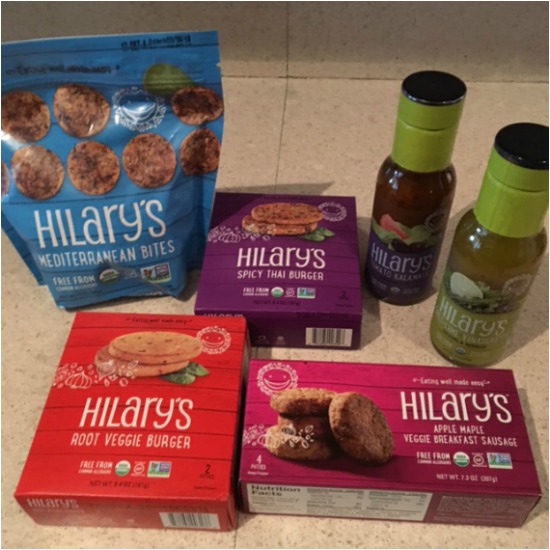 They sent over a variety of veggie burgers and dressings. I shared some with Amanda and kept some for myself.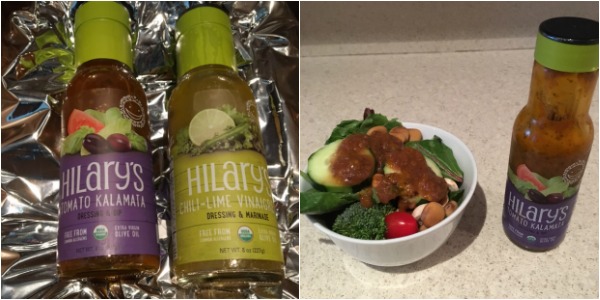 I LOVE the Tomato Kalamata dressing. I used this on a bunch of salads and as a dip for veggies. I loved the flavor and consistency. I tried the Root Veggie and Spicy Thai Burgers, too. Hilary's started with veggie burgers and both flavors hit the spot! These were super easy to pop in the oven while I was working. I love the clean ingredients and great flavors.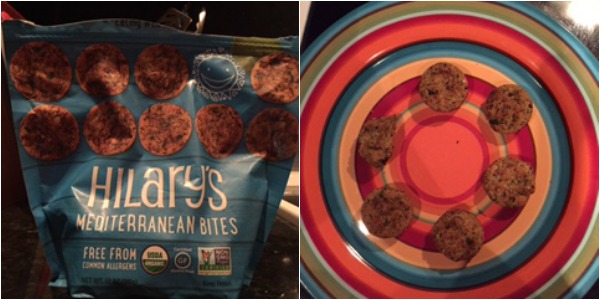 Amanda said, "I am officially in love with this brand." Then, "the Mediterranean Bites were delicious. I toasted them up in the toaster oven and they were a crunchy warm bundle of goodness. They don't have a ton of protein so I've been eating them as a post-dinner snack. I could also see serving them as a fun appetizer, party snack or along with a salad." She also tried the Apple Maple Breakfast Sausage. She said, "I rarely eat apple maple smoked sausage but the smell and taste is a really nice vegetarian (and healthy!) version. The protein content is pretty low so it is not a sausage substitute in that way but with some eggs, you'd be off and running. Two thumbs up."
You don't have to take our words for it. The nice folks at Hilary's have offered to send one box of veggie burgers and one dressing/marinade to a lucky reader. Please use the Rafflecopter below to enter. Winner must be a US resident, 18 years of age or older and the offer is void where prohibited. The giveaway runs through Thursday, June 29. A winner will be selected and notified on June 30.
Don't want to wait? You can find Hilary's at these stores. You can also keep up with Hilary's on Facebook, Twitter and Instagram.
Please note: I received these products at no cost in exchange for an unbiased review. All opinions are my own and Amanda's. We were not otherwise compensated for this post.