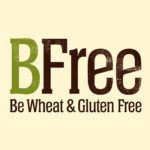 If you come around here, you know I love to try all the things. In checking out healthy foods, I've tried a lot of gluten free products. Some of the products are great and some of them are definitely NOT great. I received an email asking if I wanted to check out BFree Foods' gluten free breads. They said, "BFree breads are free from wheat, dairy, eggs, nut and soy, and yet they won't crumble or fall apart mid-bite. Some of the ingredients on BFree's roster include teff, potato flour, pea protein and chia, all which help to fuel workouts and keep you full from meal to meal."
Making gluten free breads and wraps that are healthy for you AND taste good is not easy. BFree wanted to do more than remove gluten and wheat from breads. They set out to make their breads taste as good as conventional breads, free of other conventional allergens and to have "exceptional nutrition." This is a pretty tall order! In addition to being gluten free and high in fiber, all products are vegan and non-GMO.
BFree asked if I wanted some samples. Of course, I said "Sure!" They sent me ALL of the varieties to try. They're going to send one lucky reader the same, so read on! Luckily, my friend, Sarah who was recently diagnosed with Celiac Disease came for the weekend right after I received the box. She was able to try everything, too!
I loved the Sandwich Loafs, Quinoa and Chia Wraps and pitas. The bagels were very good for gluten free, but since I'm a NY girl, I generally only like bagels made on the East Coast. These were fine as sandwich bread. [Please note – I've had this issue since I moved from the East Coast.  This has no bearing on whether or not this is a good GF bagel. In fact, Sarah and Adam thought they were terrific.]
Sarah took home some of every variety of BFree bread. She said, "I was able to try the BFree wheat and gluten free rolls on Monday at a family cook-out. They were so delicious! As you know, since I was recently diagnosed with Celiac, I've been on the hunt for good bread/buns. I've tried several to date and they all have missed the mark. They taste like cardboard or crumble apart at every bite. Well, the search is over! These products blew away my expectations! They tasted like the buns I used to eat (with the gluten)! I'll definitely be on the look-out for this brand so I can add it to the new gluten-free staples in my kitchen."
You don't have to take our words for it! BFree offered the same variety of gluten free breads for one lucky reader. Please use the Rafflecopter below to enter. Winner must be a US resident, 18 years of age or older and the offer is void where prohibited. The giveaway runs through Thursday, July 6. A winner will be selected and notified on July 7.
You don't have to wait. You can get BFree at these stores or online via Gluten Free Mall. Click this link on Facebook to get a coupon for a free product to try. You can also keep up with BFree on Instagram, Twitter and Facebook. They also have great recipes!
What would you try first?
Please note: I received these products at no cost in exchange for an honest review. I was not otherwise compensated for this post. All opinions are my own (and those of my friends!)