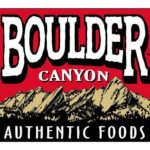 Summer is here and it's time for BBQs and parties for dads and grads. While you want to offer as many tasty snacks as possible, you can improve the nutritional values without sacrificing taste. Boulder Canyon Authentic Foods is "cooking up a better snacking experience with delicious gluten free, Non-GMO, low fat and low sodium options." Their slogan is "Live Better. Eat Boulder." You know I'm behind that!
Boulder Canyon was started by two brothers who serviced manufacturing equipment in the food industry.  A client was in the potato chip business and they realized that a better, healthier chip could be made with a thicker cut and lighter oil. That was too expensive and risky for the chip company. Not deterred, the brothers started a craft potato chip business and the rest is history.
Boulder Canyon starts with whole food, non-GMO ingredients. They make small batch chips and snacks with healthier cooking oils and all natural ingredients. Their products contain no trans fats, no cholesterol and are low sodium, gluten-free and non-GMO.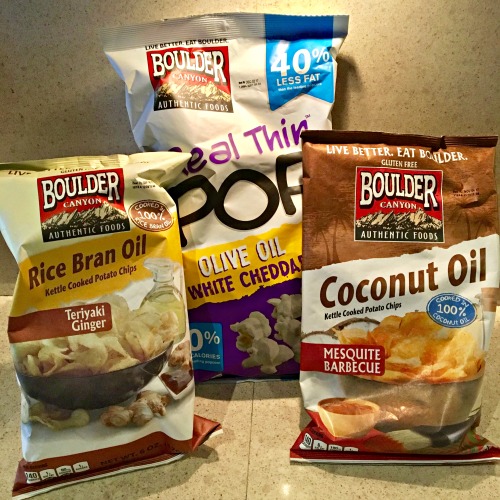 Boulder Canyon makes kettle cooked potato chips, popcorn and specialty snacks – including quinoa and bean based chips. They make over 40 varieties plus seasonal flavors! To The Husband's great delight, they sent us two kinds of potato chips and one popcorn. The chips are made with rice bran oil and coconut oil. I was worried that The Husband would think this was "too healthy."
I came home from running the other night and found The Husband eating the Mesquite BBQ chips. I asked what he thought and he said "Delicious! Can we get more?" Whoo hoo! The chips taste really good and have surprisingly low sodium. We tried the Teriyaki Ginger chips. They have a nice crunch and a subtle teriyaki and ginger flavor. The Husband is not a ginger fan and he liked them a lot, too. I'm excited that they taste great, but have less fat and lower sodium.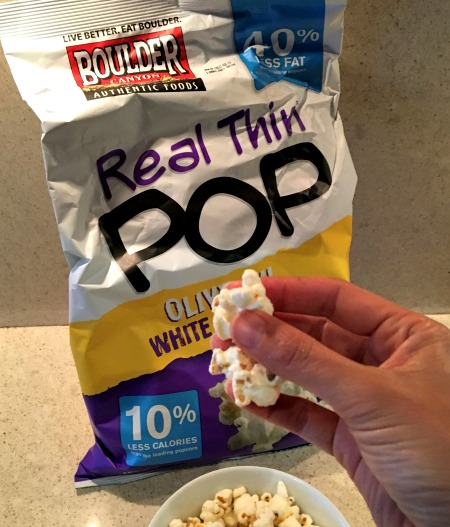 Luckily, I took the photo above before I started eating the delicious, addictive popcorn! The popcorn also tastes great and has 10% less calories and 40% less fat than other brands. I'm a big fan!
The nice folks at Boulder Canyon have offered to send product coupons for FIVE bags of snacks to a lucky reader! Winner must be a US resident, 18 years of age or older and this offer is void where prohibited. The contest runs through June 20. Winners will be selected and notified on June 21. Please use the Rafflecopter below to enter.
If you don't want to wait to see if you win, you can find Boulder Canyon chips at these stores. You can keep up with Boulder Canyon on Facebook, Instagram and Twitter.
Which Boulder Canyon snack would you try first?
Please note: I've been given products at no cost in exchange for an honest review. I was not otherwise compensated for this post. All opinions are my own and those of my friends.