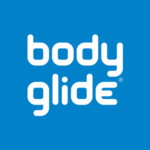 The original Body Glide was "born" in 1996 (like my marathon career). It protects against chafing by creating a "dry, invisible barrier." You apply it once before activity and it "stops trouble before it starts." You can put it anywhere that skin can rub. It is a stick that is easy to apply with no mess. It washes off easily, too. It works when it is hot, humid, cold or dry. It even works in water.
Body Glide now makes a full line of skin protection products. The products are made of natural, plant made ingredients. They're fragrance free, hypoallergenic and never tested on animals. They're safe for frequent or daily use.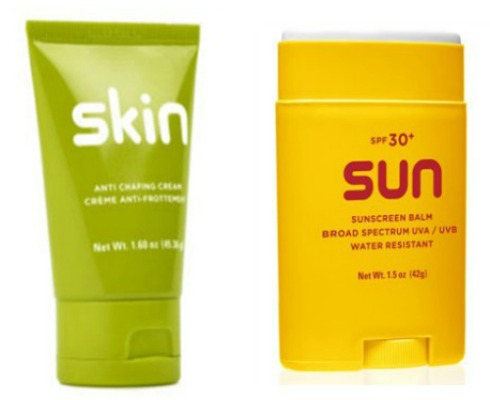 The nice folks at Body Glide sent me some new products to try. They sent Skin Glide Anti-Chafe Cream and Sun Sunscreen Balm. Skin Anti-Chafing Cream is grease-less and good for sensitive skin. It's also great for preventing blisters and rubbing in post-running flip flops and other summer shoes. Sun Sunscreen Balm is water and sweat resistant with 30 SPF. The balm doesn't evaporate, and it stays on your skin where you apply it. It's paraben and fragrance free.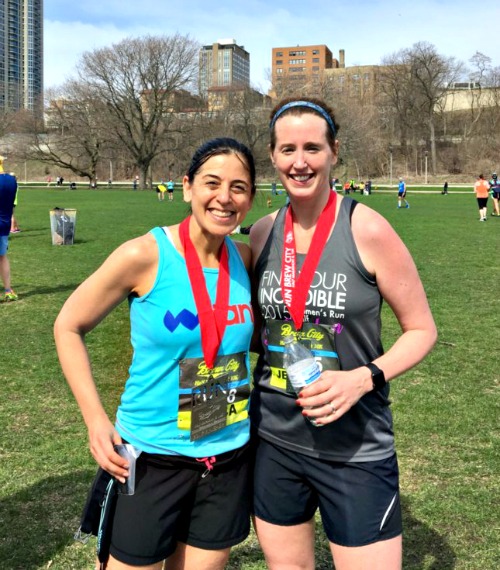 Jen and I ran a mid-April half marathon in Milwaukee in unexpectedly humid weather. We both used the Skin Anti-Chafe Cream. We had no chafing and no stains on our clothes. We gave it two thumbs up!
Then, I took Skin and Sun for a tougher test – hiking/running in the Grand Canyon! I was excited to try Skin on my feet. I've been getting hot spots and small blisters on long runs and was worried about all of the downhill. I slathered Skin on my feet and used it in all of the normal chafe spots under my clothes and backpack. I tried the Sun on my neck, on my forehead where my hat hit and on the sides of my face. I put both products in my pack. I stopped a few times to put more Skin on my feet and it really helped. I finished an epic hike/run with no blisters or chafing! Woot!
Want to try Body Glide Skin? I'll send two lucky winners each a 1.6 oz tube of Body Glide Skin. It's carry-on approved and a little goes a long way! Please use the Rafflecopter below to enter to win. The giveaway ends on May 14th and a winner will be selected and notified on May 15th. Winner must have a US postal address, be 18 years of age or older and the offer is void where prohibited.
Don't want to wait? You can get Body Glide online (free US shipping) or on Amazon (Prime eligible). You can follow Body Glide on Facebook, Twitter and Instagram.
What are your summer plans? Where will you take your Body Glide if you win?
Please note: I received this product at no cost in exchange for an honest review. I was not otherwise compensated for this post. All opinions are my own.