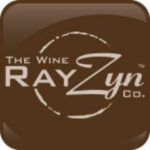 Wine Rayzyns are another awesome new find from Expo West. Made in California's wine country, RayZyns are a crunchy, superfood snack from dried wine grapes with the toasted seed intact. These are so good!
Based in Napa Valley, California, The Wine RayZyn Company was founded in 2014. This family owned company has a mission to "deliver healthy, sustainable foods and snacks to consumers who are replacing traditional meals with robust snacking."
Wine RayZyns are high in fiber, low in fat and cholesterol and they have more antioxidants than wine. They have no artificial flavors, no preservatives and are naturally sweet. RayZyns are a simple whole food and "one of the best superfoods on the market." The ingredients are simple. Wine Rayzyns are dried grapes with seeds and stems intact for crunch and nutrition. Read more about the health benefits HERE.
They come in Cabernet, Merlot and Chardonnay varieties – and don't worry, they're alcohol free! They also have a chocolate covered Cabernayzyn. Nice!
The nice folks at The Wine Rayzyn Company sent me a some additional sample packs to try and share. I'm a dried fruit/raisin fan. These have a more complex flavor than average raisins with a hint of a nice wine. It takes a second to get used to the crunch. I'm a big fan. I ate them straight from the pack and added some to my salads. They'd be great with yogurt, in trail mix or even on some chocolate ice cream! Allison said, "These 'dried grapes' were really juicy compared to average raisins. I didn't realize that there were stems and seeds involved (to make it an antioxidant superfood!), and at first the crunch was kind of weird (crunchy raisins!?) Ultimately, I really liked them. I preferred the Cabernet over the Chardonnay, but I would definitely eat either again."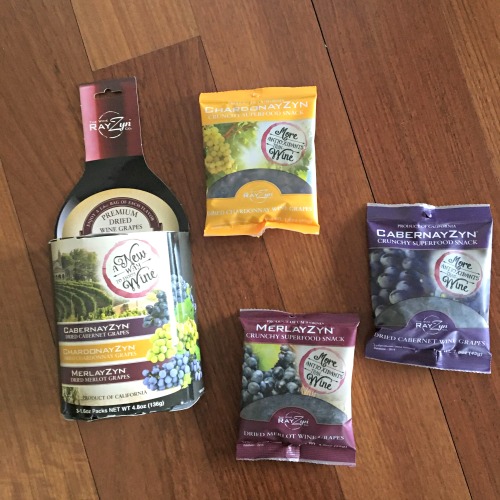 I liked the Cabernet best, too, but like Allison, I'd eat any of the flavors again. I mixed them up for my photo and enjoyed the mixed variety. I haven't tried the chocolate covered ones yet, but I will.
You don't have to take my word for it. I have two sets of three varieties of Wine Rayzyns to share with two lucky winners. Please use the Rafflecopter below to enter. The giveaway runs through May 18th. A winner will be selected and notified on May 19th. Winner must have a US postal address, be 18 years of age or older and the offer is void where prohibited.
In the meantime, you can get Wine Rayzyns online (get free shipping with code EFINDS). You can also get them on Amazon (Prime eligible). You can also follow Wine Rayzyn Company on Twitter, Facebook and Instagram.
Ready to add a new superfood to your faves?
Please note: I was provided product at no cost in exchange for an honest review. I was not otherwise compensated for this post. All opinions are my own.