It's Friday, so I'm linking up with Running on Happy and Fairytales and Fitness for the new Friday Five 2.0. It's a free week and a LONG weekend. Yay! I have BBQs on my mind and was recently given the opportunity to try Sparkling Ice sparkling water drinks.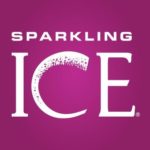 Sparkling Ice wrote to me with some beverage swaps for the office. While I'm down with those, I also love the idea of making some fun summer cocktails with Sparkling Ice. This takes some of the calories out of the mix, but none of the fun. Sparkling Ice's slogan is "Be Not Bland."
There's a Sparkling Ice for everyone. Sparkling ICE offers 13 varieties of flavored sparkling water, 4 sparkling ice teas and 2 sparkling lemonades all enhanced with vitamins and antioxidants.
Here are some fun summer cocktails you can make with Sparkling Ice. They can all be made sans liquor, too!
POM-BERRY ICICLE
Ingredients:
4 oz. Pomegranate Blueberry Sparkling Ice
1 ½ oz. pomegranate vodka
Splash of freshly squeezed lemon
Blueberries and rosemary sprig for garnish
Directions:
1. Pour vodka and lemon juice over ice and stir.
2. Top with Pomegranate Blueberry Sparkling Ice.
3. Stir gently to combine the ingredients.
4. Garnish with fresh or frozen blueberries and a spring of rosemary.
POMEGRANATE BERRY FIZZ
Ingredients:
1.5 oz Berry flavored vodka
3 oz Sparkling Ice Pomegranate Blueberry
Pomegranate seeds
Directions:
1. Combine all ingredients in a shaker with ice.
2. Shake and strain into a chilled glass.
3. Garnish with fresh berries and pomegranate seeds.
Skinny Margarita
Ingredients:
3 oz. Kiwi Strawberry Sparkling Ice
1 oz. tequila
Splash of triple sec
Fresh squeezed lime
Salt for rims (optional)
Directions:
1. Combine all ingredients in a shaker with ice.
2. Shake and pour into a chilled rocks glass rimmed in salt.
Summer Romance
Ingredients:
1 oz. rum
1 oz. vodka
1 oz. pineapple juice
3 oz. with Grapefruit Sparkling Ice
Directions:
1. Combine all ingredients in a shaker with ice.
2. Stir gently and garnish with mint.
Pink Grapefruit Breeze:
Ingredients:
1 oz. Malibu
2 oz. Pineapple Juice
Grapefruit Sparkling Ice
Directions:
1. Combine Malibu Rum and pineapple juice over ice.
2. Finish with Grapefruit Sparkling ICE.
3. Stir gently and garnish with lime.
Want to try Sparkling Ice in your summer cocktail or as a healthy hydration swap? One lucky reader will receive a sampler of flavors of Sparkling Ice. Please use the Rafflecopter below to enter. The giveaway runs through June 3. A winner will be selected and notified on June 4. Winner must have a US postal address, be 18 years of age or older and the offer is void where prohibited.
In the meantime, you can get Sparkling Ice in many stores or on Amazon. You can also follow Sparkling Ice on Twitter, Facebook and Instagram.
What flavor would you try first?
Please note: I was provided product at no cost in exchange for an honest review. I was not otherwise compensated for this post. All opinions are my own. This post contain an Amazon affiliate link. If you use this link, I will receive a small commission.