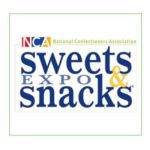 This was my fourth year attending the Chicago Sweets & Snacks show. In 2014, I worked with Simple Squares (recap) and in 2015, I worked with InBar (recap). Last year, I scored a media pass (recap). Armed with another media pass, I had just a few hours on the last day to find all the healthy snacks and treats.
Again, they expanded the show to include even more healthy and organic snacks and tons of old faves, too! If you are around here much, you know I love healthy and organic snacks. You may not know that I also LOVE candy. Short on time, I made only a few appointments with healthy vendors, checked out a bunch of new snacks and grabbed some fave sweets, too. Everything in moderation – right? The last day of the show is typically less crowded. That was great for me as I got to chat with people and grabbed tons of samples to try and share.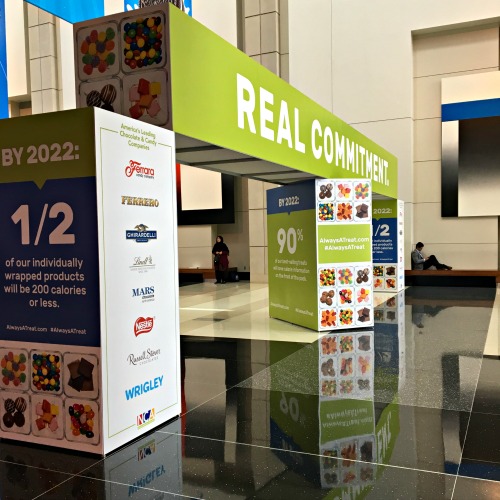 This year, there was a new campaign called "Always a Treat." The National Confectioner's Association is focused on improved labeling and making treats in individual packs lower in calories and sugar.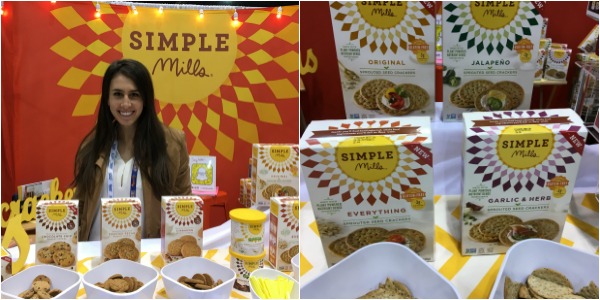 My first appointment of the day was with my friends from Simple Mills. Simple Mills makes delicious gluten free/grain free products including crackers, frosting, baking mixes and a new line of prepared cookies. I was excited to see Austin and to catch up with her, too. I tried the new cookies (yum) and some frosting for good measure. I got a box to eat and one to share so stay tuned!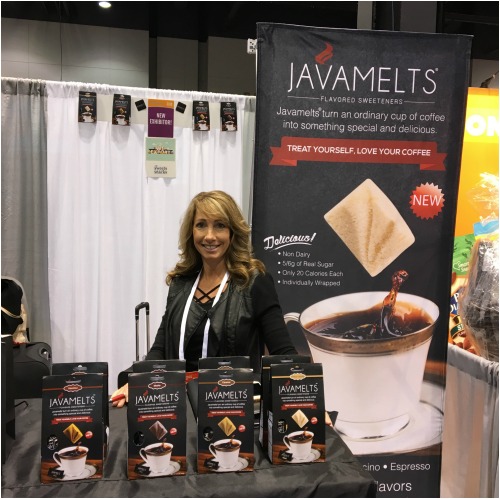 On my way to my next meeting, I saw a new product that caught my eye. Java Melts are individually wrapped 20 calorie coffee sweeteners. Made with real sugar and non-dairy, they come in four flavors: Hazelnut, Mocha, French Vanilla and Caramel. I grabbed some samples to try and share. I met the founders. They just launched three months ago and they could not have been nicer. I can't wait to try these.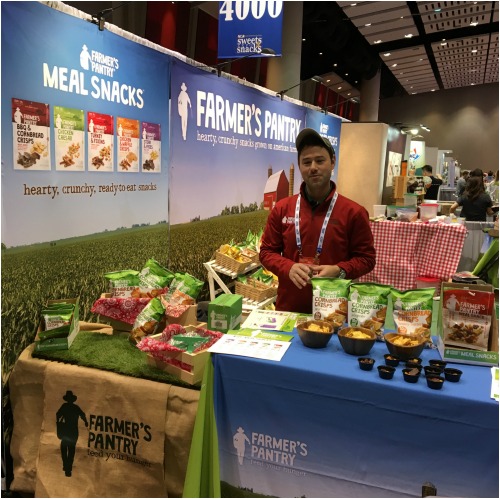 Next up, I went over to see the guys from Farmer's Pantry. I met them last year when they were selling delicious baked Cornbread Crisps in Original and Jalapeno. They added Honey Butter to the Cornbread Crisp Line. They launched their "meal snack" line which has a meat snack, dried veggies and cornbread croutons. Keep an eye out for these in Hudson News and other stores. They are made in the USA and each purchase gives back to American farmers. A win-win.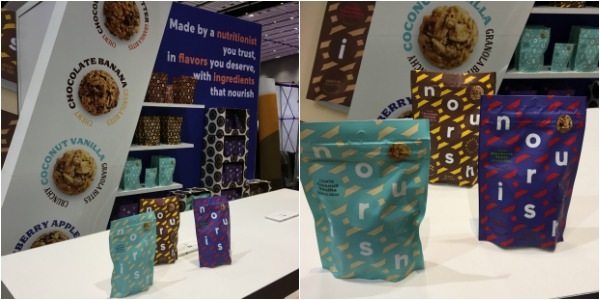 I met Libby from Nourish Snacks. You may know Nourish's celebrity nutritionist, Joy Bauer. Nourish recently slimmed down their product selection and rebranded. I LOVE the new colorful packaging and tasty chewy granola bites. I snagged all three flavors and will have a full review and giveaway soon!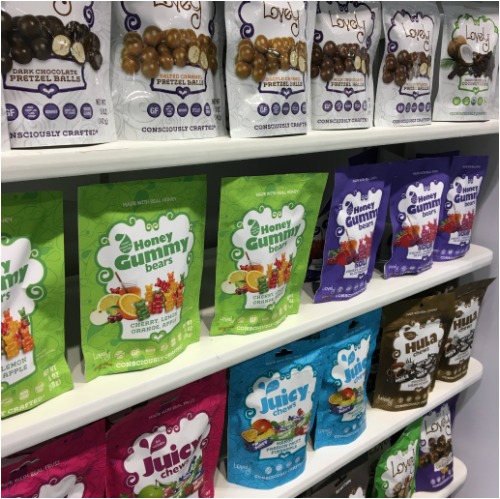 I swung by to see what was new at Lovely Candy Co. Their new Honey Gummies are off the hook. I got some yummy caramels and made plans to do another review and giveaway. It's a tough job, but somebody has to do it.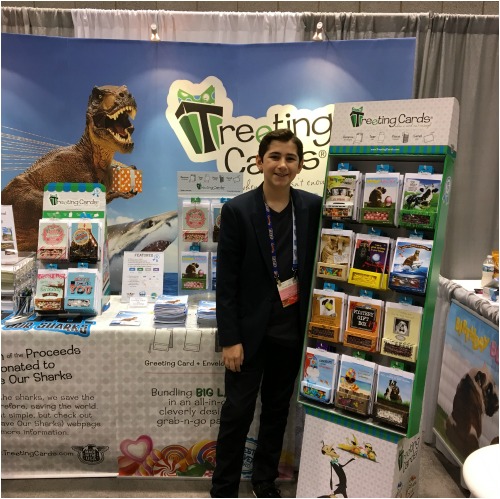 I met James, the cutie behind Treeting Cards. This new company founded by a 12 year old offers adorable cards with candy treats. James came up with this idea when he was SEVEN years old! He created the product and donates a share of his shark gummy cards to charity. I can't wait to see what else he can do.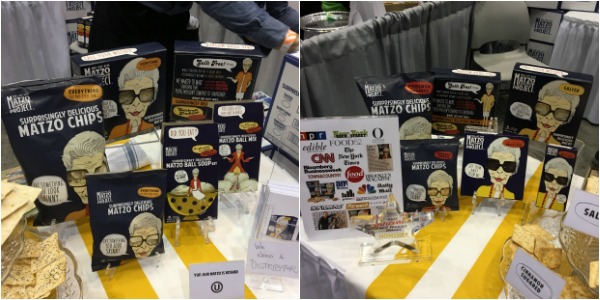 I stopped by to tell Kevin from The Matzo Project that I loved the sample I tried in UrthBox. Their product tastes amazing and the packaging is on point. I'm a big fan and I'm going to work with them on a review and giveaway. Their new matzo ball soup mix comes out soon, too!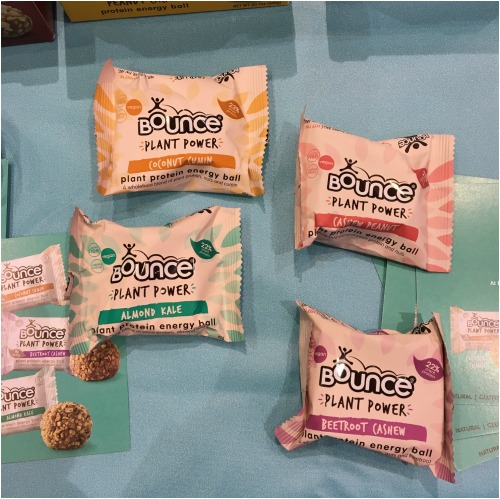 Next, I saw that Bounce Foods has a new "Plant Power" line of energy balls. The flavors look amazing and my new friend, Nathan, gave me one of each to try. Plus one of each of the original line to share! Stay tuned.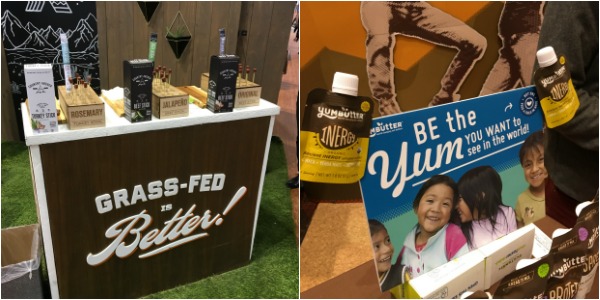 I saw some new goodies from my faves at Yumbutter and Country Archer. I checked out Country Archer's new grass fed meat sticks. They're delicious. More to come on that soon! I swung by Yumbutter to say "hi" and to see what was new. They're coming out with single serve packages and a new "Inirgy" almond butter. Yay!
I went over to say "hi" to Tom from Brand Passport. They import Daelmans Stroopwafels. These awesome wafer cookies with caramel are now served by United Airlines on flights. You can warm them on top of your coffee or tea or eat them straight from the pack. These yummy treats don't break the calorie bank and satisfy your sweet tooth. Giveaway coming soon!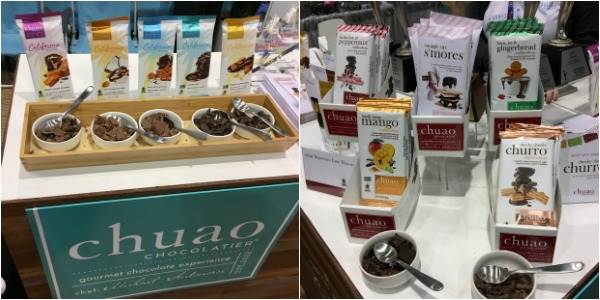 The nice folks from Chuao Chocolatier asked me to stop by to see what's new. They didn't have to twist my arm. I checked out their new California Collective line. The California Collective includes five "dreamy, sun-soaked inspired flavors that celebrate the spirit of Chuao's home state from the sunshine to the sea." These delicious flavors are also at a lower price point. Yay! I also tried the Sofi Award-winning Cheeky Cheeky Churro, too. YUM!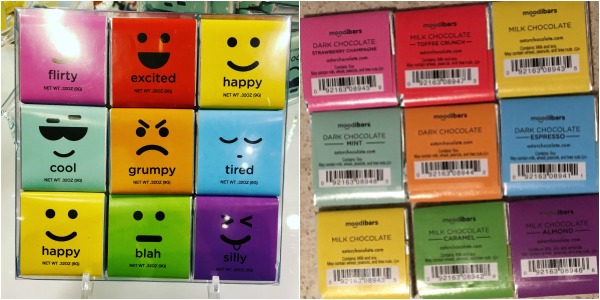 I passed a nice gal who handed me a MoodiBar from Astor Chocolate. These bars in eight flavors sport cute old school emoticons with different "moods." The "Cool" Dark Chocolate Mint is AMAZING! I love these. Such a clever idea – chocolate for every mood.
Before I left, I grabbed some Twinkies for The Husband. It's a fave of his and once a year, I'm down with it! Sadly I didn't see Twinkie the Kid this year for a snapshot.
I also grabbed some other faves and new products before I left. I saw my friends from Olomomo Nuts, Oatmega (they have a new cookie!), Power Up!, RxBar, Flapjacked (they have a new Greek Yogurt smoothie mix), Perky Jerky, TCHO Chocolate, Cookie Pop, Enlightened, Clif Bar, Emerald Nuts, OCHO and Panda. I met the folks behind Zoe's Meats, NutRaw, Vermont Smoke and Cure, Goodness Knows and U Gottabee Nutz.
Stay tuned for some great giveaways in the weeks to come! I promise I will share the majority of this haul.
What do you want to try most? What is your favorite candy or snack?
Please note: I was provided with samples at no cost in exchange for an honest review/mention. I was not otherwise compensated for this post. I received a free entry to the Sweets and Snacks show as a member of the "media." All opinions are my own.