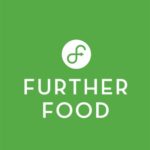 At Expo West, collagen products were all the rage. Some of the supplements' purported benefits include decrease in joint pain, clear skin, shiny hair and stronger nails. People also report better digestion and decrease in stomach issues.
I was contacted by Further Food to see if I would try their collagen peptides. They are a new "food as medicine" company. A portion of their proceeds are given back to fund community Food-as-Medicine educational programs and other healthy eating non-profit initiatives.
This unflavored collagen powder is grass-fed, pasture-raised, Paleo-friendly, non-GMO and 100% pure. It dissolves in hot and cold liquids with no flavor or texture, and you can cook and bake with it. You can add it to a variety of foods and drinks as it has no taste. Further Food has a ton of great recipes. They've received positive feedback from people who use it to help with chronic illness symptoms such as gut and joint pain, and others who love the benefits for their skin and nails.
So, does it work? I've been adding a scoop to my morning coffee for the last few weeks. I can't say conclusively if it's helped, but I have gotten a lot of compliments on how shiny my hair is. Last week, my trainer complimented how great my skin looks, too! I've also been paying attention to my digestion and I think I'll keep using it.
One of the benefits of collagen is that it keeps you feeling full. One thing that I need and am interested in is a "sugar detox." Further Food offers a free 7 day sugar detox program. The next session is May 15 – 21. Who's with me? Get the 411 here. They have a "7 day detox meal plan" and great recipes to support the challenge here.
Want to try it for yourself? You can get Further Food Collagen Peptides online (get 10% off with the code ERICAFINDS10) or at Amazon (it's an "Amazon Choice" product!) You can keep up with Further Food on Facebook, Instagram, Twitter and Pinterest.
Please note: I was given a free sample of Further Food Collagen Peptides in exchange for editorial consideration. I was not otherwise compensated for this post. All opinions are my own.