It's Friday, so I'm linking up with Running on Happy and Fairytales and Fitness for the new Friday Five 2.0. The theme this week is "Pampering." That sounds nice, but I want to share a new "find" from Expo West. I bring you "Five Ways to Beat Sugar Cravings." The new find is Crave Crush lozenges. Read on and you can enter to win some to try!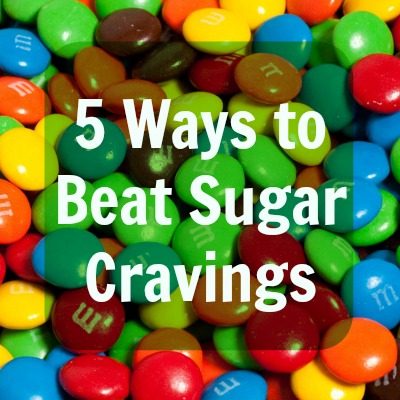 5 Ways to Beat Sugar Cravings
1. Eat a variety of "real" foods with healthy fats. This one is key! Eating a variety of filling (read: foods with healthy fats) whole foods keeps you full and makes you less likely to crave sugar. There are a number of minerals and vitamins that specifically help. Check out MindBodyGreen's post here for more information and the specifics.
2. Get plenty of sleep and exercise. Lack of sleep impacts your impulse control and messes with the hormones that regulate hunger. Learn more here (and get some Zzzzzs.) Exercise can help curb the appetite and makes you feel better. I find that I'm less hungry after I work out and more likely to go for healthy fuels to keep up the good work.
3. Stay hydrated and don't drink or eat artificial sweeteners. Sometimes, hunger or cravings is masked as thirst. Before you grab the sweet treat, try a glass of water (or seltzer) and wait 10 minutes. That trick sometimes works for me. I've read that artificial sweeteners lessen the perception of sweet tastes and cause some sweet fruits and veggies to be less palatable. This causes people to reach for more processed sweets which defeats the purpose! Read more from the folks at Harvard here.
4. Try adding collagen to your morning coffee, cereal or other recipes. I signed up for a free one week "Sugar Detox Challenge" with Further Food in May. Join me? One of the tips they have is:

"Collagen protein helps reduce sugar cravings by keeping you feeling full and keeping your blood sugar levels balanced. As a veteran sugar detox health coach, Julie Fischer, puts it: 'I'm so pleased to have finally found a clean protein powder to recommend to my sugar detox clients. Further Food Collagen is all natural, grassfed, paleo, free of gluten, dairy, sugar and soy, and dissolves completely with no gritty taste. It's a welcome addition to my morning routine!'"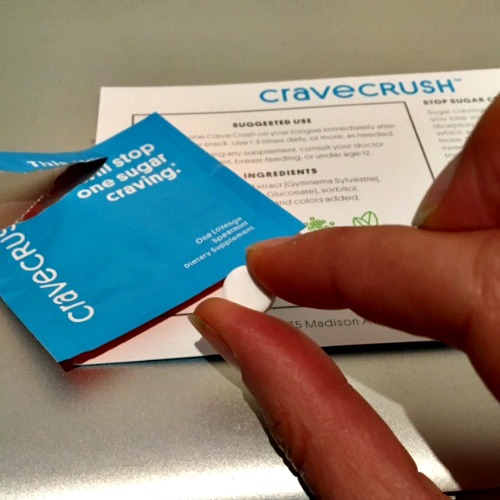 5. Try Crave Crush! I got some samples of Crave Crush at Expo West. Crave Crush uses all natural supplements in a mint lozenge to suppress the taste receptors on the tongue. They say that "one bite of sugar can activate sweet taste receptors for up to 30 minutes, triggering cravings that last just as long. Blocking sweet taste receptors on the tongue can break this cycle." The active ingredients are Gymnema Leaf Extract and Zinc. Crave Crush is patented and "unlike any product in the world."
If you come around here much, you know I have a mean sweet tooth. I tried Crave Crush and it really worked! Not only did I not crave sugar, but I didn't have a taste for anything. No mindless eating. Yay! I've already bought more. This may be a game changer for me!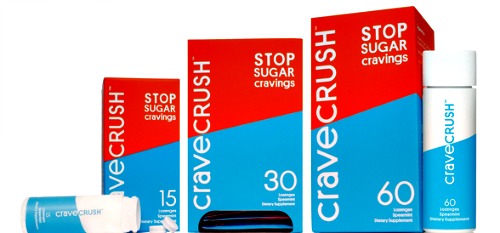 You don't have to take my word for it. The nice folks at Crave Crush offered a 15 pack bottle of Crave Crush + some swag for one lucky reader. Please use the Rafflecopter below to enter. The giveaway is open to US residents, 18 years of age or older and is void where prohibited. The giveaway will be open through 5/1. A winner will be selected and notified on 5/2.
Don't want to wait? You can find Crave Crush online or on Amazon (Prime eligible). You can also keep up with Crave Crush on Facebook and Instagram.
Please note: I was provided samples of Crave Crush at no cost in exchange for editorial consideration. I was not otherwise compensated for this post. All opinions are my own. This post contains an Amazon affiliate link. If you use this link, I will receive a small commission. Additionally, the claims for Crave Crush have not been evaluated by the FDA. I am not a medical professional – speak to yours before adding new supplements.