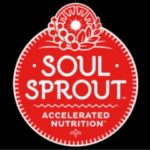 At Expo East I had the opportunity to meet with the CEO of Soul Sprout, Matt Fuller. I caught up with him again at Expo West and he gave me an update. Soul Sprout is expanding the variety and size of their truffles into a line of nut butter bites. You know I'm excited about that!
You may remember that Soul Sprout uses organic, non-GMO, sprouted and plant-based ingredients that "nourish the body and soul." Their products are nutritious and crafted with care to taste delicious, too. Soul Sprout makes almond butter bites, raw truffles, cereal, granola bars and nut bars.
Soul Sprout (formerly Two Moms in the Raw) was born when the founder was diagnosed with MS and wanted to find natural ways to maintain and restore her health. She learned about the curative properties of sprouted and raw foods and began making her own snacks and recipes. The company has grown from there. Their delicious and organic snacks are made from sprouted ingredients to make you feel "power-full." Soul Sprout products are vegan, certified raw, organic, wheat-free, dairy-free, soy-free, sugar-free, gluten-free and GMO-free. There's a reason that they use sprouted ingredients for "accelerated nutrition." Learn more here.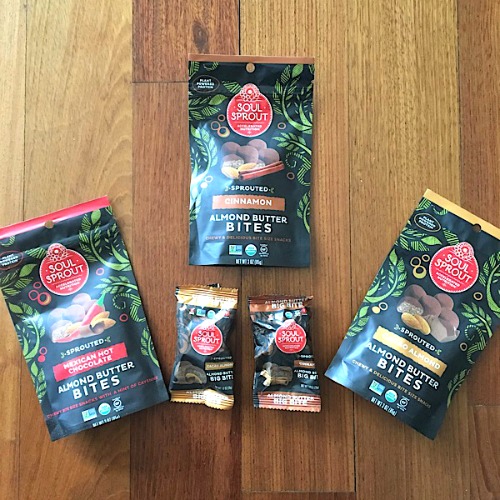 Earlier in the year, Soul Sprout sent me an assortment of almond butter bites, truffles and granola bars to try and share. You can check out more on the original truffles, granola bars and nut bars in my review from earlier in the year here. You may remember that I love Soul Sprout's Almond Butter Truffles. Now they're making larger truffles called Big Bites and mini Almond Butter Bites in three flavors. They sent me some to check out and to share.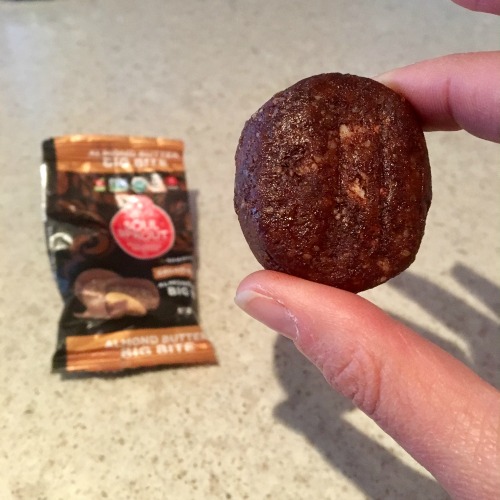 The Almond Butter Big Bites come in two flavors: Cacao Almond Butter and Cinnamon Almond Butter. The raw recipe helps preserve all of the antioxidants, Vitamin C, omega 6 fatty acids and serotonin that's depleted in heated chocolate. The big bites are enriched with plant powered protein and are organic, non-GMO, raw, gluten-free, vegan, kosher, Paleo and Clean Certified. They taste great, too!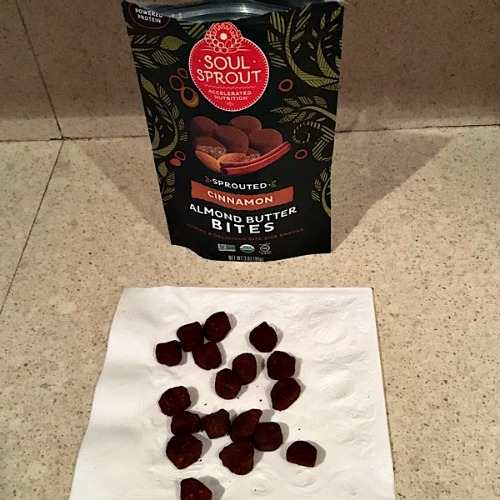 The mini Almond Butter bites are another new deliciousness delivery approach. They're 18 mini bites per serving. Each bag has 3 servings. I love the Cinnamon Almond Butter Bites! They remind me of yummy cinnamon rolls. I put these to "The Husband Test." I gave him one and said "does this taste 'good-good' or just 'healthy-good?'" He said, it's "good-good." He went further to say, "I would eat that by choice." That's a WIN! Getting The Husband to eat healthy snacks is tough. Try these with your kids!
Want to try the Soul Sprout goodies I tried? I'm giving away a bag of Almond Butter Bites, two Big Bites plus some almond butter truffles and nut bars! Please use the Rafflecopter below to enter. The giveaway is open to US residents, 18 years of age or older and is void where prohibited. The giveaway runs through April 13. A winner will be selected and notified on April 14.
In the mean time, you can get Soul Sprout products on Amazon (affiliate link), online and at many stores. Get 25% off all orders on Soul Sprout through April 14th with code ERICA25. Sign up for their newsletter to get 20% off of your first order. You can also keep up with Soul Sprout on Twitter, Facebook and Instagram.
Please note: I was provided with this product at no cost in exchange for an honest review and giveaway. I was not otherwise compensated for this post. All opinions are my own.