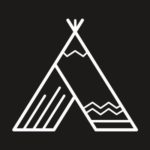 I met the folks from Country Archer at Expo East. They invited me over via Instagram. They were launching their link of high protein meat bars, Frontier Bars, and let me try all the jerky. Recently, when they offered me a "Big Adventure Pack" to check out all of their jerky flavors and the Frontier Bars, I said "yes, please!" as fast as I could type it.
Jerky is everywhere now and it's "in" with fitness folks as many jerkies are Paleo-friendly. Country Archer is no newbie. They've been making jerky for almost 40 years! Today, they make jerky in small batches in California using healthful ingredients like grass-fed beef, antibiotic-free turkey and pork. They "hope Country Archer products make it easier for you to eat healthfully, while doing the things you love." I'm down with that.
Country Archer jerky is high in protein, gluten free and contains no MSG, nitrates or artificial ingredients. They say, "What's not in our products is equally important as what is. At Country Archer, we honor the intelligence of Mother Nature by offering deliciously healthy, gourmet meat snacks, handcrafted using responsibly sourced real food ingredients. More meat. Less bull. No Junk. That's our winning recipe!"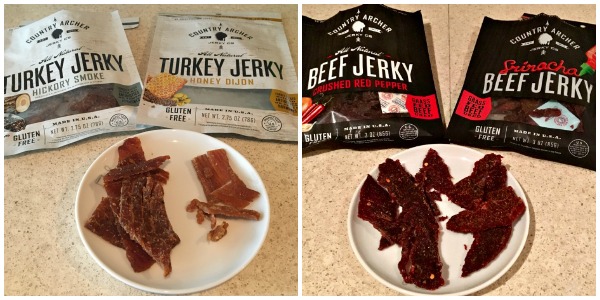 We tried some of the jerky and shared with friends, too! The bags say, "usually consumed within 1o minutes, if not, consume within 3 days of opening." As you can see from the empty Honey Dijon turkey jerky bag, they're not wrong. Both flavors of turkey jerky were delicious and the Honey Dijon was gone in a flash. The Sriracha and Crushed Red Pepper beef jerky are spicy and really tasty. I liked the Crushed Red Pepper best as it had a nice kick but was a bit milder. For the Sriracha obsessed, go for the Sriracha.
The Husband and I are big fans of the high protein Frontier Bars – especially the Cayenne Beef one. They have 20 grams of protein, 1 – 3 grams of sugar and less than 150 calories each. These are awesome to tide you over in the afternoon before dinner or for your travel bag.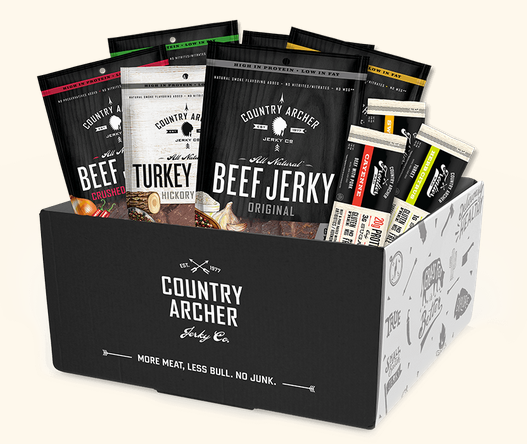 Country Archer offered an Adventure Pack to one lucky reader. It contains one of each jerky and 4 of each Frontier Bar! Please use the Rafflecopter below to enter. The winner must be 18 years of age or older, have a US postal address and the offer is void where prohibited. The giveaway runs through March 17th. A winner will be selected and notified on March 18th.
In the meantime, you can get Country Archer at many stores or online. Also, enter to win this month's giveaway, a "Made in 'Merica" prize pack worth over $300 by signing up for their newsletter HERE. You can also follow on Facebook, Twitter and Instagram.
Please note: I received the Country Archer Big Adventure Pack at no cost in exchange for editorial consideration. I was not otherwise compensated for this post. All opinions are my own.