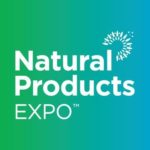 Last year was my first visit to Expo West (day 1 and recap) and it was AWESOME. I plotted my return a bit more carefully after also heading out to kid sister Expo East as an official Expo Blogger last fall. This year, I took off on Friday so I was able to attend Friday, Saturday and for a little while on Sunday.
I arrived on Friday around 10 after doing a little work. The line was massive to get badges. But, the sun was shining and it gave me some time to make a game plan. On my way over, I grabbed an Invo Coconut Water and a Wanu nutrient infused water. They were a lifesaver! I only made a few appointments this time as the show is so large that it's possible to spend the day walking from hall to hall and not having time to meet brands and see what's new.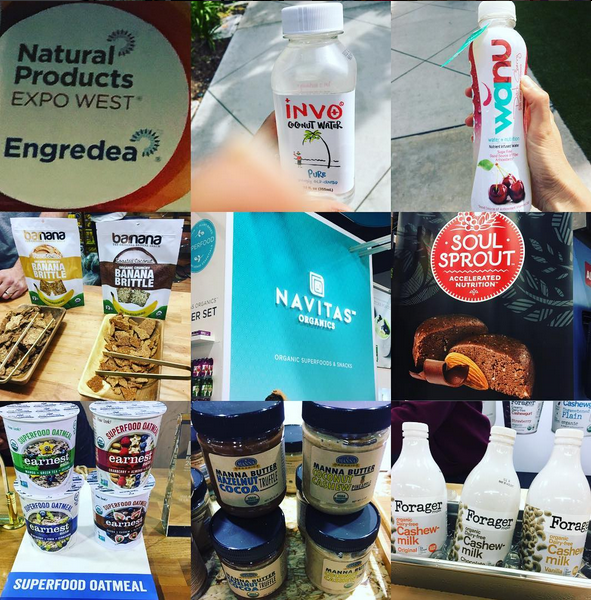 Even though I attended last year, I was blown away by the size and scale of the show. I planned to meet with Mark from Olomomo Nuts at 10:30 in the "Hot Products" area at the Hilton. I made it just in time. Mark showed me their new grab and go packs. The branding looks great and the nuts were flying off the shelf. He gave me some to share and some to keep in my travel bag, too! Olomomo was next to Finds' fave Jica Chips so I said "hi" and checked out their new larger sized bag. At 200 calories, you can still eat the whole bag — and you will!
I only had a few minutes and then I had to head back over to the main hall for a meeting. It took me a few minutes to make it through the main hall. I grabbed some amazing cinnamon coffee from Humboldt Bay Coffee Company. I had just enough time to drink it and went to meet Soul Sprout's CEO, Matt Fuller. I met him at Expo East and have done reviews and giveaways with them. They debuted new Almond Bites which are double sized almond butter truffles from their line. Yes, please. Matt gave me one of everything and two of some to share. He also let me try a sample of their next truffle. I'm sworn to secrecy but I promise you'll love it!
Afterwards, I checked out a few things on the main floor. I swung by Navitas Naturals Organics to check out their new look (love it!!) and to get my "insider" gift. The gave me a few extra bars to share, too! I stopped by to chat with Earnest Eats to thank them for a giveaway I won. They also have a nice, clean new look and gave me some goodies to share.
I went downstairs to the Emerging Products area. Immediately, I tried Perfect Bar's new chocolate flavors. They are good, but I'm such a super fan of Peanut Butter and Peanut Coconut that I'm going to stick with those! I swung by to tell the Forager Project folks that I'm a super fan of their cashew yogurt and tried the cashew milk (also a winner). I swung over to see if Barnana's new Banana Brittle was as amazing as it sounded. It was!
I took a 90 minute shift with Simple Squares while Chief Square, Kimberly, did a pitch. It was really fun to represent Simple Squares. I bragged about their #1 on Amazon for nutrition bars and best products for runners in this month's Runner's World. These bars are delicious and nutritious and are easy to be proud of!
When my shift ended, Elizabeth from Train with Bain met me and we walked the floor together for a while. It was fun to meet Elizabeth in real life and to have a partner in crime. We headed up to the 3rd floor where there are Emerging Products (or maybe Hot Products). She was looking for vegetarian and vegan products with a few specific ingredients. I was looking for new finds, as always.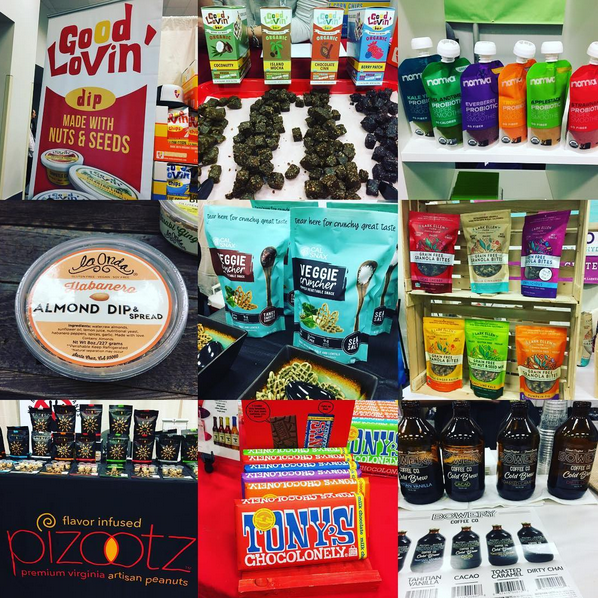 We tried a bunch of yummy things! First up were awesome dips from La Onda and Good Lovin' and Cal Snax vegetable chips. We met the folks from Lark Ellen Farms and tried their grain free granola. It's some of the best I tried and there were A LOT of them! We chatted for quite a while with the folks from Pizootz peanuts. They have a special process so that they flavor the nuts without a messy powder or coating. They are delicious. They have me a ton to try and share (and we'll work together on a giveaway, too!)
Next we tackled my first of many cold brews from Bowery Coffee Co. [There were a TON of cold brews!] What pairs well with coffee? Chocolate from Tony's Chocolonely. This fanciful chocolate provides support for the communities in Africa where cacao is grown. It's a win-win. We tried some vegan probiotic smoothies from Nomva (Get a free coupon to try it if you enter your email address!) [Probiotics were big this year, too!]
Elizabeth invited me to swing by Health Warrior with her for a happy hour and to try their new pumpkin seed bars. It was fun and festive and I got invited to the 5K the next the morning with Health Warrior and Nuun. The new pumpkin seed bars are very tasty and nutritious. Check them out if you see them. I grabbed some to share, too.
Next, I met up with Jaclyn from Covet PR. We did a little tour of their (awesome) brands to see what was new. We swung by Perfect Bar again and I told her about my loyalty to Peanut Butter. We went over to Chameleon Cold-Brew and had a cocktail. We checked out Suja's new drinking vinegars. I'm a fan! Then we headed up to Purely Elizabeth to check out their new energy bar line that has mushroom powder from Om Mushrooms in it. Elizabeth was there and she was as nice as could be. She said that the idea for the bars came up at Expo East where she was talking about her own use of mushroom powder and people were asking for Purely Elizabeth granola bars. She gave me some to try and some to share, too! We said hi to Finds' fave Birch Benders, too!
Last up for the day was happy hour with Chicago friends Simple Mills. I love their almond flour crackers and they debuted gluten free cookies at this show. The happy hour was with other great brands like Wildway grain-free granola, Primal Kitchen, Cappello's and Mikey's Muffins.
I went back to Simple Squares to get my goodies and called it a day. I realized that other than breakfast, I hadn't had any "real food" just lots of tastes. I got an awesome Poke bowl near my hotel and made a game plan for Saturday. I only scratched the surface on Day 1!
I will be back with more on Day 2 and 3 (spoiler – I have another big bag of goodies to share). I'll be sharing the wealth with some great giveaways from both days in the weeks ahead.
What sounds the best to you about my recap? Which products are you most interested in?
Please note: I was not compensated by any brand in this recap. I did get a lot of samples at no cost. All opinions are my own.