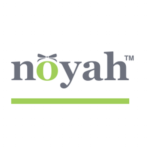 I've seen a statistic that says that the average woman eats 7 lbs of lipstick in her lifetime. I like to think that's why my jeans are kind of tight at the moment ;). One of my fave ways to feel pretty is to wear a nice shade of lipstick. That said, I know that most cosmetics are not all natural. I met the nice folks from Noyah Cosmetics at Expo East. They make lip sticks and balms that are all natural and "good enough to eat."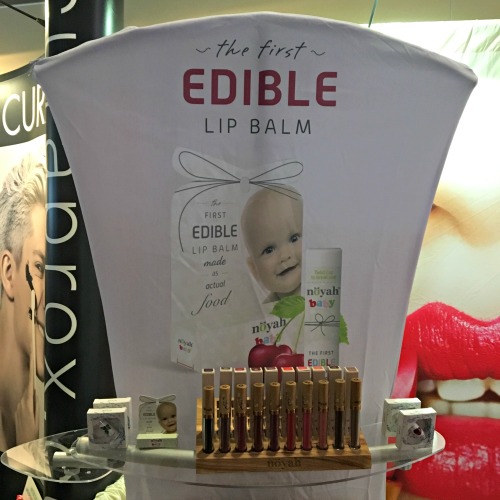 I noticed Noyah's edible lip balm for babies and beautiful lip sticks for grown ups. The all-natural lipsticks are made with ingredients like Coconut Oil, Shea Butter and Vitamin E. They are non-toxic. They told me that the average woman "eats" a crazy amount of lipstick per year! I got some lip balm to share and found my perfect shade, "Deeply in Mauve." These lipsticks and lip balms are reasonably priced and eco friendly!
They say, "Noyah was born when we decided to create a lip products that had everything we could ever crave – natural formulas that are good inside and out, hydrate and condition lips, and come in fun shades and flavors that might fill you with the curious urge to take a bite out of your product. And if you find yourself unable to resist, no worries, go ahead and indulge – it's only, well, natural!"
They are also very generous – when you share your Noyah purchases online, they donate lip balm to the homeless. Noyah is partnered with The National Health Care for the Homeless Council (NHCHC) to distribute free lip balm to homeless and low income people. For every Noyah product purchased and shared via Facebook (like their page), Twitter (with #livedivinely) or emailed to give@noyah.com, they donate one lip balm to NHCHC. Awesome!
Noyah makes lipstick in 11 shades including my fave "Deeply in Mauve." It contains all natural ingredients that you will recognize. The lipstick comes in beautiful earth-friendly bamboo packaging that looks good and reduces plastic by 60%. A win-win! They also make 11 shades of lip gloss and 4 flavors of lip balm in addition to the edible lip balm for babies. The lip balm comes in black cherry, vanilla, spearmint and natural (unflavored).
I ordered a few extra lip balms to share. I will send two lucky readers two flavors of lip balm each. Would you like to win? Please use the Rafflecopter below to enter. Winners must be a US resident, 18 years of age or older and the offer is void where prohibited. The giveaway runs through March 3rd. Winners will be selected and notified on March 4th.
You can get Noyah Cosmetics online. If you use this link, you get $5 off your first order. You can also follow them on Facebook, Twitter or Instagram.
Please note: This giveaway is not sponsored by Noyah Cosmetics. I am sending some that I purchased to a reader because I dig them. I was not compensated in any way for this post. If you use my link for $5 off, I get an account credit for my own use.