It's Friday, so I'm linking up with Running on Happy and Fairytales and Fitness for the new Friday Five 2.0. This is a "free" week. I'm gearing up for Expo West in a few weeks so there will be tons of new snacks and foods to share. In the meantime, I have some new (to me) snack finds and some new products from two of my faves. Here are the five things that I'm excited to try next!
5 "On-the-Go" Snacks I Have on Deck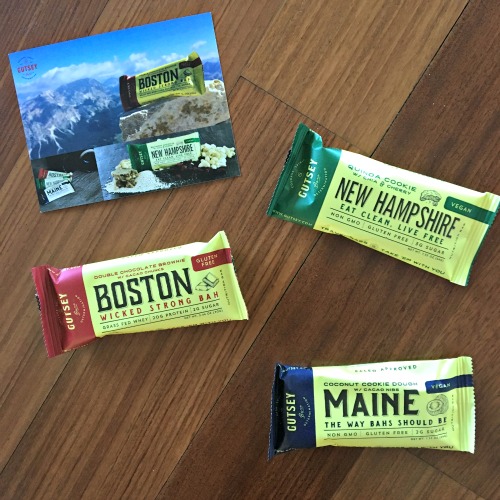 1. Gutsey Bars– Carrie from Gutsey Bar wrote to see if I'd be interested in trying her "travel bars." Gutsey bars contain good fats and organic ingredients, no GMO's, no grains, no gluten and no added sugars. Their mission is to "influence everyday people towards a healthier lifestyle through grab-n-go products that are not only good for you but are extremely satisfying." They promote what the #GutseyLife – a philosophy that is about living with courage, determination and spirit. You know I'm down with that!
Gutsey Bars come in three flavors with fun East Coast state themes. They are: Boston (Double Chocolate Brownie), New Hampshire (Quinoa Cookie with Chia and Cherry) and Maine (Coconut Cookie Dough). Full review and giveaway coming soon! In the meantime, you can follow Gutsey Bars on Twitter, Facebook and Instagram.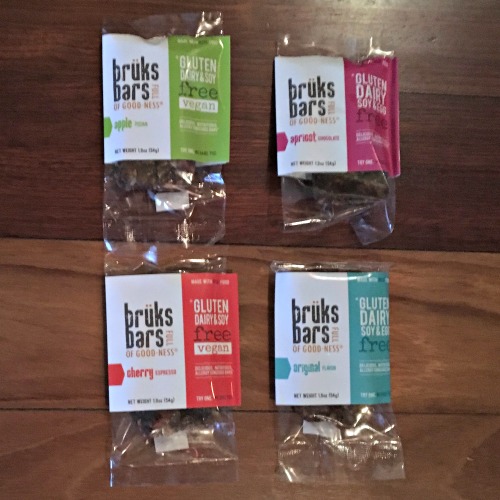 2. bruks bars – bruks bars followed me on Instagram and I checked them out when they had a promotion over the holidays. brüks bars are gluten free, dairy free and soy free healthy snack bars. The bars are handmade and are "full of goodness." I like that they're made with real ingredients. They come in four flavors: Apple Pecan, Apricot Chocolate, Cherry Espresso and Original. I can't wait to try them! In the meantime, you can follow bruks bars on Twitter, Facebook and Instagram.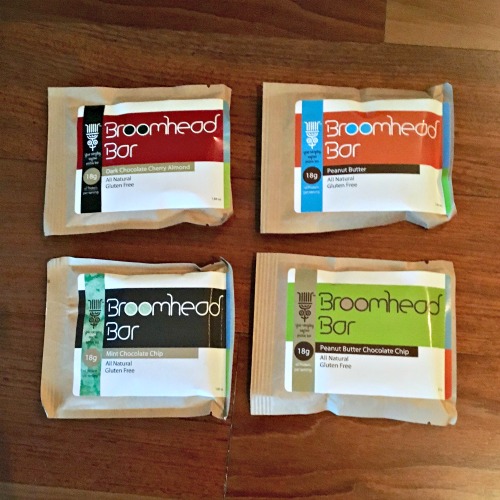 3. Broomhead Bars– Lauren posted about these "local" bars on Instagram. She said that they're delicious and high in protein with a nice crunch. I ordered a sampler pack to try out – they sell both 4 and 8 pack samplers. Broomhead Bars are all natural and gluten free. They're high in protein, too. The come in four flavors: Dark Chocolate Cherry Almond, Peanut Butter, Peanut Butter Chocolate Chip and Mint Chocolate Chip. I can't wait to try these! In the meantime, you can follow Broomhead Bars on Facebook and Instagram.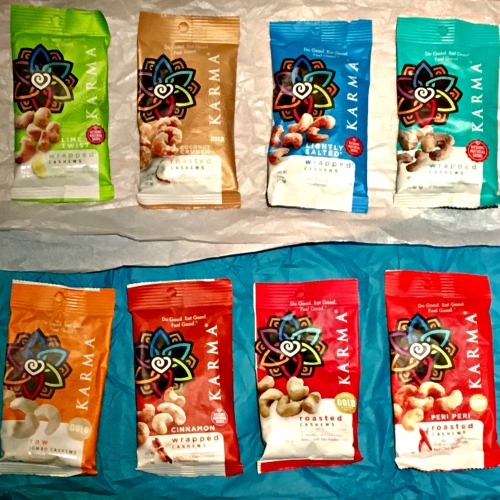 4. Karma Nuts– You may remember my love letter to (a/k/a review of) Karma Nuts after I met them at Expo West last year. They recently launched 1.5 oz. single serve packs of their raw, roasted and wrapped cashews. If that wasn't enough, they now have wrapped cashews in Cinnamon, Lime Twist and Lightly Salted and roasted cashews in Coconut Crunch and Peri Peri. I'll have a full review and giveaway soon! You can keep up with Karma Nuts on Facebook, Twitter and Instagram.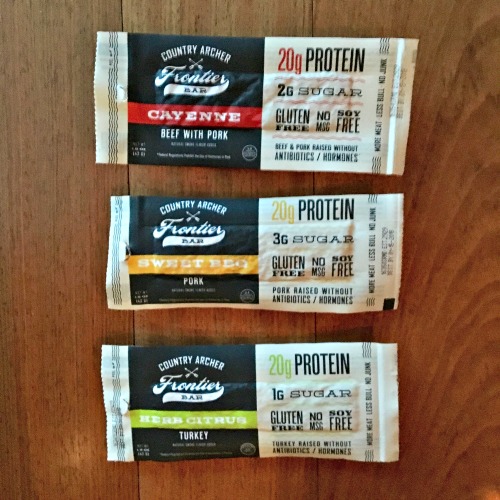 5. Country Archer Frontier Bars – The nice folks at Country Archer sent me a Big Adventure Pack to check out all of their jerky flavors and their (new-ish) Frontier Bars. I met them and tried their jerky and Frontier Bars, a line of meat based protein bars, at Expo East, so I said "yes, please!" as fast as I could type it. The Husband and I are big fans of the Frontier Bars – especially the Beef one. They have 20 grams of protein, 1 – 3 grams of sugar and less than 150 calories each.
I'll have a full review of the Adventure pack and will share some of my goodies, too! In the meantime, you can enter to win an Adventure Pack by signing up for their newsletter HERE. You can also follow on Facebook, Twitter and Instagram.
What is next on your list to try?
Have a great weekend!
PS. Don't forget my great giveaways.