It's Friday, so I'm linking up with Running on Happy and Fairytales and Fitness for the new Friday Five 2.0. The theme this week is workout related. I decided to go rogue and build off of my post from Sunday on Hygge. I mentioned that I was reminded of Hygge by Judith's Love List. There was an article about it in her list. It turns out that writing lists of favorite things is a way to practice Hygge, too. I'm doing both. Here are five of My Favorite Things that I experienced/saw/did/had this week.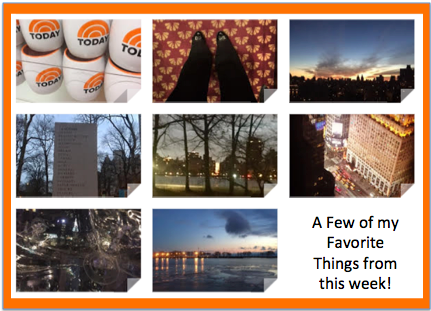 1. Running in Central Park – #1 and #2 collide. I hit Central Park on Thursday bright and early with Marie and Nicole. Then met Kelly for a loop on Friday. I love, love, love running in Central Park and the love grows when I can chat the whole way around with my dear friends.
2. Seeing old friends and spending time with new friends, too– I got to NYC Wednesday and saw Marie and Andrea for dinner. Then I met Alicia for a drink at the Hyatt Centric rooftop. Thurs AM, I met Marie and Nicole to run. After work, I had a drink with Mahala and then headed to Kathy and David's for a sleepover. Friday morning I met Kelly run a run.  If I add up the time that I've been friends with these folks, it's over 100 years cumulatively! I love reconnecting with old friends. I feel like my worries just disappear. That's hygge for sure! [I have a picture of Chicago here, too, because Abby got up early to run with me in Chicago so I could make my flight! Started the trip off right.]
3. The Today Show! – For work, I was asked to staff an event at the Today Show. Well, really it was at 30 Rock for the NBC News Team. I tweeted @AlRoker and @TodayShow to come see us. It didn't happen but we enjoyed the lovely people we met at NBC and got a bunch of people signed up for our program!
4. Sleepover at Kathy and David's – I decided to stay over after the event at Kathy and David's. I had the opportunity to see them and their boys and spend more time than if we just went out to dinner. The boys didn't know I was coming and I got huge hugs and lots of excitement. That was a bonus.
5. Working in NYC! – I love living in Chicago, but it was pretty fun to be in NYC for work! I enjoyed the hustle and bustle and some awesome food finds, too!
Making this list made me happy! I highly recommend it! What's on your list of favorites? Please share in the comments!
Have a great weekend!
PS. Want to feel good and do good? Check out my raffle to benefit Cycle for Survival. 100% of your donation supports rare cancer research and Memorial Sloan Kettering plus you can be entered to win one of SEVEN great prizes. (I'm adding two more!)