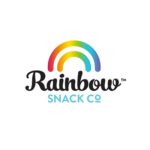 After seeing my "Healthier in '17" posts, Natalie, the mom behind Simply Gelightful, wrote to me. She recently launched Simply Gelightful, "the world's first better-for you gelatin mix." The product was inspired by her desire to provide a healthier alternative to jello that's "just as delicious, colorful and fun" for her kids. When she didn't find any good options on the market, she made her own!
Natalie's company is called Rainbow Snack Co. because her "kids love rainbows." More importantly, she "wanted to prove that food doesn't need to be artificially colored in order to be beautiful and bright." She also thinks (and I agree) this is a great treat for kids and adults alike.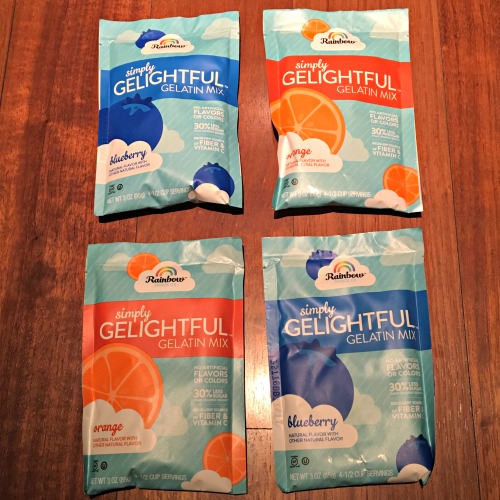 Simply Gelightful contains 30% less sugar than the leading brand. It's a good source of fiber and vitamin C, too. It contains no artificial ingredients, is certified gluten free and kosher. It currently comes in two flavors: blueberry and orange.
I gave some of my samples to Pam to make for my fave kid testers, Reese and Ryan. She said, "my kids both LOVED the gelatin. Reese called it "wiggly, giggly and delicious" and "the best thing I ever tasted." Ryan finished his bowl, held it up and yelled "mah-mah-mah-mah!!" (that's "more" in 2-year-old speak)." She told me that she'd definitely be buying more and loves the fact that it has less sugar and no artificial colors.
After reading that rave, I made some for myself. I have to agree, it's delicious. I love the fact that it is the color of blueberries and it tastes like blueberries. Some blue foods are just plain scary – not this one! My mother-in-law still makes jello molds – this could be a real game changer for her!
You don't have to take our words for it! Natalie offered to send two lucky winner each 2 packets of Simply Gelightful (one blueberry and one orange). Please use the Rafflecopter below to enter. Winners must be 18 years of age or older, have a US postal address and the offer is void where prohibited. The giveaway runs through March 11. Winners will be selected and notified on March 12.
In the meantime, you can get Simply Gelightful online. Erica Finds' readers get 15% off online orders with the code TRYRAINBOW. You can also follow Rainbow Snack Co. on Facebook, Twitter and Instagram.
Please note: I was not compensated for this post. I was provided with product in exchange for editorial consideration. All opinions are my own (and those of kid testers – Reese and Ryan and their mom, Pam).