It's Friday, so I'm linking up with Running on Happy and Fairytales and Fitness for the new Friday Five 2.0. The theme for this week is "dream vacations or winter destinations." The Husband and I need to plan a vacation for this year, so I'm going to do some brainstorming here. Any additional suggestions or comments are welcome!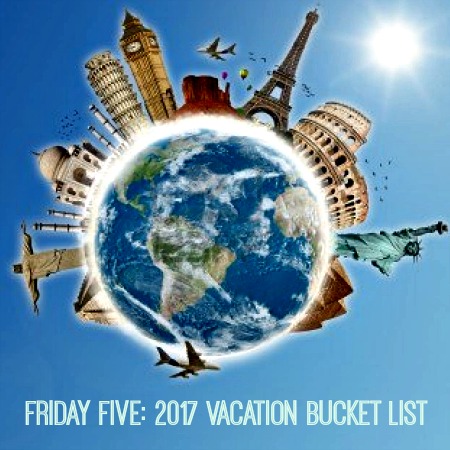 1. Argentina and Chile – The Husband and I loved Argentina when we went in 2010. We have good friends who will be there for nine months this year. We would love to go back to see them, visit new places and perhaps check out Chile, too.
2. New Zealand or Australia – This one has been on the bucket list forever, but I feel like we need more time than we may have given current vacation schedules. Also, Wendy is going to see our friend Phaedra who will also be working there this year which has me inspired to learn more (or stow away.)
3. Easter Island – Liv has been talking about a bucket list idea of hers to go to Easter Island to run the Easter Island Marathon to celebrate turning 40. The Husband and I might be convinced to go along (and maybe to pair this with #1 even though they're not super close.)
4. Iceland – If we wind up short on time, Iceland is an easy trip from Chicago. A bunch of friends have checked it out, too, so we have great recommendations.
5. Italy – The Husband and I have been to Italy only once in the year 2000. We loved Tuscany, Florence and Venice and also saw Milan. We missed Rome so we may do a long weekend there if we run short of vacation days. We also would love to check out the Amalfi Coast, too, for a longer trip.
Which of these would you vote for? Or do you have other suggestions?
Have a great weekend!
PS. Don't forget my great giveaways!