At Expo East, the nice folks from Savant Naturals scanned my badge and sent me Savi Crisp Bars to try and share. Savant Naturals is "challenging the status quo" in protein bars. They set out to make a light, tasty treat that provides protein to satisfy hunger and help build muscle. These "passionate taste enthusiasts" developed a protein bar alternative that is a wholesome treat. It's a "dessert" protein bar!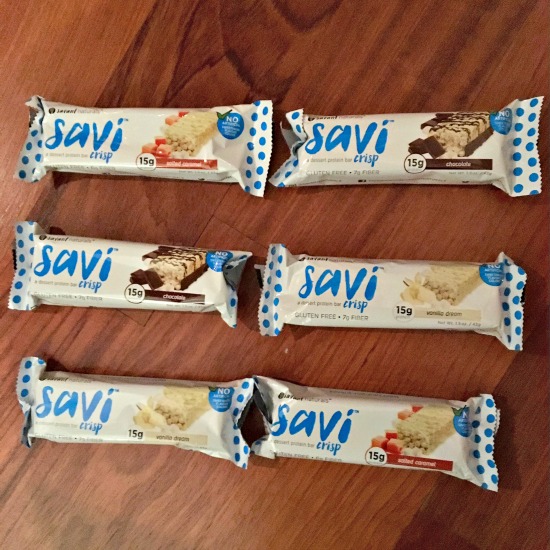 The Savi Crisp Bar is "light, crispy and balanced." In developing these bars, they made taste a priority. The bars are tasty, light and nutritionally balanced. Savi Crisp Bars are gluten free and contain no artificial flavors, colors or sweeteners. Each bar has only 150 calories with 15g of protein, 6g of fiber and only 5g of sugar. They're great for you and taste great, too.
Savi Crisp Bars come in three flavors: Vanilla, Salted Caramel and Chocolate. I wasn't sure what to expect with these bars. Some crisp bars with soy protein have a funny taste to me. I was VERY pleasantly surprised. The Vanilla Savi Crisp Bar tastes just like a rice crispy treat! They're also not too sweet. This was the perfect thing to tide me over when I was traveling recently. The Chocolate and Salted Caramel varieties were a nice variation on the theme, too!
Want to try these healthy treats? I'll send two lucky winners one of each flavor to try. Please use the Rafflecopter below to enter. The winner must be a US resident, 18 years of age or older and the offer is void where prohibited. The contest runs through November 10th and winners will be selected and notified on November 11th.
In the meantime, you can check out Savi Crisp Bars online. You can buy them at Rite Aid stores and on Amazon (affiliate link). You can also follow Savant Naturals on Twitter, Facebook and Instagram.
Please note: I was provided free product in exchange for an honest review. All opinions are my own. I was not otherwise compensated for this post.