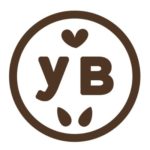 You may remember that I supported Yumbutter's Kickstarter campaign for the Yumbutter "Go" pouches in 2014. Since then, they've come a LONG way. I saw their new look and flavors at Expo West and the GF/AF Expo. They started with peanut butter and almond butter with added superfoods for nutrients (from chia, hemp seeds and goji berries) in convenient pouches. Now, they have six different "potions" to choose from.
Adrian and Matt started Yumbutter with the a dream to "nourish the world. They say, "After meeting and bonding over nut butters, wholesome food, and world-changing business ideas, we set out to achieve our dreams of running the world's most responsible food company." Yumbutter is a Certified B-Corp and they have a strong social mission.
Yumbutter gives back with their "Buy One/Feed One" program. For every pouch sold, they donate a meal to a hungry child.
Yumbutter now offers six varieties of "potions." In addition to Peanut Butter and Almond Butter, they offer Sunflower Butter, Cashew Butter, Chocolate Espresso Peanut Butter and Protein Almond Butter. All of the "potions" are gluten free and contain organic and fair trade ingredients.
I love the Peanut Butter and had the opportunity to pick two new flavors to test. I went with Cashew Butter and Chocolate Espresso Peanut Spread. I would show you "what I put it on" except that would just be a picture of my tongue. Maybe that is TMI? I hope not. I just swigged some of each flavor directly out of the pouch. Yumbutter's Twitter Feed had some great looking options that are probably more socially acceptable.
When your drizzle game is *almost* too strong: https://t.co/ZltBLturWf pic.twitter.com/OGsLK4QiKb

— yumbutter (@yumbutter) July 12, 2016
The Cashew Butter was the perfect mid-morning snack during my marathon training. The fat and protein filled me up and it tastes delicious. The pouches have a super convenient cap, so they're great for desk drawers or gym bags. I also tried both flavors with apple slices and I was a fan. The Espresso has a good bite from the coffee and is not super sweet. The Cashew is a bit sweeter from the Goji. You can't go wrong with either of these, but I'll definitely be stocking up on Cashew!
You don't have to take my word for it! Yumbutter offered one winner the opportunity to pick two flavors like I did. Please use the Rafflecopter below to enter. The winner must be a US resident, 18 years of age or older and the offer is void where prohibited. The giveaway runs through August 11th. A winner will be selected and notified on August 12th.
In the meantime, you can check out Yumbutter here. They now sell at many stores including most Target stores. You can also buy online via Facebook or at Yumbutter. The "Love Bomb" of one of each potion is $41.35 so you can pick a favorite. You can follow Yumbutter on Twitter, Instagram or Facebook.
What is your favorite nut butter variety? Which two would you choose?