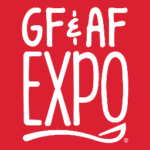 It's Friday, so I am linking up with Courtney at Eat, Pray, Run DC, Cynthia at You Signed Up for What and Mar at Mar on the Run for their weekly linkup. Each week they pick a theme and bloggers join in and link up. This year instead of specific themes, they are letting us be creative with broad themes for each week of the month. This is the a "favorites" themed week. I am going to tell you my 5 favorite things about the GF & AF Expo that I went to last weekend.
I had the opportunity to check out the Gluten Free Allergen Friendly Expo in Chicago on May 15. I won a ticket to Chicago's Gluten Free Allergen Friendly Expo from Kayla. I saw her post last year and I was sad that I did not check it out. I don't eat gluten free all of the time, but I love to learn about GF and allergen free products and to try new things. There were some great vendors –  some Finds' faves and some new/new to me vendors to check out.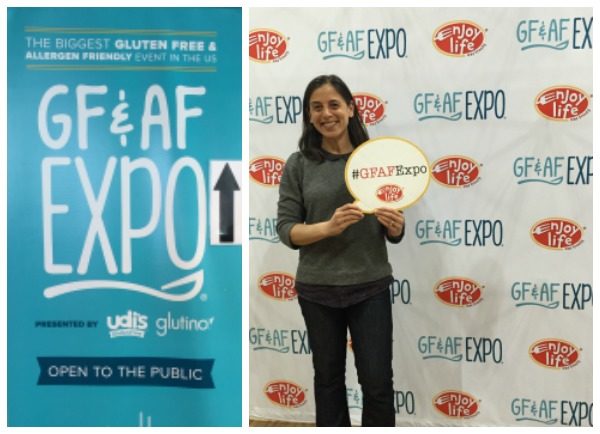 My 5 Fave Things About The GF & AF Expo
1. The advocacy and support of the community. I have friends with celiac disease and other gluten intolerance issues. I also have friends whose children have severe nut allergies. I love the sense of community and support that this type of expo fosters. The stories of how some of these products came to be are pretty cool, too. It's interesting to talk to people about their experiences with these conditions and to hear about the great strides that have been made to support people with food allergies in the last decade.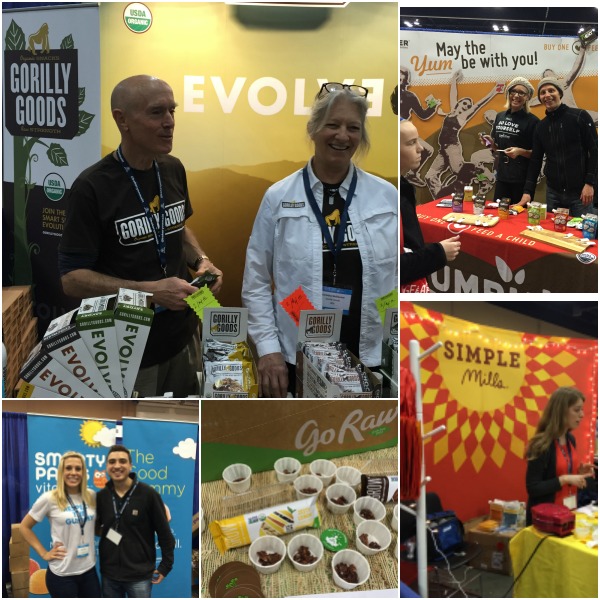 2. Getting to catch up with some of the awesome folks from some of my Finds' faves companies. Through my blog and other events and expos, I've met the great people from Gorilly Goods, Yumbutter, Smarty Pants, Simple Mills (review + giveaway coming soon) and Go Raw (plus Spiced and Infused and Canyon Bakehouse – not pictured). It was so fun to reconnect with them and to see/try what is new. Yumbutter has a bunch of new flavors and cashew butter coming to Target this summer – YAY! Go Raw has some delish looking (and top secret – no tastes yet!) energy bars made with protein from watermelon seeds – what!? It is always awesome to see Chris from Gorilly Goods and I got to meet Steven this time, too! I caught up with the folks from Canyon Bakehouse, too.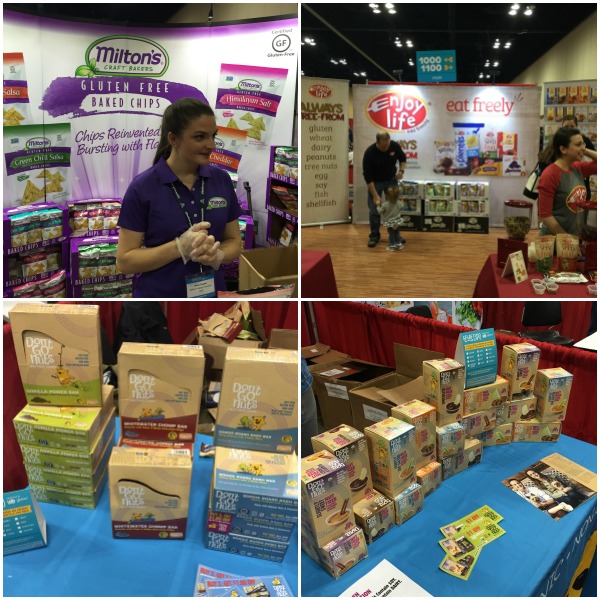 3. Meeting new vendors and hearing their stories. I met a bunch of new folks – some were local and some were in just for the show. Don't Go Nuts was started by a pre-teen with a nut allergy. They offer soy based nut spreads and non-nut energy bars. Milton's offers delicious GF chips and crackers. I checked out a ton of stuff from Enjoy Life Foods and plan to highlight them after meeting with them at Snacks & Sweets next week. I tried some great lozenges from Redd Remedies and picked up some sweeteners from Swerve to try and to share.
4. Tasting everything! I tasted the new products from my faves and some new to me products. I tried some yummy pizzas and healthy, GF hot pocket style treats, too! I skipped the baked goods this time but there were some tasty looking goodies. I was somewhat strategic. I did not taste anything that I have already tried, so that I could enjoy new items. It is amazing how far GF products have come in the last decade. I am especially excited about all of the real food and consciously sourced products. There is a stronger focus of "real food" ingredients and the health benefits of these products.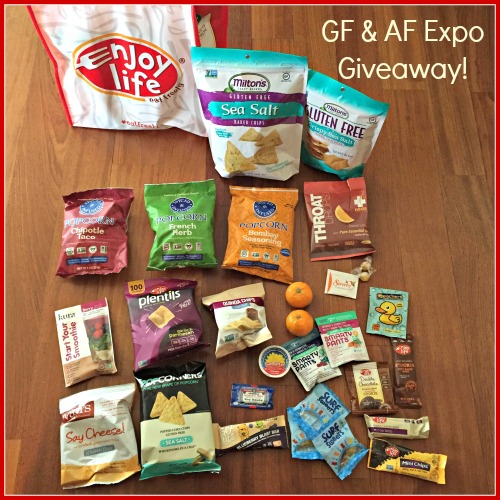 5. Bringing home lots of goodies to share and giveaway. As you can see, I brought home a lot of goodies! I will share (most of) this loot with one lucky reader. I will send a lucky reader one of each of these items from Milton's, Spiced and Infused, Enjoy Life (several items), Simply 7, Vans, Popcorners, Kura, Surf Sweets, Smarty Pants and more! Please use the Rafflecopter below to enter. The giveaway runs through May 29th. A winner will be selected and notified on May 30th.
In the meantime, check out these great companies to learn more. You can follow the GF & AF Expo on Twitter and Facebook for news on when they may be in your next of the woods!
Happy Friday, friends!
Please note: I was provided with these samples as an attendee of the Gluten Free & Allergy Free Expo. I am sharing them at my own cost. I was not compensated for this post. All opinions are my own.