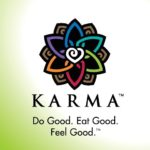 I love raw cashews – especially the delicious, fresh ones from Karma Nuts. At Expo West, I went over to their booth to check out their new (soon to be available) flavored nuts and Nexty Award winning Wrapped Cashews. I unabashedly professed my love for their raw cashews and asked them to tell me the secret ingredient that made them so good. Spoiler alert: they are simply raw cashews, there are no other ingredients. What makes them so good? Karma, I guess. While I was there, I tried some of the new flavored nuts and the wrapped variety. I got some sample snack packs and a card to follow up.
Karma Nuts has been around for over 80 years! They say,
"For over 80 years, we've had a passion for healthy living and are committed to bringing great tasting, high quality, and nutritious food to the world. We search the world for the finest quality cashews, and are constantly innovating and creating new products that you feel great eating and snacking! We put a great deal of passion into developing our proprietary method of processing our nuts and the end result is extraordinarily delicious, not to mention a smart snack choice."
Why does Karma use cashews and not other nuts? They are high in Copper and Manganese, and are a good source of Magnesium, Phosphorus, Vitamin K, Zinc and Iron. They also contain less total fat than many other popular nuts which makes them a great choice.
Karma currently sells three varieties of cashews: raw, roasted and new "Wrapped" cashews. You have likely tried the first two kinds (or at least roasted). The "wrapped" cashews retain their natural skin and are air roasted and lightly salted. The skin gives them extra nutrition. They say, the "ORAC (Oxygen Radical Absorbance Capacity) values comparable to healthy berries such as blueberries, raspberries, and blackberries." The skins are crunchy and the Wrapped cashews taste amazing. Good and better for you? It's a win-win.
As I mentioned, I have been a big fan of Karma's raw cashews since I tried them. The Roasted Cashews are so fresh. They use no oil and a "gentle air roasting process" and lightly salt them. This makes them super tasty and better for you. I brought these to a party and they were gone in a snap. Seriously, the only down side for me is that I can eat A LOT of these. Good news, there are snack packs are coming soon. The Wrapped Cashews have a slightly different flavor and added crunch from the skin. I am not sure about you, but I had no idea that cashews had a skin. I love the added crunch and the added nutrition. These really are good and they are unlike anything you have tried. The folks at Expo West thought so, too. They awarded them a NEXTY Award for "Best New Snack/Convenience Food" at the 2016 show in March.
I'm having trouble picking a favorite! I eat raw cashews almost daily so I have those on hand at all times. Since trying the Wrapped Cashews, I have those on hand, too. I am really excited by the nutrition profile. I am looking forward to the flavored nuts coming this summer. I can't wait to try them all and to tell you all about them.
Great news! The folks at Karma have offered a three pack (one jar of each variety) to one lucky winner! Please use the Rafflecopter below to enter. The giveaway runs through June 9th. A winner will be selected and notified on June 10th. Winner must have a US postal address, be 18 years of age or older and the offer is void where prohibited. Prize will be fulfilled by Karma Nuts.
Don't want to wait? Get 20% off of your online order of 2 jars or more through June 19 with code ERICAFINDS20-6AFJN (does not apply to shipping or gift cards). You can keep up with Karma Nuts on Facebook, Twitter and Instagram, too! Sign up for their newsletter HERE to learn about new products and promotions.
Please note: I was provided product at no cost in exchange for an honest review. I was not otherwise compensated for this post. All opinions are my own.