It's Friday, so I am linking up with Courtney at Eat, Pray, Run DC, Cynthia at You Signed Up for What and Mar at Mar on the Run for their weekly linkup. Each week they pick a theme and bloggers join in and link up. This year instead of specific themes, they are letting us be creative with broad themes for each week of the month. It is a "Favorites" Friday so I am going to share my five favorites things about Expo West. If you missed it, here is my Day 1 recap (look at that haul!). Picking only five favorites is going to be very, very tough. I will also provide a disclaimer. I was only able to walk about ½ of the show on Saturday and worked at the Simple Squares booth on Sunday (and saw a few more vendors) so these are my faves from what I saw. Next year, I will try to go for another day to see even more!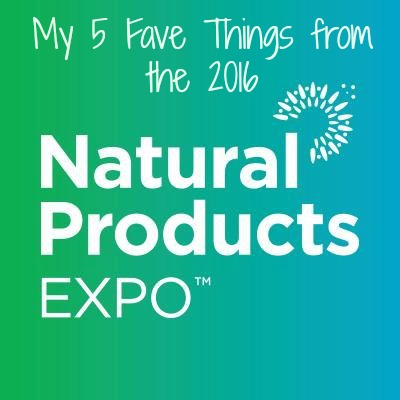 1. 4000 vendors who make everything from healthy snacks, supplements, cosmetics, pet stuff, ergonomic tools, recycled paper good, art and household items. There was pretty much everything under the sun. Seeing the scope and scale made my heart sing and my feet hurt! 😉 [As an aside, I wore my awesome new Jambu Hush shoes and they were perfect for walking and standing. Review to come!]
2. So. Many. Awesome. New. Finds and awesome new products from companies that I have already found. I promise when I get home (I am on the road this week for work and play) that I will share some of my haul including bars from Truth Bar, Toosum, Curate Snacks, Zing Bars, Wilde Snacks, RxBar, Chapul, Manitoba Harvest, Simple Squares (+ more), snacks from Fuel Snacks by Foodie Fuel, Gorilly Goods, Olomomo Nuts, Hail Merry, Karma Nuts, Go Raw, candy from Chimes and supplements from Skoop, Cocoavia and MUCH MUCH MORE!
3. Seeing new trends come to life. One of my fave trends was awesome waters made with all natural ingredients from cactus (I'm a big fan!), maple, watermelon and coconut. This was the trend that stuck out to me. Nicole noted everything hemp and turmeric. I saw some of those and lots and lots and lots of veggies in bars (and kale everywhere), jerky and popcorn in addition to the usual suspects. A WTERMLN WTR helped me stay hydrated. Phew. I know that there was a lot going on in supplements and I barely scratched the surface of that hall. Next time!
4. Meeting entrepreneurs who were living out their passion projects. There was such an awesome mix of young and old and every one in between. I met the gals from Wild Friends who started out of their college dorm a few years ago and the guys from Brami Beans who are also just out of school. I met an older couple from Cherry Works selling tart cherry supplements. I talked to some companies who just launched like Truth Bar (3 days last Saturday!) and others that have been around since the first Expo West in 1981! I just loved the energy and enthusiasm.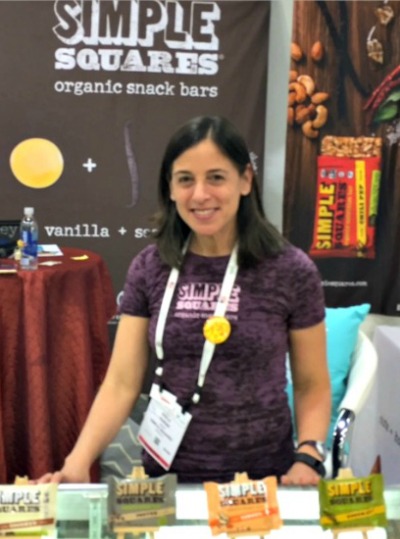 5. Getting to represent Simple Squares and chatting with folks about the awesome product and company. I loved meeting "food friends" and swapping products and stories with them! Kimberly knows so many other business owners and I enjoyed the opportunity to meet them, too.
Bonus: I also got to see my friends Nicole, Ivonne and John which was a bonus! Oh, and I met "Marathon Man" Dean Karnazes (and he could not have been nicer!)
If you ever have the opportunity to go to Expo West (or sister show Expo East in September), run, don't walk and bring an extra bag!
PS. There is still time to enter my raffle for my Alexandra's Playground – 6 great prizes and I made it to $1500 so I will add another one this weekend!