It's Friday, so I am linking up with Courtney at Eat, Pray, Run DC, Cynthia at You Signed Up for What and Mar at Mar on the Run for their weekly linkup. Each Friday, they host a link up — a "Friday Five." This week's five is "Five Favorite People Who Inspire Me." I have a hard time picking favorites where people are concerned, so I am going to do "Top 5 Chicago Marathon Deals and Highlights for Non-Runners." You don't have to run the race to enjoy the Chicago Marathon and Expo.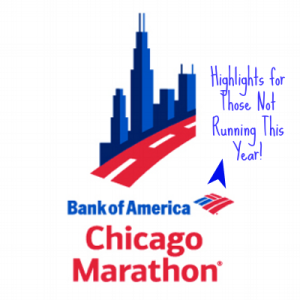 1. Head to the Expo and enjoy some bargains and cool demos. You don't have to have an entry to check out the Chicago Marathon Expo. There are tons of deals to be had as well as vendors ready to demo their wares.
KT Tape: Stop by the KT Tape booth numbers 778 and 290. Trainers will be on hand to tape up runners and give out free product samples.
Saucony: $10 off footwear; 10% off apparel; Buy 2, Get 1 Free socks; limited edition Chicago Kinvara; and commemorative apparel
Balega: Buy 3, Get 1 Free
CEP: 10% off any one item; Buy 2, get 1 free on multi-unit sale (excludes 10% off promotion)
And many, many more!
2. Check out a fun run/shake out.
Nike+ Run Club Coaches and Pacers are offering up a final group run this Saturday at 9:06am as final prep for the 2015 Bank of America Chicago Marathon. The team will lead runners on a 2.5 mile run throughout the city and return to Nike Chicago or a 3.5 mile point-to-point ending at Northerly Island where there will be shuttles back to Nike Chicago or to McCormick Place for the Expo.  Elite marathoners Abdi Abdirahman, Alexi Pappas, Dathan Ritzenhein and Matt Tegenkamp will join runners at Nike Chicago (669 N. Michigan Ave). RSVP: HERE
You can start Saturday with a shakeout run at Fleet Feet with two elites who will be running in Sunday's marathon. Deena Kastor, the American record holder, and Sara Hall, who's aiming for the Olympic Trials qualifying time, will join Bart Yasso of Runner's World at Fleet Feet Sports–South Loop. It's a 2 mile run for runners of all levels, and it's free! The elites will host a Q&A session afterward. RSVP: HERE
3. Enjoy the buzz and energy all over town. Marathon weekend is filled with the kinetic energy of runners getting ready for race day. Soak it in and give out some encouragement!
4. Cheer on the runners! Chicago is a terrific course for runners AND spectators alike. Fleet Feet says, "Grab a bike, grab a Divvy, and you've got quick access to almost every spot on the course. As for the best places to watch: the Loop is inspiring; Lakeview is rowdy; and both Pilsen and Chinatown offer an unforgettable crowd, but the best spot might just be wherever you can grab a warm coffee, park yourself on the side of the road and cheer on the runners." We will be at mile 13 on the runners' right. Some friends will move to mile 16 or 20 and I will likely run some with my friend Nicole. I will cheer my heart out. So much fun!
5. Enjoy the magic! The Chicago Marathon is filled with surprises and record breaking efforts. This year, Joan Benoit Samuelson celebrates 30 years since she broke the World Record and is going for a time a mere 30 minutes slower. Deena Kastor will be vying for the Women's Masters Record. There are thousands of runners chasing their dreams. From the fastest to the slowest to everyone in between, there is magic in those streets.
What is your favorite part of marathon weekend? Mine is running, of course, but spectating for a major marathon like Chicago is pretty great, too!
Good luck runners!!! I'll be cheering for you!
PS. Don't miss my great giveaways!