I was on an informational job interview last spring with a health coaching company led by two physicians.  I told one of the physicians about my blog and my passion for running, nutrition, health and wellness. He reached into his drawer and pulled out some RxBars and told me I had to try them. Well, that has never happened to me before! My friend, Leslye had mentioned these to me when I was doing my elimination diet, but they are made with egg whites, so I did not try them. Luckily for me, I added eggs back into my diet with no ill effects after the elimination, so I tried the RxBars that the kind doctor offered. They were DELICIOUS. I checked out their website and reached out to see if they would be interested in a review and giveaway. They said "yes" and sent me one of every flavor!

RxBar believes "that food should be simple and delicious without compromising nutrition. [They] believe that food should be consumed as nature intended."  I could not agree more. They were one of the first whole food nutrition bars on the scene. They are made with minimal ingredients and are "prescribed by nature" to give a balance of protein, health fats and high fiber natural carbohydrates. They commit that RxBars will NEVER contain: dairy, soy, gluten, added sugars, artificial sweeteners, whey, sugar alcohols, GMOs or preservatives. They set out to "create a protein bar we felt good about eating and that made us feel great after we ate it. And we think we've done a pretty good job." Again, I agree!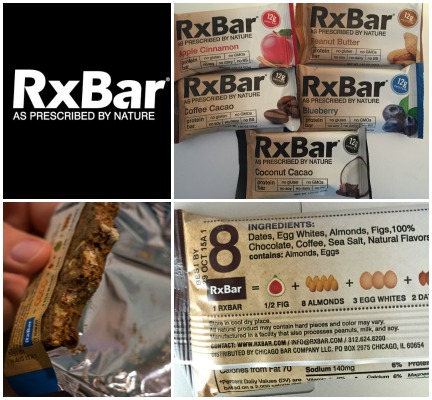 The bars come in 5 "Whole30 approved" flavors:
I like all of the flavors and the cacao ones are my faves – especially Coffee Cacao. For me, these are a great afternoon snack or breakfast in a pinch. They are real food and they are also filling and satisfying. It is not easy to find delicious, portable real food snacks. These are great for travelers and especially for folks doing the Whole30 like my colleague Monica.
RxBar will send one lucky winner a box of 12 RxBars in the flavor of his/her choice (a $23.99 value). Please use the Rafflecopter below to enter. Winner must be 18 or over, a US resident (or have a US postal intermediary) and this offer is void where prohibited. The giveaway runs through February 11th and a winner will be selected and notified on February 12th.
In the mean time, you can get RxBars online (or on Amazon) for about $2 a bar. You can also follow them on Twitter, Facebook and Instagram.
Please note: I was given RxBars to try at no cost in exchange for an honest review. I was not otherwise compensated for this post. All opinions are my own.