Mizuno believes that "running has the power to transform the world — one person at a time." [I agree.] That's why they are donating $1 for every mile run with the Mizuno Baton to Back on My Feet, a nonprofit organization that helps those experiencing homelessness turn their lives around through running. What if everybody ran? You can be part of the answer.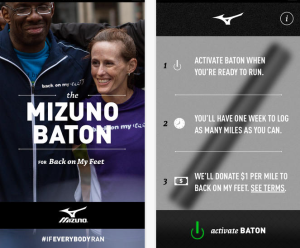 Here is how it works:
Download the app and activate when you are ready to run
You have one week to log as many miles as you can.
Mizuno will donate $1 per mile you log to Back on My Feet. Here are the terms (promotion runs through 8/25/2014 and up to $100,000 will be donated.)
Pass the baton to a friend to increase your impact.
Join Mizuno on Facebook , Twitter and YouTube to follow the "transformative power of running" as it moves around the U.S. You can join the conversation and share their running moments using #IfEverybodyRan.
As those other running pioneers said, "Just do it!"
---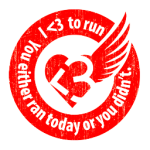 Do you know about I <3 To Run? They make fun running tops and Ts, accessories and prints. They also do custom caricatures and offer the ability to create free "ebibs" (jpegs) of the caricatures that have been done of others. You can share ebibs online via social networks, save as jpegs and send for free. You can also get t-shirts with your ebibs or ones that are already made. You can get a caricature made for $29.99 and then be in the ebib arsenal (or not, if you want to keep it to yourself!)
Here is how I <3 To Run describes itself:
"We respect fit runners and we respect overweight runners. We respect fast runners and we respect slow runners. We respect people who run 5 miles and we respect people who run 25 miles. We respect people who run in group and we respect solo runners. We respect shirtless runners and we respect fully clothed runners. We respect walkers, joggers, and sprinters. We respect female runners and we respect male runners. We respect young runners and we respect old runners. We respect winter, spring, summer, fall runners. Our point is this: the first step out the front door is the hardest, and we respect anyone who takes it.

We Inspire someone. Pass it on. Pay it forward. While your running is personal, it's also something you can give. RUNNING CAN BE GIVEN!"
I am a fan of I <3 To Run and the ebib! Like this one: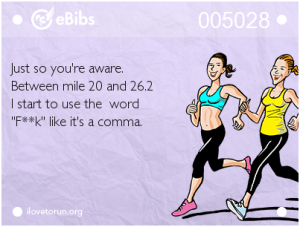 And "mine" – the drawing is a prettied up version of my post race pic from NYC 1/2 in March and the caption was generated by Adrian from I <3 to Run but I like it! What caption would you give me?
In my back and forth with Adrian from I <3 to Run, I agreed to help them get started on Instagram. So if you are on Instagram, please follow "us." We are going to do some fun stuff like caption contests and giveaways. We have 88 followers in one week. Make me look good, please, and follow so Adrian will be impressed! Also, make and share ebibs! They are fun and free! And I <3 To Run has some great, unique gifts for runners, too. You can also follow on Twitter or Facebook.
---
It's Friday, so you know the drill… here are some great deals* that I found:
You know I love giveaways! Check out Whole Mom's Zavida Coffee for a Year (and 5 runner up gifts) giveaway and their $500 Whole Foods gift card giveaway
Check out awesome deals on athletic gear and trips from The Clymb. Act fast deals are up for a limited time. Start with Active Junky to get an additional 8% cash back. See many more offers at Active Junky like 20% off one item at Backcountry with code SAVE20 + 11% cash back. I got new Hoka One One's for $120 after rebate – they are $170!!
Gilt City has great deals in Chicago, NYC, LA and more. Get $50 for $25 at InstaThis for awesome Instagram inspired photos. Start with ebates for additional cash back. (Get $30 off $80 at Bobbi Brown Cosmetics FREE)
Get 50% off your first outfit at Fabletics. I LOVE mine!
Save 40% on awesome portable coconut water products from Cocogo with code ERICAFINDS.
That's all I have for now! What is everyone up to for the holiday weekend? Good luck to racers (including the husband in his "chump car" race)!
PS. Don't forget to enter my Summer Shape Up Bloghop Giveaway, PB & Co Giveaway and Tried It Tuesday Sampler Giveaway!
*Please note: This post contains some affiliate/referral links and I will be compensated if you make a purchase after clicking on my links. Some are just good deals I found and shared. Either way, you win!