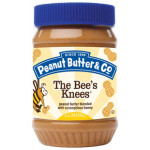 If you read this blog, you know I LOVE peanut butter (especially from Finds' Fave Peanut Butter & Co) and that I am NOT a food blogger. That said, I was beyond delighted when Adam from PB & Co got in touch to invite me to be a part of their Yum Squad – a new ambassador group. Do I want to get access to new goodies and giveaways from one of my favorite companies? Hell, yes! It is good for me and it is good for you all, too! I get to test and giveaway delicious goodies from PB & Co all year long. Yay! My first giveaway assignment was Dark Chocolate Dreams and the 31 Days of Dark Chocolate Dreams Cookbook. The second is to create some "Peanut Butter Buzz" with Bee's Knees. We were asked to develop or test some recipes with The Bee's Knees, PB & Co's peanut butter blended with "scrumptious" honey.
Like me, many of my friends and readers love PB & Co peanut butter. For this Yum Squad assignment, I enlisted Kim and Stacy. Kim decided to make a main course with her Bee's Knees and Stacy made some cookies and no bake bars (which I will be making!)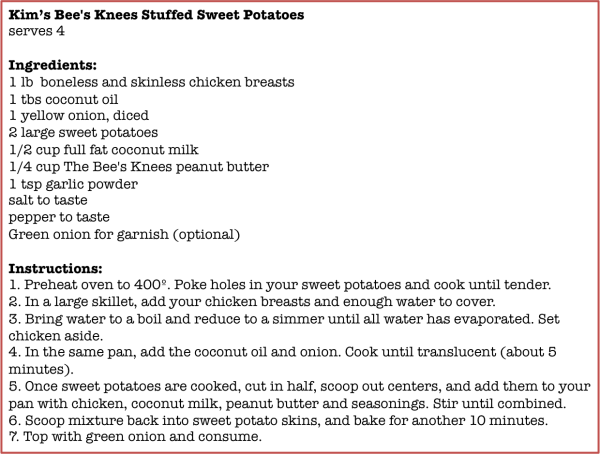 This recipe is easy and delicious! And who doesn't love stuffed potatoes? This version is a super healthy, nutritious version of an old favorite. Kudos and thanks to Kim!
Stacy said, "I ended up taking a very, very basic approach." She went on to say, "I found two recipes that I modified slightly.The cookie is just the PB, honey and agave, vanilla, oat flour, baking soda and desiccated coconut. Taste pretty good, too!" and  "The bar is no bake. Peanut Butter, honey (I used less since the PB has honey, too) and oats. Press and set. Bam." Here are the original recipes that Stacy adapted for the No Bake Bar and cookie. She dropped some off and the husband and I loved them. Well, he loved the cookies. I ate up all of the bars before he could get any! I love these basics and even I can make them!
This #PeanutButterBuzz Bee's Knees assignment yielded some great recipes that are easy and delicious! Want to get in on the fun? The awesome folks at PB & Co will send one lucky reader 2 jars of Bee's Knees for his or her own use! (And it is up to the winner to decide to use, keep or share. We won't judge! Please use the Rafflecopter below to enter. Winners must be 18 or over and US residents. This offer is void where prohibited. Contest runs through May 27. Winner will be selected and notified on May 28th.
As I mentioned in my original review, PB & Co is also a company committed to the environment and their local community. Check out all of the great things that they are involved in HERE. They are also on Facebook, Twitter, Google+ and Pinterest. You may like Lee's blog on Serious Eats and awesome recipes (updated every Tuesday). You can get the best deals on Peanut Butter & Co or find a store near you if you sign up for their newsletter HERE.
PS. Don't forget my giveaways! $100 Home Depot card from Miracle-Gro, Olomomo Almonds + swag and Shape Up for Summer Bloghop!
Please note:  I was provided with free product and cookbook in exchange for this review. I was not compensated for this post. All opinions expressed are my own and those of my reviewers. This stuff is awesome. I have and will continue to eat it with a spoon!