My friend, Megy, wrote a great piece for Chicago Health Magazine that highlighted 5 Smartphone Apps to Help You Eat Better and Exercise More. She highlighted Finds' Fave Strava, the FitBit Flex, Gain Fitness Cross Trainer and ShopWell.
The article reminded me that I created a ShopWell account but had not downloaded the app. This elegant app lets you enter food allergies/foods you avoid (major ones like eggs, milk, wheat, etc.), characteristics of foods you look for (like no added sugar, no transfats, etc.) and preferences (high in x nutrients, etc.)
Then, you scan bar codes on food items (or look them up in a database) and the app helps you to see if the food item matches your dietary needs and goals. The scoring system rates foods from 0–100. Based on your profile and goals, the app's algorithm analyzes the items' nutrients and ingredients and presents you the score. It also gives you a warning sign if any ingredients in your allergy list are displayed. It recommends alternative options so that you can select other products at the grocery store, too.
I did notice, the more attributes I chose to monitor, the lower the scores were for anything other than whole foods. I guess there is something to that! My beloved PB and Co Smooth Operator got dinged for added sugar as that was one of the attributes I am watching. I am still eating it!
How great is this when you are grocery shopping? Especially if you have a food allergy or live with someone who does. The free app is available iPhone, iPad, and iPod touch with iOS 4.3 or later and you can also access the database via the internet.
Check out ShopWell and the other fitness and health helpers in Megy's article HERE.
---
Hey Chicago friends, EveryBlock is back! EveryBlock, a site hosted by Comcast and NBC Universal piloting in Chicago, is the best way to find out what's happening around you, to follow what's happening in your Chicago neighborhood and connect with your neighbors. Their goal is to help you be a better neighbor by giving you frequently updated neighborhood information, plus tools to have meaningful conversations with neighbors.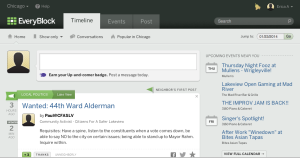 The site is simple to use. You create an account and choose which places (by sub-neighborhood) you'd like to follow. Your EveryBlock homepage is updated throughout the day and shows you what is  happening near your followed places, plus what people in those places are talking about. You can join in the neighborhood conversation when you've got something to contribute — a question for your neighbors, a news report, an event listing or a heads-up about something happening nearby.
You can also get a daily email containing all of the posts near your followed places from the previous day or week.
Pretty cool! I signed up and will let you know if I find it useful.
---
It's Friday, so here are some deals that I found this week:
Check out the Merrell end of the season clearance – save up to 40% off select styles!
Get extra money back on grocery items that you already buy at your favorite stores with the app Ibotta. Get a $2 bonus for signing up.
Get an additional 10%, 15% or 20% off on great local spa deals from Lifebooker Loot check the left side bar for specific offers.
Check out awesome deals on shoes under $50 at Steep and Cheap Gear Cache.
New customers at Raise get $5 off $60 with code RAISE60AF for already discounted gift cards. You can sell your unwanted cards, too!
Valentine's Day Special! Get 15% off at AHAlife.com with promo code VDAY2014 (Valid until 2/15 midnight PST) or get $20 Credit On Your First Order $100+ on curated "creative and inspired" items at AHALife.
Buy a dozen Crown Majesty Roses and get one dozen free at OrganicBouquet.com or save 20% site wide! on eco-elegant gifts at OrganicBouquet.com!
Get 20% off on select items at ModCloth in their Most Loved Sale.
There are tons of great deals on healthy eats/workouts and more at Gilt City plus and 4% cash back if you start with ebates. Save up to 81% on canvas wrapped prints from Printocopia,
Need some cute workout wear to help with those New Year's Resolutions? Get 20% off at Ellie or 50% off your first outfit and free shipping from Kate Hudson's Fabletics.
Get $20 off your first Uber ride click here to sign up.
Before you buy anything, check ebates –they have lots of doubled cash back and coupon offers!
Check out the winter gear sale at the Clymb for up to 70% off on gear for your favorite sports!
25% off sale items + free shipping with code 25SALE or 20% off + free shipping on regular priced items with code SECRET20 at Shoes.com!
Try awesome snacks from Graze – $6.00 per box delivered every other week. After your first order, you can customize your box and pick your favorite options. With Kim's coupon code KIMF3L2XP, you will get the 1st and 5th box free.
Get great cash back deals with Active Junky on your favorite outdoor/sporting goods retailers!
Rafflecopter is giving away an iPad mini & a $200 Amazon GC. Please make sure you tell them I referred you!
We are still in the deep freeze this weekend and the wind will be a bear. Silly me signed up to volunteer at a 1/2 marathon since I would not be running. Easier than running. Colder but easier! Have a good weekend all!
PS. Don't forget to check out my blog hop giveaway and i heart keenwah giveaway, too!