Eating healthy on the go can be a big challenge. It is so easy to grab whatever is around. I find this is especially true for airplane flights/airports and long work meetings. Why are those big cookies at work meetings still a temptation? They are usually not even that good…but I digress. I was fortunate to try some awesome new (to me) on the go snacks recently. Even better, FOUR awesome companies also offered product giveaways so you can enter to win to try them, too!
---

I went to the Ideaction Corps launch party and the folks at Olomomo Nuts had donated some delicious snacks to go with the local beer.  So, of course, I checked out their website and fell even more in love with them (and Stacy nudged me to reach out to them, too). Their mission: "Be Nutty.  Be Good.  Be Adventurous." Sound like my kind of people! Olomomo is an offshoot of The Good Nuts a farmer's market stand in Boulder, CO.
Olomomo® (pronounced "o-lo-MO-mo") means "Momo's world" and refers to the nutty adventures of "Momo" the monkey. Their roasted nuts are a micro-batch, premium, high-energy, amino acid and protein-rich snack. In case you are interested, I asked if Olomomo was a real monkey or an imaginary one and Justin was nice enough to reply with the following:
"Momo the monkey is an imaginary character based on the Mezoamerican "monkey god" of luck, happiness and dance – Ozomatli.  He shows up as a symbol in all kinds of central American and Mexican art.  I met Momo, so to speak, in Oaxaca, Mexico, where I had the luck to be given a tour of an 80-year old textile artisan's hacienda…  The metaphor for what I was trying to do with food was perfect.  The monkey symbol was perfect for the brand I had in mind, and Momo he was named.  The brand is all about inspiring people to be every day heroes, push their limits, and explore new experiences while doing more good. "
Olomomo was nice enough to send me a 1.5 oz package of each of their four flavors of almonds: Chai Bliss, Mango Chipotle Zinger. Cherry Vanilla Drea and Righteous Cinnamon Cayenne. At the launch party, we tried the Cherry Vanilla Dream and Chai Bliss (apparently a favorite of astronaut Charlie Duke – the 10th man to walk on the moon according to Justin!). I loved the sweet, nutty flavors. After receiving the samples, we tried the Righteous Cinnamon Cayenne and Mango Chipotle Zinger. I like all of the flavors, but I was surprised to find that the Mango Chipotle Zinger are my favorite – the husband, too. They have a great kick and are very satisfying!
The good folks at Olomomo are offering two readers each a sampler pack of all four kinds. Keep reading and enter the giveaway at the end of the post! And if you sign up for their email list, you will get a coupon for 20% off of your order, too! 
---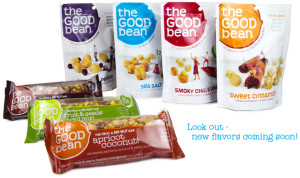 The Good Bean launched in September 2010 with a line of first-to-market all-natural roasted chickpea snacks in 4 flavors. These are a great alternative to chips, nuts, pretzels and popcorn – gluten-free, nut-free, high protein, high fiber, and low fat. More recently, they launched a second product line, The Good Bean Fruit & No-Nut Bar, a line of snack bars in the fruit & nut bar category. They replaced the nuts with high-fiber, high-protein chickpeas for a bar that has 40-60% less fat than the competition (and good for people with nut allergies, too). All products use Fair-Trade and clean-processed ingredients.
They sent me 2 serving packs of all 4 flavors of roasted chick pea snacks: Sweet Cinnamon, Sea Salt, Cracked Pepper and Smoky Chili and Lime and all three flavors of fruit and NO nut bars: Apricot Coconut, Fruit & Seeds Trail Mix and Chocolate Berry.
The snacks are SO good and the 2 oz bags are the perfect size for me. Each serving is 140 calories and the servings are pretty good size and filling (because chickpeas are pretty light!) I gobbled up the Sweet Cinnamon (great way to have something a bit sweet but not TOO sweet) and the Cracked Pepper as afternoon snacks. I brought the Sea Salt and Smoky Chili and Lime to a work meeting. After a few snarky remarks about me and my health foods, we started passing them around and basically wound up fighting over them! They were gone in about 2 minutes! Consensus was that the Sea Salt were the favorite and folks wanted more! It is hard to pick a favorite and I will definitely be buying these. If you forced me, I would say Sea Salt and Cracked Pepper are my favorites followed very closely by Sweet Cinnamon.
The bars are great for people who can't eat nuts. I found them a bit bland compared to the snacks and other bars that I normally eat. I liked the Chocolate Berry best and would definitely be happy to have one of these over a granola bar any day, because they have a better glycemic index.
The good folks at The Good Bean are offering two readers each 3 chickpea snacks and 2 Fruit & No-Nut Bars (your choice of flavors). Keep reading and enter the giveaway at the end of the post!
---

Core Foods makes "portable (vegan) food bars" in Warrior (High Protein) and Defender (High Fiber) Bars. CORE Meals are fresh portable food. They're as convenient as packaged products, but "they're not candy, they're food." Each meal provides "4 hours of stable, balanced energy". You can grab these bars instead of breakfast when you're in a rush, or after a workout for a solid recovery.
Why is this food healthy? Here's their short answer:
"FRESH. Our food goes bad quickly. It doesn't sit on the shelf forever.
FOOD. We use 5-7 raw organic, locally grown ingredients. We leave out the candy.
NOT FOR PROFIT. We focus on quality, and leave the money out of it."
That's pretty cool. But how do they taste? They sent me a 3 pack of the Defender Meals : Raw Almond Raisin, Raw Cashew Cacao and Raw Walnut Banana. I tried them in that order, too! I tried half of an Almond Raisin before a long run. These bars are not sweet and are very dense and filling. I found that the half a bar kept me full for the run (but not overly full). The "not sweet" taste was good for me, too. If I eat sweets for breakfast, I find that I crave sweets all day. I shared the Cashew Cacoa with Stacy and Molly on our way to the Cleveland Half Marathon this weekend. I always have to remind myself that cacao is not sweet. This bar was also dense and filling. We all liked it and agreed it would be a great go-to breakfast for busy mornings in the office and traveling. I tried the Walnut Banana this morning and it was also a winner. I think it was my favorite, actually, which surprised me. All in all, I really like these bars meals and can't wait to try the Warrior version, too.
Core Foods will send one lucky reader the Defender 3 pack that I tried.  Keep reading and enter the giveaway at the end of the post! You can also get a coupon for $5 off by signing up for their newsletter.
---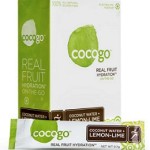 As a runner, I am always looking for ways to stay hydrated especially on the go – enter Cocogo. I hate all of the chemicals and sugars in some popular energy drinks. I was super excited when the folks at Cocogo offered to send me a box of their Coconut Water + Lemon Lime hydration packs (just add water) and a few of the Grape and Raspberry Passion Fruit to try, too. These are made with coconut water and pressed fruit. See how they compare to other sports drinks.
I love lemon lime drinks and this was my favorite flavor. I liked that the flavor was not too strong and it was not too sweet. I normally cut sports drinks with water and the packet in a 16 oz glass was perfect for me. I expected to like the grape flavor the least, but was pleasantly surprised. It was the second best for me. I shared some Cocogo packs with Stacy and Molly at the NYC Half Marathon a while ago. They both liked the Lemon Lime best, as well. They agreed that it was not too strong or sweet and liked the fact that it is all natural. Molly's husband even mixed it with some spirits – good way to stay hydrated, Bri! Each packet has only 34 calories so it is similar to one of the low cal sports drink options. Check out some testimonials on their site.
Cocogo will send two lucky winners a box of the flavor of their choice. Enter the Rafflecopter giveaway below. You can also get free shipping from the Cocogo store with the code FRSH4COCOGO. Also available from Amazon.com and get free shipping with Amazon's new "Add on program" – learn more HERE.

You can enter the giveaways using the Rafflecopter widget below. Please don't forget to click the green button on each entry you choose. If you already like my page on Facebook, or follow me on Twitter, click that button on the Rafflecopter and get credit! The giveaway is open through the end of the day on Monday, May 27th. I will select and notify 7 winners on Tuesday, May 28th.  One prize per winner. Only valid for participants in the US at this time. Please note, leave a comment on this post if you are allergic to nuts, so if you win, you will not receive the Olomono nuts or Core Food bars. Please note that all products for review and giveaways were provided by the respective companies, but all opinions and comments are my own.
Thank you for checking out these new on the go snacks! What is your on the go "go-to"?
PS. For more healthy travel tips, check out this post of Stay Health Travel Tips from Amanda Skrip!