It is a special "Take Time Tuesday" for me. What is Take Time Tuesday? It is a link up started by Katie @ Live Half Full. A link up is a set of connected posts to share thoughts, ideas and blogs we like. Take Time Tuesday is a a place to write about a few things you are grateful for… and to take time to reflect on them. Great idea, Katie!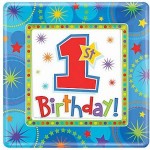 Why is this Tuesday special for me? Because it is my blog-iversary! Erica Finds turns one today.
Today I am grateful for:
The support of my friends, family and Neal in getting this blog started. I have been inundated with suggestions, helpful tips, positive feedback and ideas.
Guest posters! Thanks to Pam, Lauren, Dae, Rachel, George, Amanda, Whitney, Maureen, Emily, Ali from Zealous Good, Christine, Libbie and Alissa.
The support and friendship of Chicago Running Bloggers who meet, share ideas and help me to promote and share my blog (all despite the fact that I don't write that much about running!)
Awesome vendors* like OKU Oxygen DNA, Energy Bits, CEP Compression, Perfect Fuel Chocolate, Perky Jerky, Tees for Change, KonaKase, Handana, Mizuno USA, 2Toms, Mission Athletecare, Artizone Chicago, Gilt City and more who have let me promote or try their products and even give some away! * Some giveaways to come shortly!
Getting a bit savvier in the wild and wacky social media and viral marketing space.
Having the courage to try.
Time flies when you are having fun and working on this blog for the past year has certainly been fun for me. It was cool to look back and to see how far I have come in terms of look, feel, voice and content. Here is my first post from April 9, 2012: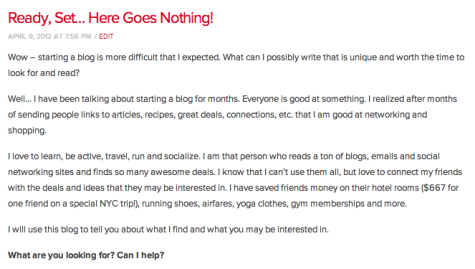 It had no pictures, no links, no nothing – just some thoughts and a question. Just a week later, I wrote (unsuspectingly) my most popular post ever on Chicago Area Runners Association (CARA) discounts. Since then, I have developed more of a format, gotten re-branded with awesome work from Sarah Stec and Jamie Sanchez and have gotten lots of help from my friends.
In honor of my blog-iversary, I am going to giveaway some of my favorite things that I have found or written about over the last year. I am also planning to share the spoils of some of the deals that I have promoted and purchased!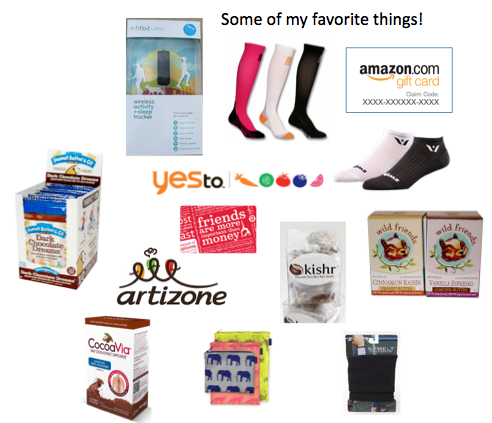 In the past year, I have sampled all kinds of great things from curated boxes from Klutch Club, Love with Food and Blissmo boxes (& many more). I have also purchased many deals and specials and received products to review from some great vendors, too. To celebrate my "blog-iversary", I am hosting a giveaway. Well, a bunch of giveaways. I am going to do a week of daily product giveaways on my Facebook page from Swiftwick, Wild Friends Nut Butter, Peanut Butter & Co, Cocoavia, Kishr, YesTo and Baggu Bags.
And for the giveaway here, I have a bunch of prizes**!
1st Prize: A FitBit Ultra Tracker
2nd Prize: A pair of CEP Compression Socks and a pair of Swiftwick Compression Socks (low) – mens or women's
3rd Prize: A $50 Artizone Chicago Gift Card (Note: This is a local delivery in the Greater Chicagoland area only, so if someone outside of Chicago wins, he/she can choose $50 of non-perishable products and I will send them out – I highly recommend Good Hope Rusks and Mama's Nuts!)
4th Prize: A $40 Amazon gift card
5th Prize: A $20 Lululemon gift card
** Prize winners may choose any prize of the remaining prizes, if he or she prefers something that I have deemed a lower value/rank.
How to enter:
There are a few ways to enter. The more ways you enter, the better chance you have of winning. I am using Rafflecopter (see widget below) for this giveaway. Click on the entry method and follow the instructions. Please don't forget to click the button on each line that you enter so that your entry will be counted. If you already like my FB page or follow on Twitter, click the button and get your entries! The give away will be open for one week (until 12:00 AM 4/16/2013). You can share the giveaway one time per day for additional chances to win!
Please note: that the CEP Compression socks and the Artizone Chicago gift card were provided to me by these vendors. All other items were purchased by me (usually at a big discount ;)).
Thank you for making this year a great one for me! Please keep your suggestions and ideas coming. I can't wait to see what I find this year!
And while you are here, please consider following this blog on Bloglovin'!