My friends at the Greatist had another awesome post this week on "10 Amazing Companies that are Making Healthy Eating Easier." I patted myself on the back for already writing about Plated, Blue Apron and Meez Meals (which is similar to several companies they mention like Hello Fresh – which looks awesome!)
Two meal planning sites caught my eye – one is free and one very inexpensive – and both are super healthy. (I see my friend, Jeff, shaking his head and wondering who is going to cook these awesome recipes. Well, he will for one!)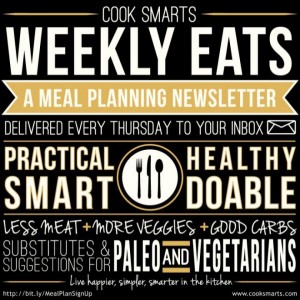 Cook Smarts is an (awesome) FREE meal planning newsletter (and blog) that is great for people who love cooking at home but don't love all the time it takes to actually plan out menus. Founder Jess Dang started Cook Smarts "as a way to help people get back in the kitchen". The site also has the Cook Smarts blog which offers cooking tips and videos. (Did I mention, it's free??)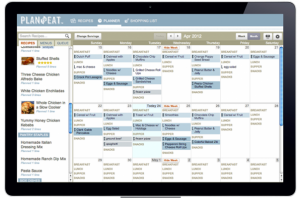 Plan to Eat is a simple desktop app that "was born out of a desire to eat real, healthy, delicious food, prepared at home without all of the last minute stress and rushing around." You use it to keep your favorite recipes, drag-and-drop them onto the day you want to eat them and create a shopping list to print out for easier shopping. The web app is also mobile-ready, so you can view your shopping list on your phone while you are at the store. Plus, it keeps track of all of your "pantry items" when you check them off your shopping list. (I like this feature – so you don't wind up with 4 chili powders in your spice rack and no cumin. Like me!) Cost: $4.95/month; $39/year. Get 30% off a 1-year subscription using the code GREATIST.COM through April 1, 2013! (They have a 30 day free trial, too, to see it it will work for you!)
Check out the full article for discounts at most of these awesome companies! (And let me know if you try any!)
Speaking of healthy cooking AND local goodies, two of my favorite vendors for local goodies have sales on at the moment.
> The folks at New York Mouth are offering 20% off everything in their store for two days. Use the code HAPPY13 at checkout. Be quick – the sale ends Saturday (1/12) at 3pm. Orders over $50 ship free!
> The folks at Artizone Chicago (who have an awesome mix of healthy local goodies and resolution busting treats) are offering 10% off your order plus FREE delivery with the code HAPPY2013. (This is Chicago delivery only.)
(These codes are very similar. I may just try them for everything!)
In Chicago, come check out Chicago Athletic Clubs – print this post and bring this picture in for a free 3-day guest pass. (Please just don't take my spin bike!) If you like the gym, CARA members get a great deal on an all-access monthly membership.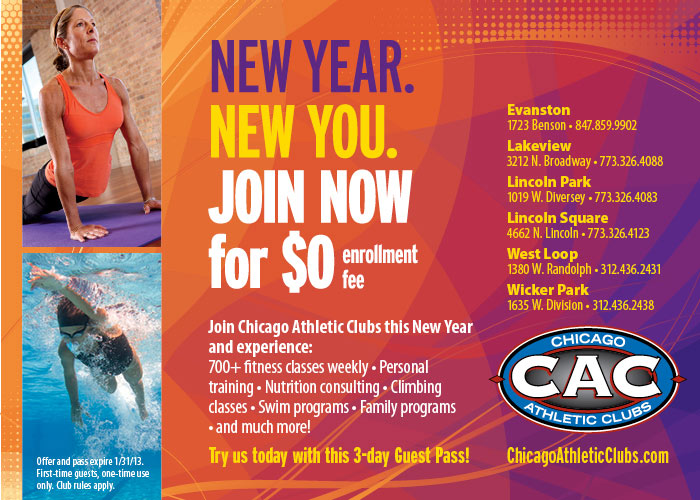 And speaking of deals and freebies, check out some more good finds:
> Need to take a last minute trip to New York City? (Yes, please!) Check out this Jetsetter deal on the Alex Hotel – totally swank and would you believe weekend rates in January and February of $145 – $200!
> Gilt City has some great stuff as usual:
– In Chicago, check out a great deal at Helios Pilates – 51% off of 4 classes or the 6 week Bye-Bye Belly program. I can vouch for Jenna and this studio is terrific!
– Check out 50% off of Lole Gear at lolewomen.com – includes sale items!
– They also have $35 for $75 for orders from Raw Green Organics.
> Travelzoo has an interesting deal in Chicago: $39 for Annual Pass for 2 to Top of the Hancock (60% Off) It is interesting because with validation you can get $10 parking for 3 hours on Michigan Ave. Need a cocktail, to impress friends occasionally and to do a little shopping? This is the deal for you!
> Did you resolve to get rid of the clothes in your closet that are out of style but don't know where to start? Chicago friends, you are in luck! Katie from KS Style has a Lifebooker Loot deal for $39 2-Hour Closet Cleanse or 2-Hour Personal Shopping, $69 for Both, $60 Group Shopping. She is awesome! Check out my post HERE. Katie will take your cast offs to sell on consignment or to donate to Goodwill. You can do one better and donate them through Zealous Good – it is super easy and most charities will pick things up from you!
That's all for now! Happy Friday! This week could not end soon enough as far as I am concerned!
Don't forget to enter to win in my CEP Compression give away and in the CEP Compression Pair a Day Giveaway on Facebook!
PS. I am working on a "successes and busts" post for deals I have tried. If you have bought any of the deals I recommended and had a big success or a bust and you'd be willing to share it, please email it to me at erica@ericafinds.com. Thanks!