I had my first "go viral" experience today when Chicago Area Runners Association posted my "Who Knew??" CARA deals post from the other day. I am not going to lie, that was cool! (Of course it left me feeling like I should have proofread more and used some pithy sayings but que sera sera, as they say!)
I was compiling a list of Friday Finds but some are time sensitive so here are some Tuesday Tips instead:
1. 25% off on a spa service or class at Exhale Chicago if you book online using this link and the promo code: online25. This offer is good until 4/30/2012 so get hopping! I had a 60 minute signature massage with Silvie last weekend and it was awesome! (I also used my CARA card and got 10% off — worth asking for the double dip!)
2. Not to leave out the NYers. My fave bloggers at Well+Good posted a 7 day free pass to Clay plus 25% off on a bunch of spa services here is the link.
The details: To celebrate its 10th anniversary, CLAY's inviting you to activate a complimentary 7-day membership to the gorgeous 14th Street health club and spa.


During your membership, Well+Good readers will receive 25% off spa and fitness services. Try a Shaffali facial (we love the Ayurvedic-inspired products), sit down with CLAY's nutritionist, or book a private yoga session — all for 25% off.


Do it NYers – for ME! I want to do it but I can't so you should RIGHT NOW! (and then tell me all about it PLEASE!)
3. Lucky for Emily, we were just talking about Shred 415. What is Shred 415 you ask? It is a crazy 60 minute workout where you alternate between treadmill interval drills and weights. 2 groups. Almost no rest. VERY DIFFICULT. A great work out, but a tad pricy. Daily Candy Deals to the rescue. They are offering 5 shred classes for $57 (50% off!) or one month unlimited for $80. This is a great deal. You should try it. It. Will. Be. Hard! Here is the link
4. OK – you are not in Chicago or NYC or don't dig those options? Like everyone else, active.com is in the deals game too. Sometimes the "schwaggle" is annoying, but I have gotten some good deals (plus and extra 20% off b/c I am an "Advantage" member – great use of $25 on a deal from them b/c I save on all of the race fees and deals!) Anyway, They are offering $21 for 24 vegan bars from Earnest Eats (Shipping is $7 but these bars are worth $28 for 24 – trust me!) They have new flavors and let me tell you – they are delicious and good for you! Here is the link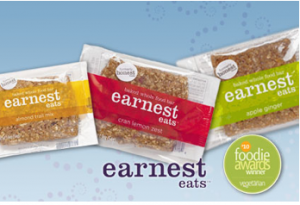 5. Last but not least, Rue La La has an AWESOME deal on Miraval Spa in Tuscon. I WANT TO GO! 3 nights midweek with $150 spa credit per night, all meals and activities for $1275 single/$2325 double ($1385 weekend single/$2550 weekend double). Sounds like a lot, but it is a steal. I can't go but you should!
I could go on and on… that is the adrenaline from going viral! That's enough for now. Let's see what I can find for Friday!