I met the folks from Phyter Food at the Good Food Festival a while back. They make "delicious clean fuel bursting with phytonutrients." What does that mean? Phytonutrients from plants help to prevent disease. They say, If you can get health benefits, plus quick energy and delicious taste, why would you ever settle for an ordinary energy bar?" Good question!
Phyter was born from the health and wellness company Healthful Habits. Healthful Habits is committed to educating people on a healthier way of life via plant based foods. They also bring nutrition and compassion to those in need. They wanted to make a bigger impact, so they created a food that "embodies their beliefs and passions."
Phyter bars are a balanced "real food" bar that contain nothing but organic plants. They are vegan, gluten free and Non-GMO. They use no preservatives or chemicals. You won't find them on "the crowded energy bar shelf." You'll find them in the refrigerated section of your favorite grocery store.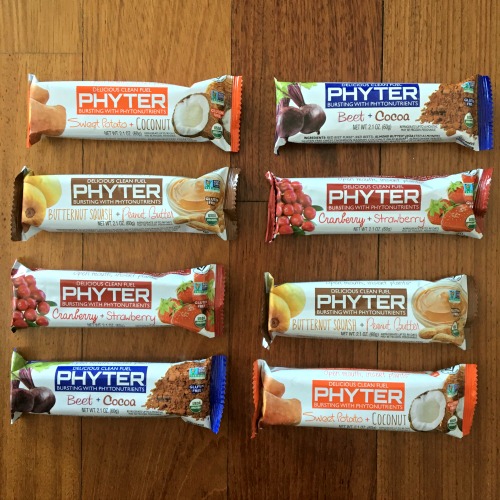 These bars offer "quick energy" and come in four delicious flavors. They are Beet + Cocoa, Sweet Potato + Coconut, Butternut Squash + Peanut Butter and Cranberry + Strawberry. People have compared Sweet Potato + Coconut to carrot cake and Beet + Cocoa to a brownie.
Phyter bars have fueled a bunch of my weekend runs and shenanigans lately. Butternut Squash + Peanut Butter is still my favorite. Liv and I shared the Sweet Potato + Coconut post run/pre-Women's March and were both big fans. Liv makes her own and follows a Paleo style diet. She was very impressed with the label AND the taste. These bars are delicious and are very filling. I'm a big fan!
The nice folks at Phyter have offered to send one lucky ready 2 of each flavor (as shown above). Please use the Rafflecopter below to enter. The winner must be a US resident, 18 years of age or older and the offer is void where prohibited. The giveaway ends on February 14. A winner will be selected and notified on February 15.
Don't want to wait? You can find them in the refrigerated section of your supermarket or online. You can also keep up with Phyter Food on Facebook, Twitter or Instagram.
Please note: I was offered products by Phyter Food for editorial consideration. I was not otherwise compensated for this post. All opinions are my own.