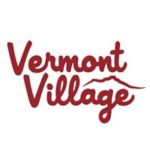 I met the folks from Vermont Village at Expo East last year. Apple cider vinegar products like theirs were all the rage at Expo East. Why? Apple cider vinegar is a natural homeopathic remedy for a variety of ailments, healthier skin, better digestion and even for cleaning the house. There are tons of claims and lots of studies, too. Here's the science and one Well+Good reporter's experience. Good stuff!
Vermont Village knows that straight apple cider vinegar can be "a little harsh." They decided to add additional whole foods and spices to craft naturally sweetened sipping vinegars and shots. They're free of cane sugar, caffeine, gluten, soy and other common allergens. They're raw and organic, kosher, non-GMO and made in the USA.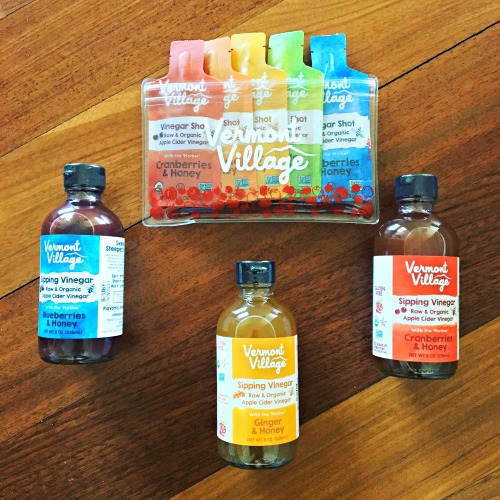 They sent me a variety of Vinegar Shots (a fave from Expo East) and the sipping vinegars. They also sent me a box of Blueberries & Honey Vinegar Shots to send to one lucky reader. Read on!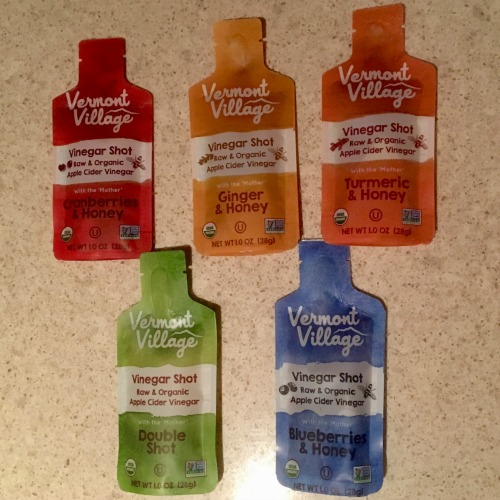 As a frequent traveler, I love the convenience of the Vinegar Shots. They come in five flavors. They are Cranberries & Honey, Ginger & Honey, Turmeric & Honey, Double Shot and Blueberries & Honey. The shots start with raw apple cider vinegar and then are flavored to be more enjoyable. They say you can "shoot it, sip it or mix it." My faves are Ginger & Honey, Turmeric & Honey and Blueberries & Honey. I like them first thing in the morning straight from the package. Amanda added hers to hot water for a soothing evening drink.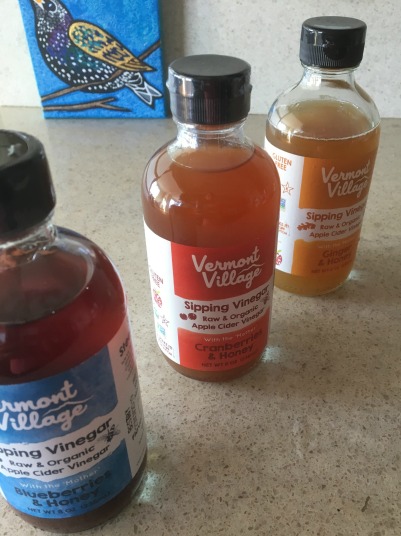 The Sipping Vinegar flavors are less sharp. They come in three flavors Blueberries & Honey, Cranberries & Honey and Ginger & Honey. They recommend adding it to water, seltzer or even your favorite adult beverage!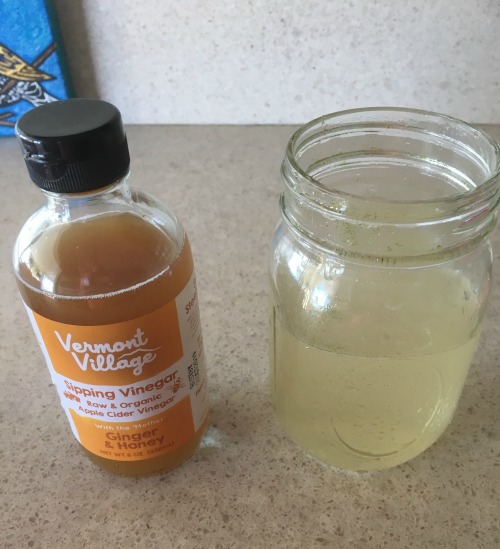 I started with Ginger & Honey. I added about 8 oz of water to 1 oz of sipping vinegar. The taste is actually very pleasant. This is a super easy way to get the health benefits of apple cider vinegar! I've been drinking these every morning and will use the shots to continue this good habit when I travel.
Next up was Blueberries & Honey. It's another winner! I'm curious about this one and some adult beverage, too.
You don't have to my word for it. Vermont Village sent me a box of 12 Blueberries & Honey Vinegar Shots to share with one lucky reader. Want to enter to win? Please use the Rafflecopter below. The contest runs through 1/18. Winner will be selected and notified on 1/19. Winner must be 18 years of age or older, a US resident (or have a US postal intermediary) and the contest is void where prohibited.
In the mean time, you can get Vermont Village products online or on Amazon (prime eligible). They also have apple cider vinegar, drinking vinegars and a variety of apple sauce products. You can also keep up with Vermont Village on Facebook and Instagram.
Please note: I was provided samples in exchange for a honest review. I was not otherwise compensated for this post. All opinions are my own. This post contains an affiliate link for Amazon. If you use this link, I will receive a small commission.