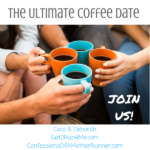 Welcome to the 1st Ultimate Coffee Date link up of 2018.  I'm linking up with Coco @ Running with Perseverance and Deborah @ Confessions of a Mother Runner. 2017 was filled with ups and downs in the world and tons of travel for me. I'm excited to chat about my plans for 2018.
What is the Ultimate Coffee Date? Imagine we are having coffee together… this post is what I would tell you. So grab a cup, "listen" and then tell me what is going on with you in the comments, please!
If we were having coffee… I'd tell you that I need extra hot coffee. It's FREEZING in Chicago at the moment. People are raving about the 31 degree temps on Sunday like they won the lottery. Yes, it's been that bad. On Tuesday morning, I ran to Pilates (2 miles) and it was -5 degrees feels like -20. That may have been the coldest run I've done in my life. At least we didn't have the "bomb cyclone"- whatever that is! I've been a bit obsessed with the view out our window. Interested? Check out my Instagram and Instagram stories.
If we were having coffee… I'd tell you that my cabin fever has turned into wanderlust. I got my passport renewed and I'm ready to GO! Well, we don't have any international plans yet, but I do have some fun stuff coming up. I'll be going to San Francisco for work at the end of the month and swinging by to see my mom in Vegas on the way home. I have a few work trips in February. In March, I'll be heading to Expo West in Anaheim and running the NYC Half again. I have some fun running and adventuring trips coming in May, too. Of course, I'd ask you what plans you have on the horizon.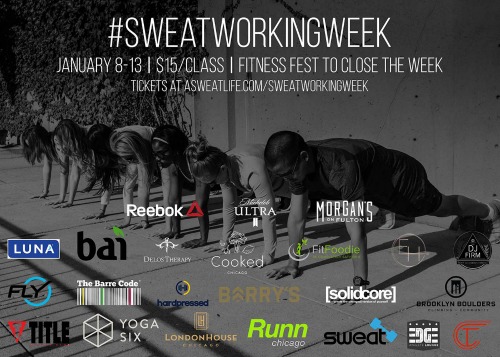 If we were having coffee… I'd tell you that I'm excited for Sweatworking Week in Chicago. My friends at A Sweat Life schedule a week with multiple exercise classes and lunches each day and a fitness festival on Saturday. It's a great antidote to all of the holiday feasting. I always see friends and meet new people, too. If you're in Chicago, check out the schedule here.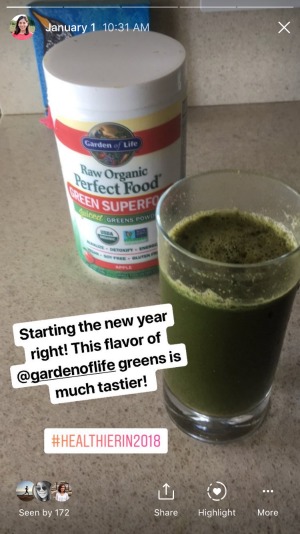 If we were having coffee… I'd tell you that I'm making a few small changes that my doctor recommended. I've been taking some new supplements for a while. She recommended this Garden of Life Green Superfood drink every morning. The Apple flavor is growing on me. She also had me switch the majority of my club soda/La Croix to water with lemon. Apparently, club soda is acidic and lemon water is alkaline. Who knew? She wants me to check out the Alkaline Diet, too. I bought this book but that's as far as I've gotten. I'd ask if you're making any changes for the new year.
If we were having coffee… I'd tell you that I have some more great finds and giveaways coming in 2018 so keep your eye out.  I'd ask you if you were trying anything new to be healthy in 2018 or anything great that I need to try.
If we were having coffee… I'd ask "what's happening by you?" Please tell me in the comments!
PS. Please don't forget my great giveaways.