It's Friday, so I'm linking up with Running on Happy and Fairytales and Fitness for Friday Five 2.0. The last Friday of the month is a "free" day, so I'm doubling down and linking up with Marcia for January "Runfessions," too! Runfessions are running truths or "where runners bare their souls and soles."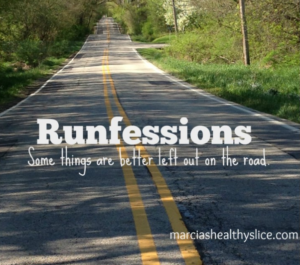 1. I runfess… I'm strangely a bit sad that the temps warmed up. I felt like kind of a bad ass running in the frozen low temps at the beginning of the year.
2. I runfess… I mostly ran outside in the beginning of the year for the Lululemon 40/80 Challenge with Strava. I did it last year before the Lululemon ORD retreat. They gave out unexpected prizes (running shirt and shorts) to all runners who ran 80 KM outside in the first two weeks of January. This year it was much colder, but I was pretty into it despite needing more running gear like I need a whole in the head.
3. I runfess… I was a wee bit disappointed that the "runner prize" for running 80K in the challenge was a 25% off coupon at Lululemon this year. But I'm still glad that got out there and got my fresh air and Vitamin D. So, you can count me in for next year, too.
4. I runfess… I signed up for the NYC Marathon on the first day the application was open. Despite having a very tough time in 2017 (recap), I can't think of anywhere I'd rather be on the first Sunday in November. Plus guaranteed entry means I can.
5. I runfess… I may have signed up for a bunch of races this spring including a marathon. I reserve the right to cut back to the half so I'm keeping quiet on that one for now. More to come!
Do you have anything to runfess? Please tell me in the comments.
Have a great weekend!
PS. Don't miss my great giveaways!