It's Friday, so I'm linking up with Running on Happy and Fairytales and Fitness for the Friday Five 2.0.The theme this week is "Winter Fitness." It's been VERY cold here in Chicago so I am sharing "5 Ways to Stay Fit This Winter."
If you live in a cold weather place it's easy to hibernate instead of getting outside (or just out) to get a workout done. Between hibernation and the holidays, your waistline could be in danger. Don't despair: Take these tips on how to winterize your workout, have fun and stay fit over the winter months.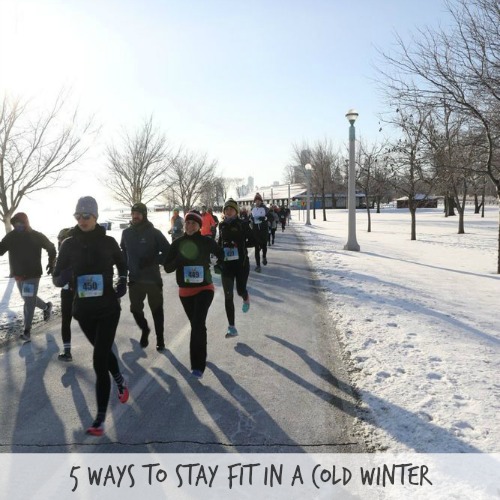 1. Get Cute Gear – In winter it can be easy to put on the biggest, comfiest clothes you can find. Get some cute, flattering fitness gear that you feel good in. You'll be more apt to wear it and get some exercise! Then go to the gym, take off your big, puffy coat and show off. Need something new? There are tons of sales in January. Plus, you can check out great discounts and deals on my (updated) Found Links page.
2. Layer Up and Run Outside – It's all about the right gear again. Wear layers to keep warm and go get some fresh air and Vitamin D by running outside. All natural merino wool base layers and socks are great for warmth and sweat wicking – plus they don't smell when you heat up! I love my CEP Compression Merino Run Socks to wear under the my pants or tights and Icebreaker or Smart Wool pieces on top. Take off the base layers quickly when you come inside so you don't get cold and clammy! Also, if the footing is tough, be careful and ratchet back the pace or wear trail shoes/Yak Trax if you need to.
3. Find a Buddy (or a Bunch of Buddies) – It is much easier to get outside when you know someone is waiting for you. Plus, you can set a group goal to run a spring race or take a warm weather trip for a race in winter for extra motivation and excitement. There are also some great free challenges on Strava if that motivates you. Need to meet new runners? Check out local running stores or running groups for winter meet up times.
4. Try a New Winter Sport – Have you wanted to try snowshoes or cross country skis? Search for places that rent them in your area. Some stores, like REI, and public parks rent snowshoes at a reasonable rate. Check your local parks department for events and activities.
5. Find a Fave Indoor Workout or a New Group Fitness Class – Do some online research to find a few easy workouts you can do at home (or at your gym) with body weight and household items. You can even do these when watching TV. No excuses! Hint: There are tons of great workouts posted on Pinterest for free. Most gyms offer introductory rates or first class deals. Try a bunch of new things. Or look for a group purchasing deal like Groupon or Gilt City for gyms you want to try.
My friends from A Sweat Life just launched a new app called Sweatworking. You can work out with awesome trainers wherever you are. There are already 100+ motivating and challenging workouts and they're adding more and hosting challenges. Great for winter!
PS. (a/k/a – Tip #6) From Finds' fave nutritionist Lauren: "Don't forget to hydrate. Research says you feel 40 percent less thirsty in the cold than when you're warm, but remember to keep sipping when you're working out! Even if you don't see or feel it, you are still sweating and losing water when exercising out in the cold, so it's important to remain hydrated throughout the day." [There is still time to enter to win a one hour Skype consultation with Lauren ($245 value) – enter here.]
How do you winterize your workout?

PS. Don't forget my great giveaways!
Please note: This post contains referral and affiliate links. If you join/buy with these links, I will get a small fee in return for sending you to sign up and you will get a discount for signing up if you have not already. A win-win!