Currently… A post on "things of the moment" for me (#19). [Inspired by Marcia and other bloggers.]
State of things: I've been home three weeks in a row and don't have to travel until the end of the month. Can I get a whoo-hoo? Whoo-hoo. It's been very nice getting into a routine and trying to practice some of my New Year's resolutions. The last 6 months of 2017 were so packed with work travel and fun travel that it's been great to be still for a bit.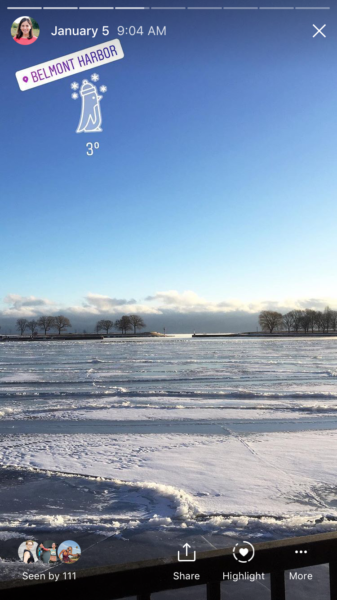 It's been FREEZING here for the most part. Since we came back from Los Angeles for Christmas, the temps have been WAY below normal. If you follow my Instagram stories, you can see daily shots of the view from my window or on the path with temps. That's been fun. It is very pretty and it's amazing what you can get used to! How are things by you? What's currently keeping you busy?

Books: I crowd sourced a huge list of books from my Facebook friends for book club recommendations. I'm reading Manhattan Beach by Jennifer Egan. I'm enjoying it but it's not what I expected. I loved Little Fires Everywhere by Celeste Ng.  I just downloaded The Immortalists by Chloe Benjamin and Behold the Dreamers by Imbolo Mbue, too. For the blog, I'm reading Train Your Head and Your Body Will Follow: Reach Any Goal in Three Minutes a Day by Sandy Joy Weston. Have you read anything good lately? [Please note: this section includes Amazon affiliate links.]

Movies: We saw Three Billboards Outside Ebbing, Missouri as our heavy Christmas Eve tale. It fit the bill. We're seeing I, Tonya this afternoon. Also on my list The Darkest Hour and The Post. Getting ready for the Oscars! Have you seen anything good lately?
TV: We watched the first season of Sneaky Pete and the first season of Shameless after I crowdsourced an awesome list on Facebook. Next up – The Marvelous Mrs Maisel on Amazon. Have you been watching? Anything else good for us to put on our list?
Website/Podcast: I've been doing a lot of Whispersync for Audible. I loved the Third Coast Festival's "Best Of" shows. The Traffic Stop will take your breath away.  Have you heard anything good lately?

Run: I had a tough run at the NYC Marathon in November and backed off the miles for the rest of the year. Kristin and I ran one of the coldest races I can remember on New Year's Eve but we had a lot of fun (and won our age groups!) I started the year right with the Lululemon | Strava 4080 challenge. They challenge you to run 40 or 80 Kilometers outside from 1/2 – 1/15. That's not much more than I would normally run outside in 2 weeks. This year it was a challenge due to VERY cold temps. I finished 80K on 1/10. If you missed it, you can see my 2017 Running Round Up  HERE.
Non-Run Workouts: Last week was "Sweatworking Week" so I did a great HIIT workout, Flywheel (spin) and a fun Orange Theory style workout.  I also went to a fun HIIT / TRX workout at the Underarmour store in Chicago. Sweatworking just launched an app where you can take classes from your phone or tablet. You can download it here. I've also been going to my personal trainer and Pilates once a week. I still need to work  yoga back into the rotation. Have you tried anything new?
Food/Drink: As always, I have lots of new foods and drinks on hand to try! I have Picky Bar Performance Oatmeal, My/Mo Mochi, all of the flavors of Caveman Bars, Overnight Oats, Spice Water, Gaea Olives and Pickled Veggies, Mozaic Chips and other snacks from Deliciousness, Siren Protein Bites, Frooze Balls and Phyter Bars. Keep an eye out on the blog and my Instagram for reviews and giveaways! Which are you most interested in trying?
Excitement: I'm in the middle of an entire month with no travel. That is the opposite of excitement, I guess, but it's recharging me to gear up for work and fun travel for the rest of the year. What's exciting by you?
Pet Peeve: The streets and running path are so salty that it's tough to keep the floors clean. This is kind of a lame one, but it is a pain! What is irking you lately?
Wish(es):  I'm hoping the deep freeze will pass and that we'll go back to "normal" winter weather. What are you wishing for?
What is keeping you busy these days? Please share in the comments!
PS. Don't forget to enter my great giveaways.
Please note: This post contains Amazon affiliate links. If you use these links, I'll receive a small commission.