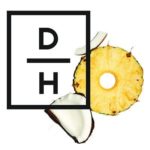 I'm always looking for ways to eat real food but fast. I kept seeing ads for Daily Harvest soups and smoothies. I was intrigued but didn't want to commit to a subscription service. When I had the chance to try 6 cups free, I jumped on it! [Read on to see how you can get 3 free cups, too!]
Daily Harvest delivers unprocessed, unrefined foods in the most convenient format possible –  frozen. It all started with a familiar problem. Like me, they wanted to eat well but were short on time. They set about making healthy and delicious combinations of fruits and vegetables with added superfood ingredients. They freeze them because some frozen fruits and veggies have more vitamins and antioxidants than fresh. Who knew?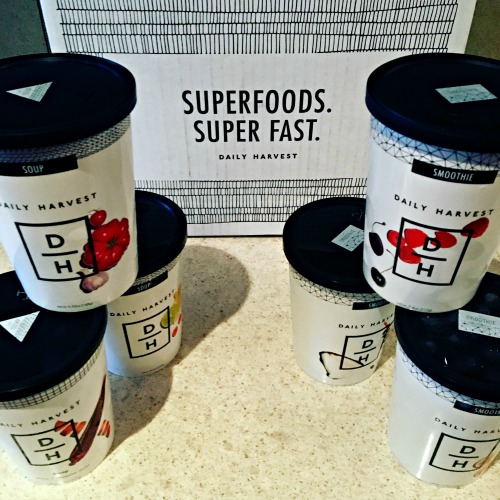 I got three smoothies and three soups to try. The smoothies are "ready to blend." You just add water or your favorite milk. The soups are ready to heat. The cups come with a convenient lid that you can use with a straw for on the go or in the office.
There are 15 smoothies and 6 soups to choose from. I chose Acai + Cherry, Cold Brew+Almond and Blueberry+Hemp.  I chose Tumeric + Lemongrass Soup, Lentil + Mesquite Chili and Tomato and Zucchini Soup.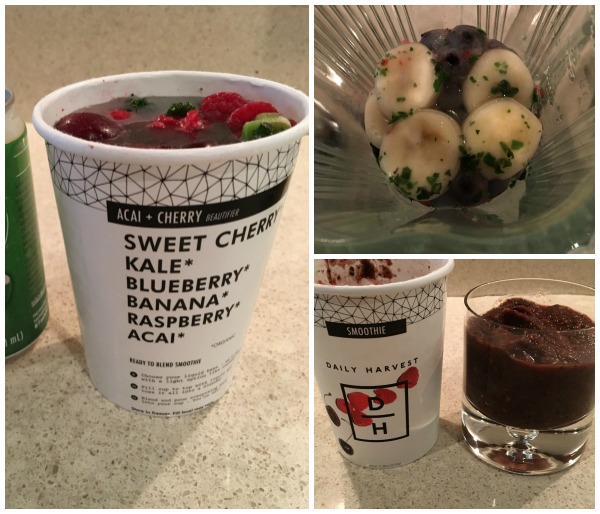 I tried the Acai + Cherry Smoothie first. I used coconut water and threw it in the blender. Voila! See all of the fruit? There are no surprises – just the ingredients on the label. There was enough for me and The Husband. It was delicious (and he didn't notice the kale!)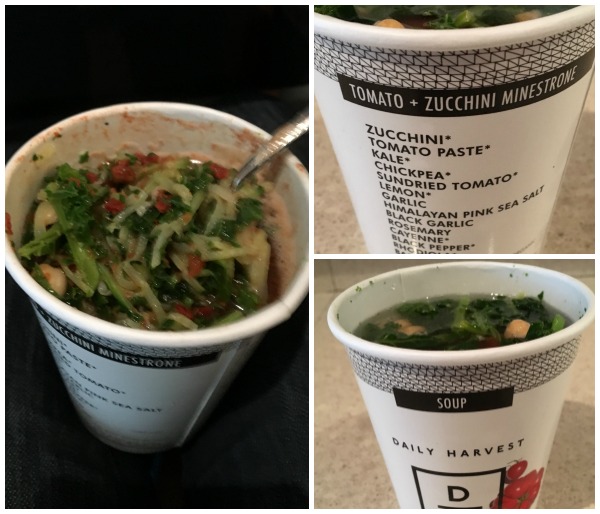 The soups are totally my jam! The Tomato + Zucchini Minestrone is filled with veggies and tastes amazing. The Lentil Mesquite Chili is so filling and the chipotle, cacao and mesquite to give it a unique and delicious flavor. The Tumeric + Lemongrass Broth is warm and has some of my favorite ingredients like parsnips and turmeric. This is a perfect for cold Chicago winter days!
I liked these so much that I ordered more! They also have chia parfaits, overnight oats and sundaes (you won't believe these delicious creations are good for you!) I was excited to see that if you order weekly (6, 9, 12 or 24 cups) or monthly (24 cups), you can skip weeks or months. This is perfect for me, because I travel a lot and I have a small freezer!
Want to try Daily Harvest? Get your first 3 cups free when you order 6 with this link. You can also follow Daily Harvest on Instagram, Facebook and Twitter.
Please note: I was provided sample product in exchange for editorial consideration. I was not otherwise compensated for this post. This post contains an affiliate link. If you use it to get a free trial, I will get free cups, too! It's a win-win!