It's Friday, so I'm linking up with Running on Happy and Fairytales and Fitness for the Friday Five 2.0. It's a free week. In the spirit of welcoming the new year, I'm going to share my goals for a happier, healthier 2018.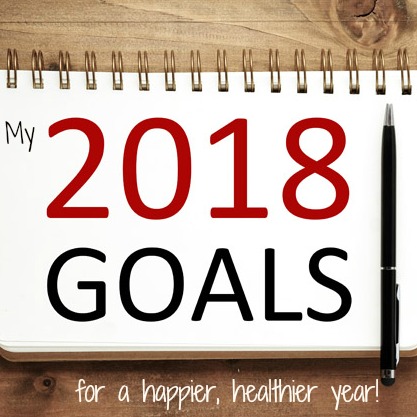 My Goals for a Happier, Healthier 2018
1. Be grateful for what I can do instead of lamenting what I can't. I've been feeling pretty down about my running this year. I keep comparing my times and paces to previous years. Then, I think of friends who are injured or ill and remember to be grateful for every step. This pertains to other things. I am so fortunate in so many ways and want to practice even more gratitude in 2018.
2. Look at my own paper (a/k/a avoid the comparison trap). It's so easy to get caught in the comparison trap while checking out Instagram and Facebook every day. It's important to remember that social media is a highlight reel. They say that "comparison is the thief of joy." I agree. I'm going to work hard on this one. I got off track on this is 2017.
3. Come at things with a "yes, and" mindset. Not around here, but in "real life," I can sometimes be a "no, but" person. I can reel off the reasons why not to do something in light speed. It can be counter productive. I'll be more successful at work and life if I can be more collaborative. The results and recommendations I make may be the same, or similar, but the way I make them can be more positive.
4. Celebrate successes. Like many people, I set goals or challenges and when/if I meet them I immediately set new ones. I want to take more time to appreciate and recognize my success (and those of the people around me.)
5. Stop doing the same old things and expecting different results. With my diet and workout/running and even at work, I fall into the same ruts and traps over and over. I don't really expect a different outcome. I'm going to spend more time in 2018 evaluating progress and making changes.
What are your goals for a happier, healthier 2018? Please tell me about them in the comments.
I hope that you and yours have a happy and healthy 2018!