It's Friday, so I'm linking up with Running on Happy and Fairytales and Fitness for the Friday Five 2.0. The theme this week is gift giving. I'm still working on my gift guides. Last week I posted 5 Great Companies That Give Back. I'm going to go a bit off topic. The holidays can be a tough time for many people. Spending a lot of money can add extra stress. There are many great ways to give without spending money.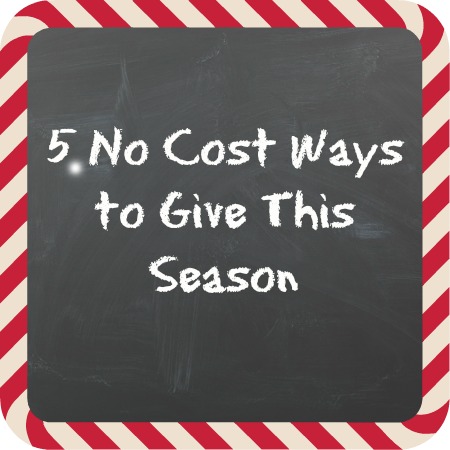 5 No Cost Ways to Give This Season
Reach out to a friend or neighbor. The holidays can be tough for people who are not near family or friends or who have suffered losses. Heck, they can be tough for any one. Reach out to a friend, neighbor or family member and make a date. Meet in person. Share a meal. Your time and attention is an amazing gift.
Volunteer your time or skills at a local charity. Many charities are working over time to provide for kids and families in need over the holidays. Volunteer at a local food bank, with Toys for Tots or to wrap presents at a mall for charity. Invite friends to volunteer with you. Helping others make you feel good. That's a gift for yourself, too. It's a win-win.
Donate clothes, books or household goods to charity. If you're like me, you have some pretty nice (maybe even new) stuff around the house that you don't use. Check out Real Simple's guide on where to donate HERE.
Use your online clicks and social media cred for good! There are many sites that will donate to charity with your clicks, views and shares. You can use Amazon Smile to have a donation with your shopping. Here's a link to a bunch of apps that enable free giving. Check out Her Full Plate's Lazy Guide to Giving for websites you can use to donate with your clicks. You can also donate referral credits, points or miles to help a friend or a person in need. On Giving Tuesday, I donated 2000 Open Table points and gave 100 meals through Share Out Strength's No Kid Hungry Program. How awesome is that? They'll match donations up to 100,000 meals through December 11. Check it out here.
Be present for your family and friends. Put down your phone/tablet/device. Even better, turn them off. Be present when you spend time with your family and friends. Talk, tell stories, go for a walk, play a board game, laugh and then talk some more. The memories you create are a priceless gift.
How will you give this season?
Have a great weekend! Can you believe it's December?